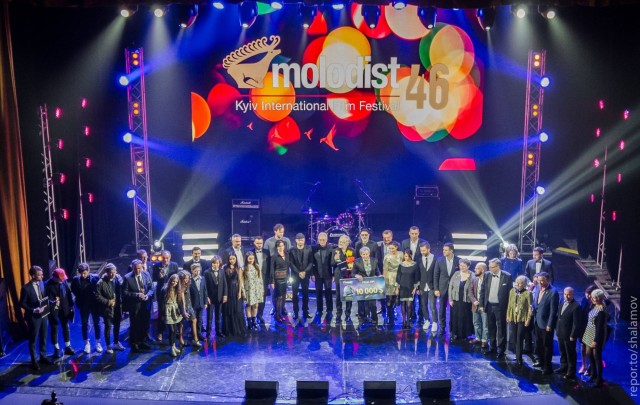 This year's Molodist Kyiv International Film Festival has presented a lavish program once again: about 250 movies from 80 countries. Most of them have been complex, conflicted, and touched upon important issues of our time. Such a festival is something completely different for a moviegoer who usually seeks easy fun at the movies. Original cinema balances on the edge of the realistic and the unbelievable – a thing that mass appeal movies seem to completely forget how to do. The mainstream often takes us too far from the real world and either shows copybook maxims, or leads us into escapism. However, escape is for cowards, and Molodist provides us with a unique opportunity to empathize with people from completely different worlds who have similar problems. This is what attracts the festival visitor in a special way.
The International feature competition included prize winners from Sundance and Locarno festivals: "Sand Storm" by Elite Zexer is a drama addressing the role of a woman in a Muslim society, while "Bulgarian Godless" by Ralitza Petrova is a gloomy sketch of a post-communist world. Films that could be seen as exotic from a European point of view were also present: "Heavenly Nomadic" from Kyrgyzstan and "Wolf and Sheep" from Afghanistan, both of them debuts. However, the international jury headed by well-known Canadian director Denis Côté chose "Keeper" directed by Guillaume Senez as the Winner and "Willy the First" directed by Ludovic & Zoran Boukherma, Marielle Gautier and Hugo P. Thomas as the Special Mention. While "Keeper" is about a 15-year-old couple that faces pregnancy and the first serious decision in their lives, "Willy the First" is the story of a 50-year-old man who decides to finally start an adult life and leave his parents' house. Polish film "The Last Family" directed by Jan P. Matuszyński received the Grand Prix. The changing perception of family was an important theme at the festival, echoing this year's Odessa International Film Festival where the main prize was awarded to Adrian Sitaru's incestuous family drama "Illegitimate." The redefining of family and the revision of so-called family values is becoming a highly germane subject, the importance of which is shared by the two main Ukrainian film festivals.
Molodist is the second festival in Europe (after Berlinale's Teddy Award) to introduce an LGBT-program, Sunny Bunny, thereby declaring its position for equality. While just two years ago one of the oldest cinemas of Kyiv "Zhovten" was set on fire during the screening of one of the films from the Sunny Bunny program, this year, "Heartstone" by Guðmundur Arnar Guðmundsson (International feature competition and LGBT-program) received the Audience Award. The film about Icelandic teenagers' tender relationships, one of whom discovers feelings for a friend, touched Kyiv's moviegoers. It also melted critics' hearts and received the FIPRESCI award. In addition, it was awarded the jury's prize for the Best Main Actor. As for the main prize of the Sunny Bunny program, it went to the Argentinian film "Taekwondo" by Marco Berger and Martín Farina. A movie about two girls' love in a context of feminist activism, "Summertime" directed by Catherine Corsini received the Special Jury Mention.
Some films that turned out to be festival hits were already holders of prizes from top film festivals in Sundance, Cannes, Venice, Berlin, Locarno and others. The most remarkable of them was the scandalous Sundance winner "The Birth of a Nation" — a response to Griffith's 1915 eponymous racist film. The Romanian new wave was represented by "Graduation" directed by Cristian Mungiu. The strange mystical "Personal Shopper" by Olivier Assayas, and conflict-free "Things to Come" about the life of French intellectuals directed by Mia Hansen-Løve were two of the other favorites. Finally, the almost 4-hour "The Woman Who Left" by Lav Diaz, recepient of the Golden Lion for Best Film at the Venice Film Festival 2016, turned to be a real highlight and a challenge at the same time. It turned out, that provided a plot is absorbing, it is not difficult to spend 4 hours in a cinema hall.
Everything that didn't fit in the official Festival program was delegated to Special Events. The greatest audience excitement was generated by the film "Burn Burn Burn," the Grand Prix of Odessa Film Festival, directed by Chanya Button. Eccentric Alejandro Jodorowsky showed a real festival of life in his surrealistic biography "Endless Poetry." Alexander Mindadze in My Good Hans showed us the world turning mad at the threshold of the Second World War. "Austerlitz," the new documentary by Ukrainian director Sergei Loznitsa, arrived straight from Venice. It is a detached observation of tourists in former death camps, the title referring to the eponymous novel written by W.G. Sebald and dedicated to the memory of the Holocaust. Famous documentary filmmaker Leonid Parfenov's film "Russian Jews" gathered a full cinema hall. He personally presented it and answered the audience's questions after the screening. New films by well-known directors Kim Ki-duk and Ulrich Seidl were also on the program.
The youngest audience enjoyed the Molodist for Kids competition program. The jury for this category included children, and the program was intended for kids aged 10 to 14. The selected winner was "Fanny's Journey," directed by Lola Doillon — a movie about a girl and her sisters' attempt to escape Nazi-occupied France. It is extremely important to speak with young moviegoers about serious topics in the language of cinema, and Molodist provides them with a wide range of such films.
Cinema representative of different countries was screened within such programs as German Wave, French Connection, Hungarian Rhapsody, Lithuanian Focus and Scandinavian Panorama. For those viewers who wanted to see as many features as possible during restricted time, there was plenty of short film screenings, including French and German Long Nights of the Short Films.
Among Ukrainian films presented, there was a number of documentary premiers. Among others, two biopics stood out: "Mustafa," telling the story of Crimean Tatars dissident and human rights activist Mustafa Jemilev, and "Lobanovskiy Forever," about the cult legacy of the Dynamo Kyiv manager who led the club to become the first Soviet team to win a European trophy. Ukrainian feature cinema brought us short films, the quality and diversity of which have risen significantly over the last few years. Consequently, after the documentary boom in Ukraine, we can expect a blossoming of full-length feature cinema.
A new program Horror Molodist reminded us that youth is not only a vivid and exciting time, but also a time of anxiety and fears. It showcased movies that weren't clichéd horrors, with which the public is quite fed up, but smart visual explorations of teenagers' fears. A screening in an abandoned underground carriage was a unique treat of the program.
This festival sings an ode to youth and takes it seriously. The films of Molodist are more tragic and severe than those of its Odessa colleague, offering a great deal of  social criticism and touching on sensitive problems. The issues of Ukraine are reflected, like in a mirror, in Bulgarian, Polish, Romanian and even Philippine movies, reaching into socio-political undercurrents and implicated conflicts. Each of these conflicts, however, has a personal dimension that becomes a leitmotif of the film. The struggle for one's rights, freedoms and a better future becomes the driving force both for film plots and – potentially – for our lives. Because cinema is not only a form of entertainment, but also an art, it is capable of changing people. Molodist, as every modern film festival should, raises many questions and leaves them without responses, encouraging the audience to answer at least some of them before the next festival.