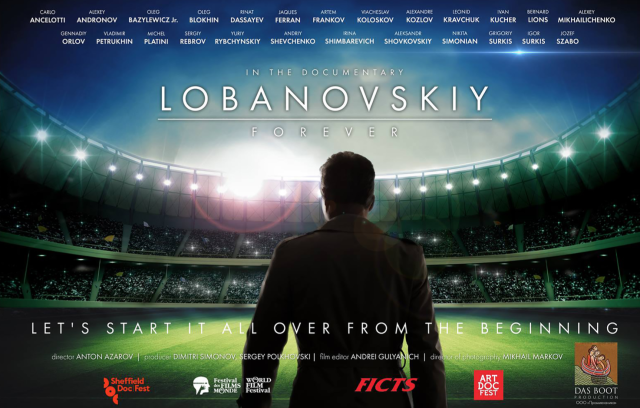 "Lobanovskiy Forever" is a documentary about the legendary FC Dynamo Kyiv coach Valeriy Lobanovskiy, who was the first in the history of Soviet sport to lead his soccer club to win a European trophy. The film is based on national and foreign archive film materials, as well as commentary and recollections of Lobanovskiy's contemporaries: athletes, coaches, journalists, agents, fans, opponents and even Ukrainian and foreign presidents.
The film is directed by Anton Azarov, produced by the independent Kyiv film company Das Boot Production and featuring Carlo Ancelotti, Alexey Andronov, Oleg Bazylewicz Jr, Oleg Blokhin, Rinat Dassayev, Jaques Ferran, Artem Frankov, Viacheslav Koloskov, Alexandre Kozlov, Leonid Kravchuk, Ivan Kucher, Bernard Lions, Alexey Mikhailichenko, Gennadiy Orlov, Vladimir Petrukhin, Michel Platini, Sergiy Rebrov, Yuriy Rybchynskiy, Andriy Shevchenko, Irina Shimbarevich, Aleksandr Shovkovskiy, Nikita Simonian, Grigoriy Surkis, Igor Surkis, Josef Szabo.
In theaters throughout Ukraine starting December 1.
More information about the documentary at http://www.lobanovskiyfilm.com/.