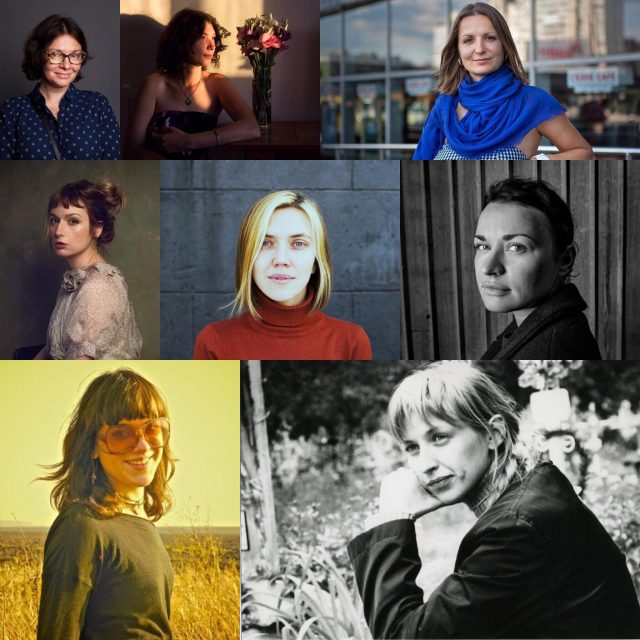 This article is part of The Odessa Review's coverage of International Woman's Day.
Five years ago I was engaged in conversation with a Ukrainian producer, a man, when I noticed that most of the debutant directors with whom he worked were women. Over the years, many of them made their first and second short films, and some left to work on television, and yet others stayed in the cinema. New faces also appeared. Which is why we can now safely declare that the thesis of Ukrainian cinema can never be that: "Directing is a male profession". In this article I want to discuss 8 contemporary Ukrainian film makers women. All of them are naturally very different, but there is something that unites them: all of their films are those of the auteur. For a very long time, the hearts of the mass audience had been won only by male directors. But there is good reason to think that will not always be the case.
Nadezhda Parfan is a documentary film director, and co-founder of the international film festival "86" (which is held annually in the city of Slavoutytch) and the distribution company "86PROKAT". In her previous work "Housewarming", where she follows a man who is preparing for death and "Reve ta Stohne on tour", where she follows two men who are on a quest for a new life, were screened at a number of festivals. She is currently working on two projects: in the first – she will follow the lives of woman, and in the second – that of workers. Her doc "The Ivano Frankovsomenenergyworkers Sing" ( "Поет Ивано-Франковсктеплокоммунэнерго") won the pitching contest for state support and this will be the first experience of the director working with government money. Most likely the finished product will show us a nonstandard view of the work of those who are accustomed to scold for the lack of hot water in the faucets and heat in the batteries. The director likely did not come to this theme lightly as her grandfather and mother were at different times also employees of this industrial enterprise.
Marina Stepanska – director of feature length films. Her full-length feature debut "Stremglav" came out in Ukrainian film theaters last year. The story of a young lost Ukrainian couple did not leave indifferent the spectators of the French festival Premiers Plans d'Angers, where the film won the audience choice award. Lead Dasha Plahti received the prize "for the best female role" at the International Festival of Author's Cinema in Morocco. Notably, This film was funded by the State Agency of Ukraine for Cinema.
Marysia Nikitiuk – feature film director. She got her start as a screenwriter, writing scripts for more than 10 short films, some of which she also directed ("In the Trees", "Mandragora", "Rabies"). In most of her films the main characters are women, including her full-length debut "When the Trees Fall", the international premiere of which took place this year at the 68th Berlin International Film Festival's "Panorama" competition. The Ukrainian film should be released this fall. Now, Nikityuk is working on her second full length feature– a screen adaptation of the novel "Seraphim" by Olesya Ulyanenko, where, unsurprisingly, the main character is also female. Both projects have won Goskino competitions.
Alena Demyanenko – director, screenwriter and producer of feature films, whose track record includes more full-length features than anyone on our list. Her previous film "My grandmother Fanny Kaplan", was released in Ukraine in 2016. Now she is finishing work on the film "Ksenia the Hutsul" based on the operetta by Yaroslav Barnich.  In this film, a love story unfolds in 1938 in the Carpathian village of Vorokhta, where former villagers, now American emigrants return to seek a bride for the rich heir Yaro. The drama takes place less than a year before the annexation of Western Ukraine by the Soviets. Both projects were filmed with the financial support of the State Film Committee.
Alisa Pavlovskaya – director of feature and documentary films. On April 19 her feature film "Fifth Therapy" will be released, based on a true story . We wrote about the picture in our overview of the year's upcoming films. Now Alisa is finishing work on a documentary feature about Ukrainian cultural phenomenon "Gogolfest". The film is being produced with state financial support, and is called "Gogol Doc".
Elizabeta Smith – director of feature and non-feature films. She and George Zheno, co-directed directed the full-length documentary "School No. 3", in which students of school No. 3 in Mykolayivka in  Donetsk region talk about how they survived the war. The film won the grand prix in "Generation14 +" competition at the 67th Berlin International Film Festival. After that, the director, with the financial support of Goskino, filmed the full-length documentary "Cymbalist Petro" about a young man from the Carpathian village of Vorokhta, came to Kiev on the Maidan in winter of 2013, and then went on to play his music in liberated cities in the East of Ukraine. Goskino also supported Smith's short film debut, "Solitude", about a man and a woman who meet under the roof of an old theater.
Marina Vroda – director of feature and documentary films. Her short film"Cross" won "Best Short Film" at the Cannes Film Festival in 2011. She's directed several shorts since. The documentary  "Penguin" follows a woman with a debilitating disease and her caretaker. Vroda's full-length feature debut "Steppe" won the Goskino contest in 2013. The story follows a few days in the  life of an elderly man who comes to the small Ukrainian village of Steppe to look after his mother, who is dying. The man, once needed by society and family, is now a tired and frustrated,  able to continue by inertia alone.
Viktoria Trofimenko – director of feature films. Her debut "The Brothers. Last Confession" about a war between two siblings received a number of prizes at international festivals, in particular, "best actress" and the Moscow International Film Festival's critic's prize. The film was supported by Goskino. Now the director is working on a feature about the Holodomor in 1930s Ukraine, called "Yakov". As in her previous work, her main characters are ambiguous, Trofimenko does not believe in "black and white", she prefers to show how people can transform, or be transformed. Ideology turns people into machines or zombies, only humanism can resist it.