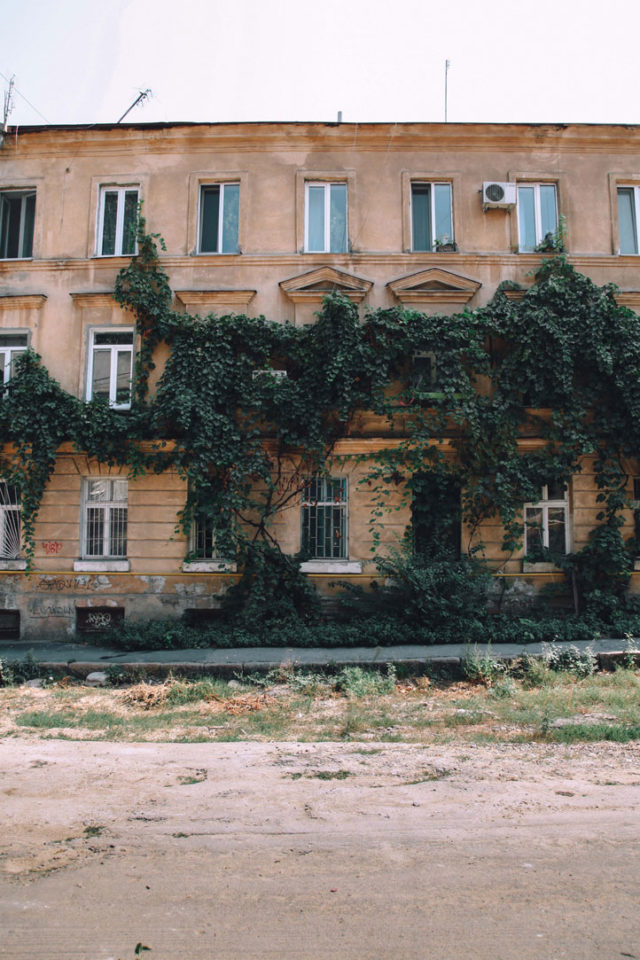 For decades, the Devolansky Descent (or the 'Ditch'), the long street stretching from the foot of the port to the plaza about a kilometer above it, has remained trashed and underused. Once lined with industrial workshops and factories, most of its buildings are now empty. It is both gritty and romantic, but it need not be. Revitalizing this post industrial space would be a tremendous boon to Odessa's economy and would play a great role in positioning the city as a hub of the creative economy.
I was lucky enough to have had a chance to have visited New York City for the first time last year. It was the first time in my life that leaving a city, I became sentimental enough to begin crying. Returning to Odessa as well as to Ukrainian reality, I tried to do so without also losing the inspiration that I had gathered in my time abroad. I also refreshed my memories of the streets in the center of Odessa by thinking of the same sort of streets to be found in, Brooklyn, Soho and Williamsburg. I began to write and call my friends and acquaintances whom would be eager to change Odessa for the better. At that moment, I also began thinking about how my friend's could transform Odessa into a hip young city like New York; complete with cool neighborhoods like the East Village and Soho.
One of those friends is Sasha Goreniuk, a young businessman, living between Odessa and Kyiv who attended the first Ukrainian School of Urbanism 'CANactions'. For one of his school assignments he was given the task of finding a unique 'urban paradox' that could be plausibly be recreated. However, he would not be the first dreamer to cast his eye on the melancholic and somewhat amazing Devolanovsky descent, also known as the 'Ditch' or 'Kanava'. "I came down Hretska (Greek) street and there I saw a bridge. I looked down and saw Devolanovsky in all its glory. The descent is under three bridges, it starts from the square at the beginning and stretches towards the port. It was trashed but it was glorious. During the day, young guys from the college of computer technologies hung out there. At night, the whole area filled with prostitutes of various nationalities. Under the second bridge, local rappers gather and perform there. Photographers and videographers often choose the colorful graffiti on its walls as a backdrop for filming. This place obviously attracts people'' Gorenikuk explains.
He dreams of revitalizing this remarkable public space and making it open for the whole city. Thus was born the project "Podmostove" ('Under the bridge') – a "creative cluster" and experiment in social entrepreneurship. The idea is to follow the successes of other cities that have revitalized abandoned and decommissioned industrial housing stock to create newly attractive and alternative mixed usage spaces. A tourist and green economy friendly mixture of bars, cafes, artist spaces, galleries and shopping venues would develop the neighborhood and make the space a conduit of trade and international tourism. The high line park in New York City is made atop a disused stretch of elevated train tracks – is the most famous example of this sort of urban revitalization project. Rezoning disused space in the prime space in the middle of the city center for new usage should be a no brainer.
Odessa also lacks a trendy alternative to the 'fancy' and aesthetically officious 'Arcadia' recreational area. The project is in many ways such obvious one in that many people thought the city have recognized the need to develop the descent. Gleb Zhavoronkov, the head of the city branch of the NGO/reformist political party "DemAlliance" supports the project (he) lives nearby, also believes in the Devolanovsky descent.
We first discussed this initiative a year ago with Zhavoronkov, but only recently has the idea gained any practical traction. "Odessa needs new life it is to cease living off the old the myths. It can be changed by turning Odessa into an attractive place for talented people, who would not only remain here, but who would flock here from all over Ukraine. For this it is necessary to create an environment where their talent can be converted into 'foreign currency', and given the trend of globalization – to do that is not difficult. Such a place can be Devolanovsky descent, which in a big melting pot will build together talented and professional people from different industries, all blending into one modern, high quality, competitive, Ukrainian product.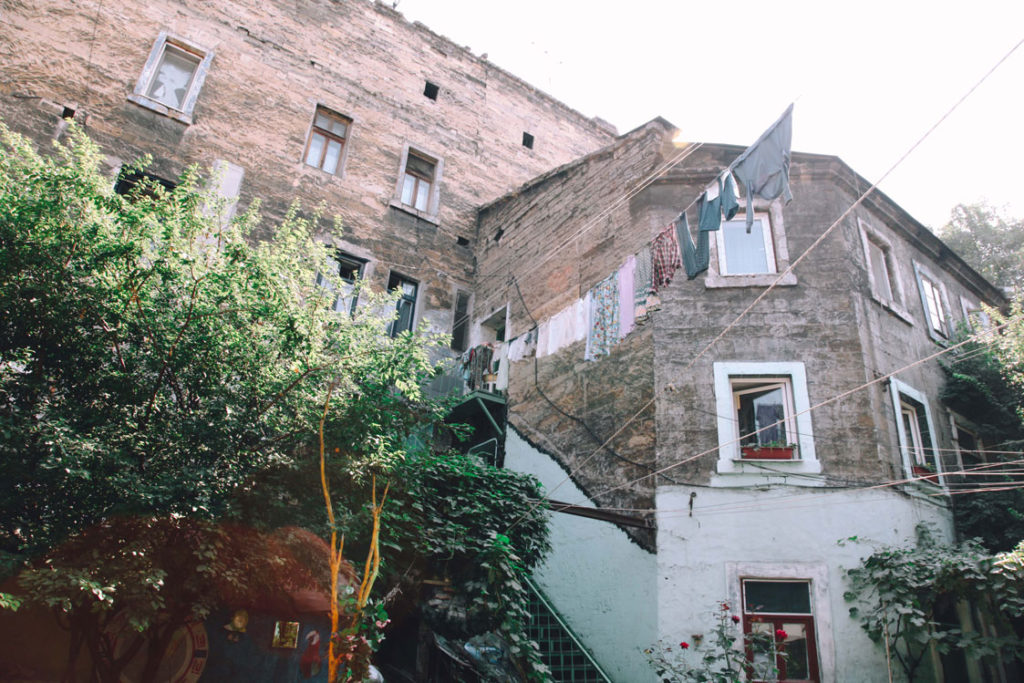 The first event that we organized, designed to draw attention to the project, was the cleaning day, a 'Subbotnik' in Russian. The goal was not just to make the street cleaner, but to show that the street served a critical need for Odessa, and that there is no physical danger here. The well known Odessa architect Mikhail Reva also decided to join the initiative and began to quietly clean up the garbage.
Yulia Frolova, an architect, designer and dean at the Odessa State Academy of Civil Engineering and Architecture also spoke to me warmly of the malleable characteristics of the space and it's potential role in the urban grid environment.
"It is unique place, a unique link in the system of city streets, it connects Customs Square to Osipova street. No more intersections, it is closed in itself, to get to another street, you must either pass it completely, or go up one of the four bridges that stretch over it. The descent is also marked out in a convenient beam to provide continuous transport between the port and the train station. If cleverly used it could become a platform for the study and resolution of many of Odessa's thorniest urban issues". The revitalization of the space would resolve multiple urban problems and would give a much needed burst of revitalizing energy to the downtown area. Lowering the level of development below the bridges would relieve the transport situation on the neighboring streets. Odessa would receive a new tourist route.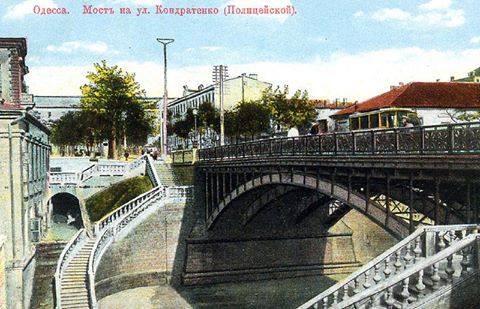 In addition, the city is sorely lacking in 'creative' locations – that is viable and affordable workshops for artists, sculptors and designers. Musicians huddle in basements and there is also a problem in the city with exhibition halls. Odessa artists need a place where they can create, share ideas and show their art to their audience. The Devolanovsky Descent project would attract foreign investment to the city and would provide opportunities for the development of social entrepreneurship and will showcase for all of Ukraine, a successful example of urban revitalization. Young people and international tourists would come from all over the world to spend time in the city. Executing a project of this immense scale will not be easy and will require an immense expenditure. A memorandum from the mayor of the city with official recommendations for public consultation highlighting the economic benefits of the Devolanovsky descent and calling for it's rezoning would be needed. After that, would follow a complex process of persuading the businessmen who hold onto the old buildings and housing stock all along the Descent to sell it to the city or development fund.
One of my closest friend's jokes that we are doing this project solely so that I could get to eat get a piece of carrot cake beloved by hipsters. However, I just want to knead the dough and to see how it will rise, and how much our rising assembly of civil society activists can package it into a beautiful box, a treat for all of Odessa's residents and visitors.
Perhaps one day soon we shall be sitting with our friends drinking a beer on a 'green' rooftop bar on Devolanovsky Descent, and for a brief moment I will be back to New York. But this time I won't be crying, because at that point I will have my own little "Big Apple" in Odessa.
Iryna Kyporenko, is an Odessa-based independent journalist.