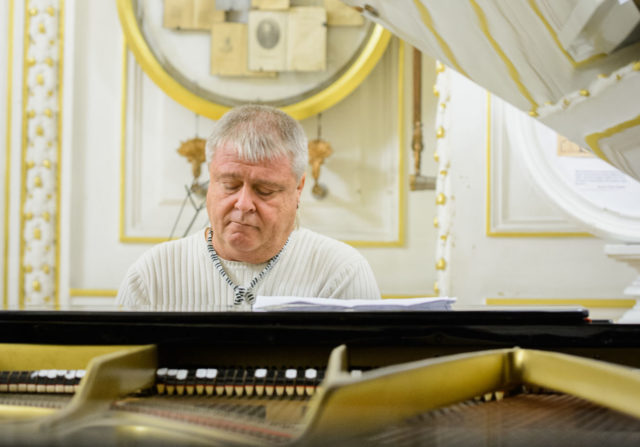 The very romantic Soviet and Russian literary tradition of writing poetry to commemorate one's departed friends is still alive and well in Odessa.  After the great pianist passed away, after a prolonged (and inimitably brave) fight with cancer during the beginning of May – he died on the night of Eastern Orthodox Easter – a number of his friends in the literary and artistic world wrote eulogies to commemorate a well lived life.
In Memory of Yuri Kuznetsov
By Boris Hersonsky
As between you and the music there's not even a sheet of paper,
without scribbled notes, strung on the wire
of a music staff, music requires courage and bravery,
love and mirth, free of guilt and shame.
When you don't know where the idea comes from,
where forehead beats against earth and nothingness
Pygmalion the musician and Galatea the music,
you create her, you know her.
Because music has an elastic female body,
enticing, flammable, but also repulsive to
him who is afraid. To the one who touches her clumsily,
whom she abandons in anger, leaving him alone.
The tempo does not change, it seems to people, sounds
all quickly follow each other, so unfurls the beat,
But the breath is interrupted. The hands freeze in nothingness.
And the music abandons us, leading you along with her.
***
Yuri Kuznetsov
By Vadim Neselovsky
Not everyone manages to play himself an encore. And you happened to have wasted it all, forthright, to the backstage, to the interior, to the very beginning.
Disinterested, undying, infinite light, music tirelessly to hunt, without you, we, and what heaven … Your grand piano's ellipses?
May stumbled in lilac delirium, wounded to the quick improvisation. Your performed virtuoso rallies extemporaneously, music subordinated to it's whims.
But no matter how much you raged, no matter how much you edited carelessness, freedom, the chestnuts stood guard weeping in line at the funeral.
You are at the side, you walked away quietly, to listen to you friends quietly, become the rustling of the leaves, the breathing of the waves, you became the music, which heals souls.
***
Untitled
By Stas Dombrowski
While we quarrel. While we make up. While we debate which one of us is more honest he goes to sleep forever and without lyricism he passes who is probably the best of the best. Of the people I know
And it is such a shame here. How cramped here when it is so: in the midst of a dispute the strong and selfless But we … We are with our hands up to our ears soaked in blood
Yea just don't write anything. Just close your mouths already break your fingers over the piano He was the kind, never heard of before. And that, is not even sadness
***
Untitled
By Lyudmila Khersonskaya
black keys, white keys, jazz – it is the music of life, not the music of the cemetery, it's your music, your ladder to the sky, it can not be that you don't exist. but the concert is over, the big dims in the hall, they stand up and applaud, but you are not on the stage, and they wonder, in the crowd below, and you look down from above. what do they ask – you are here, the light o wrapped like a scarf, bunched up, and the black keys tumble, the white keys , jazz – it is the music of life, not music of the cemetery.
***
Genius
By Alexander Velim
Help him – he is a genius. He can not beg and bow. Except in the memory of generations, yet born you will disappear – and he will remain.
Unnoticed by high society, modest, perhaps even a bit wild. He likes his solitude, silence, the piano, and his books.
Immersed in his notebook, unserious and spendthrift, He does not pray for plenty, but simply that everyone be happy.
Not proud of his victories, nor envious, all forgiving. And as if he does not believe at all neither in the glory of Christ, but simply knows.
He is not willing to play by the rules and he does not seek your love. Which is why you let him life his life lonely and impoverished.
Only time – the sender of eternity, will know all and will judge all. And in scale of infinity you will disappear, but he will be.
And his music will remain, his songs and his childlike sense of being. The public will stand up before the curtain, applauding without rhyme.
And then you probably remember when it was that you had a brother, son, friend, roommate and ever loved your daughter as well.
And run away with vulgar flowers, surrounded by his intrigues. and how decent we all are, when it becomes profitable.
He's like a wounded animal, will lie down the coffin to take a rest. You'll go in a sweaty crowd, to accompany him on his everlasting path.
***
Translated from the Russian by Vladislav Davidzon