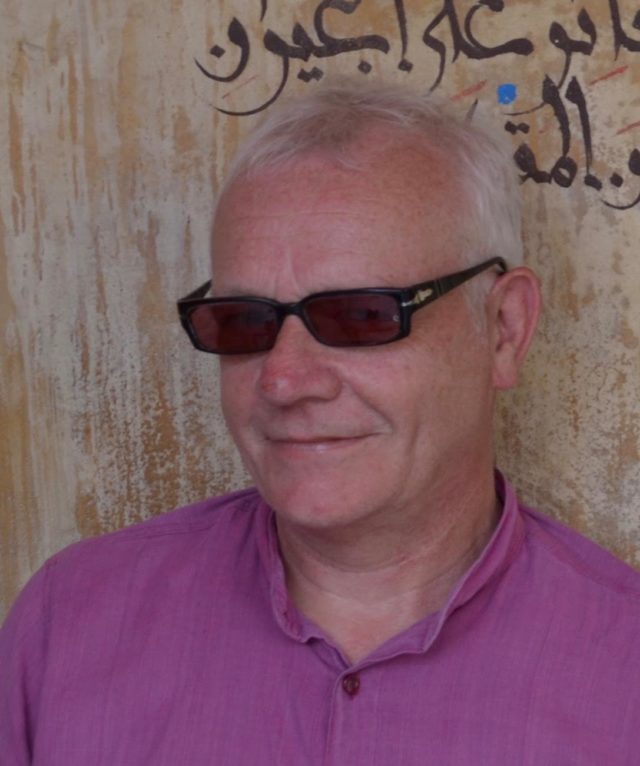 The flamboyant British Composer and legendary journalist shares his experiences of the films and events at this year's OIFF.
With the country embroiled in conflict and a currency crisis The Odessa International Film Festival "The Cannes of the East", does not have the budget to bring in big stars. Good thing, too – all those paparazzi are so vulgar, darling! In any case, most of those pampered A-listers would have been nervous to go to what they or their advisors would have assumed to be a conflict zone. One has to really admire the Festival's volunteer fueled enthusiasm – it may be the underdog of all the international Film Fests, but always delivers an enlightening, elegantly organized and hugely enjoyable event.
Happy too was that fact that the Brit element was out in relative force this year – the winner of the festival's main prize – the Golden Duke – being Chanya Button's "Burn, Burn, Burn" (which represented a great chance to show off some superb locations as identified by a dying pal's wish of where his ashes should be scattered). The nearest thing to international legends present this year were also Brits. There was Christopher Hampton who headed up the International Jury (best known for the Oscar winning script for "Dangerous Liaisons") and Peter Webber, the suave homme du monde who also got an Oscar nod for his having directing "Girl With A Pearl Earring". Both of them gave workshops in which they revealed, among other insights, how success often comes from odd accidents.
In Webber's case, having studied Vermeer at University, he had known enough about the subject to spout knowledgeably at a reproduction on the wall in the reception room of a producer whose original choice for director for Girl With A Pearl Earring had just fallen through, and had left his office door open. Webber was there pitching another project. In Hampton's case, he ended up directing his "Carrington'' (which was based on the life of the painter Dora Carrington) when the original director had bailed out at the very last moment and no-one else was available – it was literally a case of Hampton buying an 'Idiot's Guide on How To Become A Director". Interesting (and inspiringly for those of us who harbor secret desires to direct something, someday, somehow) Hampton reckons that it is possible to do a good film with an average director, that is as long as the cameraman, script and editor are first rate. His other golden advice is for a film to work you need "three great scenes and no bad scenes".
Webber was returning to Odessa after chairing the international jury two years ago. Back then Odessa was more scary – it was the week the Malaysian airliner was shot down over the skies of Ukraine. It was also the moment the rest of the world realized the bare faced brazenness of Russian propaganda about Ukraine ("the plane flew with dead bodies" we were told).
Of course, the notion of the world being "post-truth" in the vogue phrase, also came up over horseradish vodkas in Kompot and the superb Dva Karla Bessarabia Restaurant with the mingling Brit film-makers in downtown Odessa (not to mention a hungover boat trip courtesy of playwright Alexandr Mardan on Sunday morning). To their credit, people tried to conversation light, but these days whenever two or three Brits are gathered together the talk turns rapidly and predictably to Brexit. The organizer of the Brexit 'Leave' campaign had been heard saying that "truth is for wimps" and this was something to consider while drinking in a country where the techniques of 'mixed/hybrid warfare' against the idea of truth had first been perfected.
Indeed, being in the crossfire of the Information wars is something Ukraine is now well used to – it's striking how one Odessa taxi driver will tell you diametrically opposing views to another of what actually transpired at the Maidan, depending which media they are tuned into. Which is no doubt one reason why the longest queues art OIFF seem to be for the documentaries – people here seem to feel there is going to be at least some semblance of an authentic, genuine voice in such films. The winner of the FIPRESCI Film Critics prize at OIFF for best Ukrainian film "VARTA 1, Lviv, Ukraine" centered on reposting of walkie-talkie communications of a "citizen law enforcement " group in February 2014 in Kyiv and wrangled with complex ideas about democracy and autonomy.
Sitting through a three hour long German comedy was something you would have had to pay me good money to do in the past, but Maren Ade's "Toni Erdman" almost came off, even if it went on far too long. For Hampton, myself and Festival Director Julia Sinkevych, not to mention Hampton's partner the fabulous Vietnamese filmmaker Tiana Alexandra – Silliphant, the revelation of the Festival was Doris Dorrie's "From Fukushima With Love." If you had to propose to me a premise that was least likely to be an enjoyable film, it might possibly be that of this film. A German clown goes to work in a camp for displaced persons for victims of the Fukushima earthquake. However, out of scores of films I took in during the festival the one that has remained in the imagination longest, was a moving film about this unlikely relationship – brilliantly shot and edited – and the best actor award was rightly shared between Rosalie Tomas and Kaori Momoi. The Prize for Best Picture went to Adrian Siaru's "Illegitimate" – with the most discussed thing about this film being its budget of 7000 Euros. A fact which in itself seemed to galvanize those budding film – makers now plotting how to make an award-winning film funded with a few credit cards.
If there was no Ukrainian film with the obvious internationalist appeal and startling originality of Miroslav Slaboshpytskiy's 2014 classic "The Tribe", there were a couple of impressive new features. Slaboshpytskiy, incidentally, told me at the Hotel Bristol last year that he had a soft spot for Odessa, as this was the city where he lost his virginity to a local hooker. The word on his new film, "Luxembourg" set in Chernobyl, which sounds like it is some mutant mix of Tarkovsky and hard-boiled film noir, is that it will be shooting this winter – they need some snow, apparently. Although there will be a work in progress showing at the Venice Film Festival. Slaboshpytskiy rather oddly won the best actor prize for his brief role in "My Grandma Fanny Kaplan" (another meditation on Pravda, the paper and the concept – did she or didn't she attempt to assassinate Lenin?). The film didn't quite pull of its mix of as-if-for-TV interviews, archive and newly shot material, but the lead actress Kate Molchanova was luminous and should have won the prize over her friend Slaboshpytskiy. The Golden Duke for best Ukrainian film went to Taras Tkachenko's lively and empathetic "The Nest Of The Turtledove" which brought the problems of the European Union and Ukrainian migrant labour firmly into focus.
Still, if this year wasn't the absolute best vintage in local film making, that is partly due to the hiatus in production caused by the events of two years ago. The Work In Progress and Pitching sections, however, over long hours at the Odessa Film Studio suggested that both the number and quality of films coming to us soon will be very impressive. Whether that wave will reach theatre director Vlad Troitsky's (who also had a part in the Fanny Kaplan film) visions of a really dynamic and totally original cultural space located between "tired, cynical" Europe and authoritarian Russia remains to be seen. But there are reasons to be optimistic. One of which is the simultaneous wave of new Ukrainian music coming through – one good example being the all female band Panivalkova who appeared at the Mantra nightclub in one of many evening Festival parties. In the recent past, Ukrainian popular music tended to be, however good, mere emulation of reigning Anglo-American models, but this new wave sounds highly original. The prize for the quirkiest and most brilliant performer if would be given would probably have to go to Shefita who flew in from Tel Aviv for The Odessa Review's party and produced wonderfully arch oriental versions of occidental hits like "Bitter Sweet Symphony". Bravo to this magazine for bringing her over!
And if there was any thought entertained of a couple of days off immediately after the Festival, people kept showing films- in progress. Among these was the actress/model Mila Bog's stylish short film and another being "Molotov Cocktail, a Romeo and Juliet story set at the time of the Maidan (which might be salvageable with the help of a ruthless editor) and Tiana Alexandra – Silliphant's important documentary "The General and Me" – which was privately screened for a select few in her bedroom at the Bristol – a brilliant, personal portrait of one of the 20th century's most important military figures – General Vo Nguyen Giap. Every night, too, more music – at the Underpub or other venues. If "the Cannes Of the East" does anything – it opens up possibilities, of imagination, of original views of the world, of empathy. And in a Post -Brexit, Putin, pre-Trump world, we need as much of that as we can possibly get.
Peter Culshaw is a composer and writer who has been everywhere and knows everyone. He once got very drunk with Fidel Castro. He is the author of 'Clandestino: In Search of Manu Chao'.