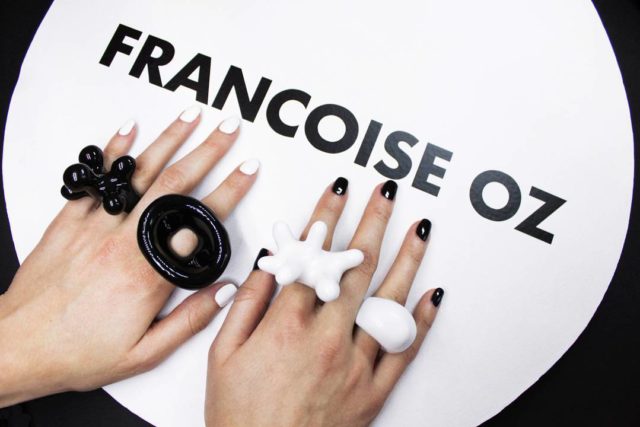 While Searching For A Fresh Approach To The Plastic Arts Odessa Based Painters Francoise Oz And Bogdan Perevertun Immersed Themselves In The World Of Ceramics. The Wildly Original Rings That The Pair Have Created Have Become all the Rage Amongst Extravagant Ukrainian Fashionistas And Celebrities.
The first collection of Francoise Oz rings appeared a year and a half ago. The brand name as well as the co-creator's pseudonym comes from her artistic passion for France and the related desire to live in an imaginative world of a fairy tale country. For the couple, making art and developing their business together is part and parcel of their unbreakable union. They considered themselves to be each other's best critics, supporters and inspiration, always being honest, straightforward and attentive to each other. Francoise and Bogdan met six years ago at the Grekov Odessa Art School where they both studied to become artists-designers and where they fell in love immediately. They were lucky to have had enough freedom to do what their hearts longed for – their teachers didn't mind their non-conventional and risk taking approach to the craft. Whatever the assignments were, their works revealed an avant-garde way of thinking and an edge of non-compliance. They were inspired by the local art of the period of perestroika beginning in the early 80's and concluding in the 90's and they couldn't wait to get out of their academic studies to start making their own modern art.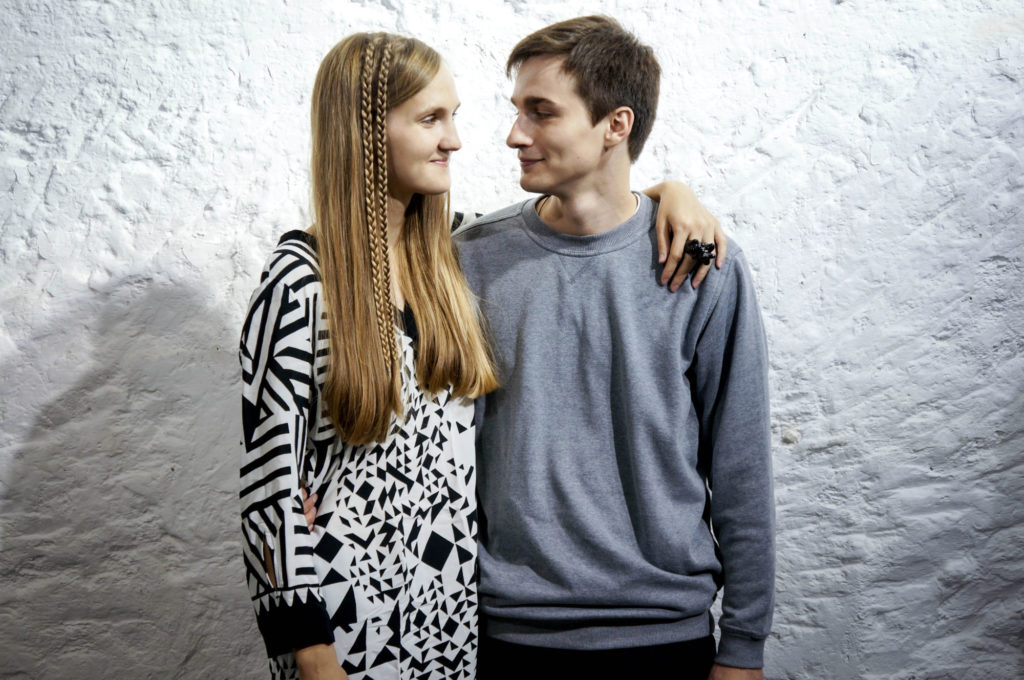 The spirit of Odessa Conceptualism was a guiding light. "I was deeply influenced by Odessa's artists," Bogdan shares "looking at their work is when I first began to understand that forms could also contain an enormous number of ideas. Inserting the symbolic minimum you could then extract the maximum in meaning."
Having started with making rather bright paintings they moved onwards towards a black and white minimalistic aesthetic to create what their peers considered to be deeply ironic works. The instantly recognizable feature of their work was their signature usage of unconventional materials to decorate their paintings with for example real metal chains. These are meant to stand in for the flaws of contemporary society and the accruing of needless wealth. Francoise and Bogdan get invited to Kyiv to take part in exhibitions all the time and the two have also taken part in international projects such as Lucciano Benetton's newest collection.
Leading what they considered to be fruitful artistic life the couple soon decided to focus on making objects And they came up with rings that had to be massive, 'inviting-to-lick-them-like-candy' type glossy creatures in black and white. Surprisingly comfortable and light-weight they soon became popular in Odessa and in Russia, Germany and the US.
"A girl from New York ordered our ring," Francoise shared. "And her first question was – 'did you copy someone? I've never seen anything like that!'. And that is in New York! Also we get all these ceramists amazed at how we changed the way that clay could be used."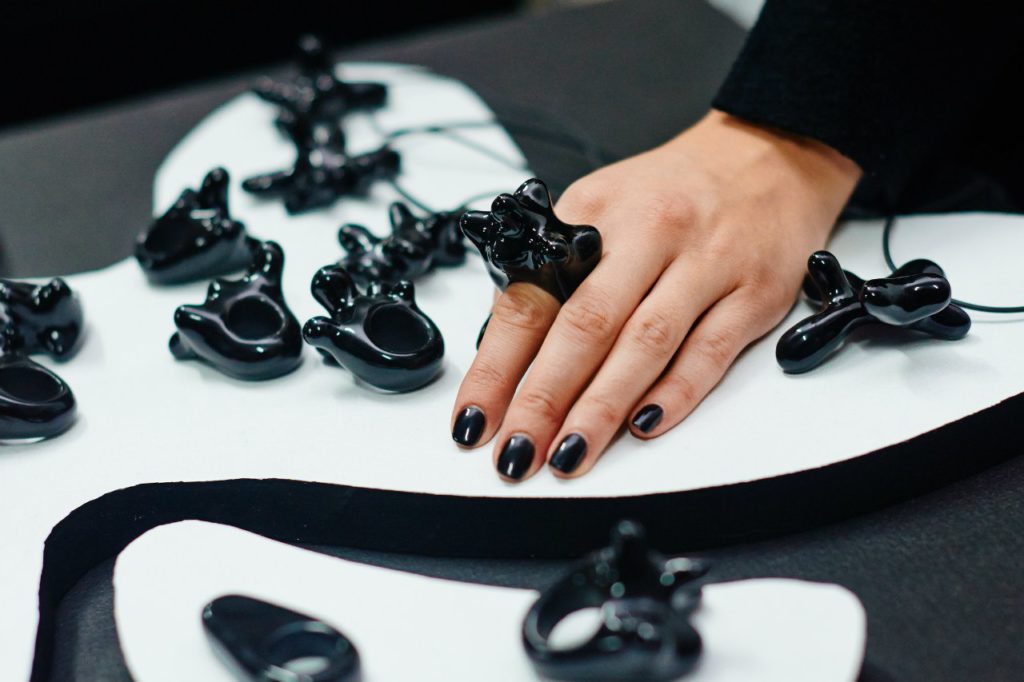 Familiar with the process from their school years, Francoise and Bogdan successfully adopted the clay technique commonly used for making plates, cups and everyday objects, applying it to create fashion with their rings. Gradually improving the material they came to create rings that are not only unusual in design but also very firm. An indicator for success (besides the obvious: increasing sales) were the fake rings that began to appear. There was a girl who first asked for the price of the Francoise Oz rings and then made her own while claiming that it was her idea.
"Everyone thinks we should be happy with fakes but the first impression we find to be quite stressful. You get a bit angry," Francoise smiles wryly.
"It is of course important to know who was the first to do something" Bogdan adds. "Our rings are original. We didn't get inspired by anyone in particular."
It was one of Francoise's handmade clay necklaces, one that looked as if had been made of large white teeth strung on a string, that first gave them their start. She just wanted to wear something no one else had – not an unheard of desire in the history of fashion – and then tried to persuade Bogdan to make some rings until he finally made one for her. She put it on Instagram and was floored by the flood of positive responses that she got. That is how the business started out. Ukrainian pop star Jamala is now a fan. However, they do not have an art dealer yet and that presents the usual problems facing artists. Their paintings are sold through auctions or in person but the clients have to find them themselves. The process is not easy however.
"It's complicated in Ukraine where there is no market," Bogdan says. "It's not part of a business structure or scheme like it is abroad. You do it if you want to do it. And if you are persistent and prove that you actually live the art, after several years you might be able to get people interested and you can you get sales. It is possible."
They express a frustration with what they perceive as a general lack of interest in modern art in Odessa, and they are equally disappointed at what they see as the total ignorance of art critics in their native city. They are resilient however, and the pair are also keen to express the ideal of perseverance.
"I tried to stay out of Instagram for a long time. At first I was annoyed with people putting their food out there and 'making' their 'selfies', but then I registered an account because of the brand and I was amazed how well it worked," Francoise explains. "So many people can see what's going in the world, they can find us if they want to. In practice Instagram can replace a whole team of staff, it can get the same things accomplished in a shorter time."
Following their instincts and their calling the two have managed to successfully build a business and at the same time represent the new wave art in Odessa. They explain that the key is to move on no matter what surrounds you and how it affects you — especially when the process is so elevating and creative.
"It's total pleasure," Francoise reveals. "You wake up and you do what you like doing. We can't imagine our life without art. It's an existential necessity."
Future plans are fairly simple: they hope to create a new collection of rings and to prepare for an exhibition in Berlin. It is an inspiring example of how one can combine art and business by doing what one finds to be the most enjoyable in the natural flow of one's life.