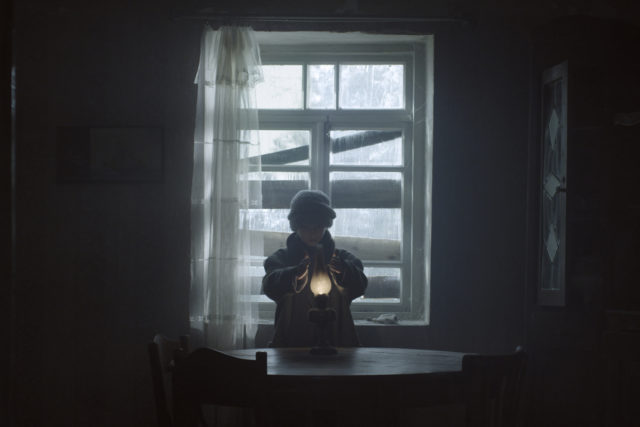 "House of Others" is the debut feature of Georgian director Rusudan Glurjidze. It is a co-production of people from Georgia, Spain, Russia, and Croatia. The picture was represented in the East of the West competition at the Karlovy Vary International Film Festival and is a competitor in the International Program of the 7th Odessa International Film Festival.
The first scene of "House of Others" opens after "the war" in 1990s Abkhazia. People are occupying the vacated houses of the defeated, which are full of the previous owner's furniture, clothes and belongings. A family — Astamur (Zurab Magalashvili), his wife (Olga Dykhovichnaya), son Leo (Sandro Khundadze) and young daughter — relocate to rural Georgia to begin a new life. Their neighbors are men-hating women Ira (the striking Salome Demuria) and her widowed sister Aziza (Ia Sukhitashvili) with teenage daughter Nata (Ekaterine Japaridze). Every day they wait for new neighbors who are being transported by Ginger (Malkhaz Jorbenadze) who profits from the relocation of families to the deserted village. Every day they try to live a simple and happy life, but the scars of war and the guilt of conquerors does not allow them to do so.
The stark reality of "House of Others" is attained by Gorka Gomez Andreus' exciting camerawork. There is close attention to the beautiful details of the landscapes, interiors, fabric and clothing which give the viewers a clear sense of the melancholy scene and its apparent fatality. Every shot is a separate picture which should be in a gallery. This whole picturesque world seems to be cut into different pieces that will never be glued.