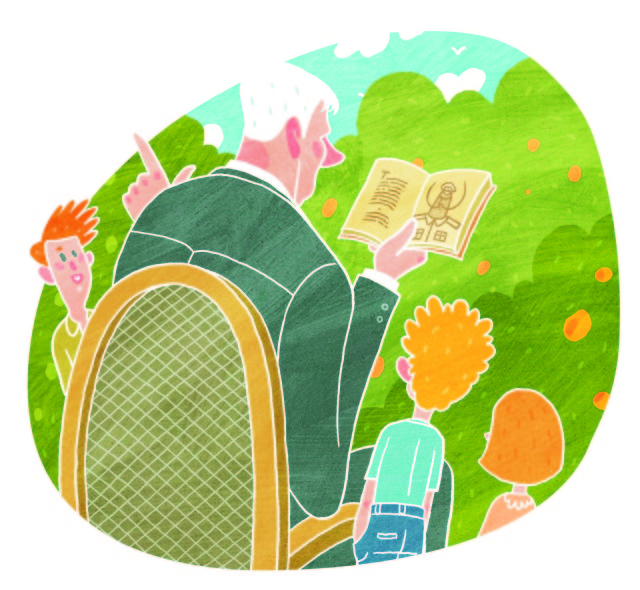 He was Vladimir Zhabotinsky's childhood friend; a defender of Boris Pasternak and Anna Akhmatova; translator of Oscar Wilde, Mark Twain and Rudyard Kipling; chronicler of the work of the poetry of Nikolay Nekrasov and a prolific literary critic. Korney Chukovsky gained extensive fame — unexpectedly — mostly for his poems for children. The writer was raised in Odessa, a city which he considered to be quite plebeian and lacking in taste.
Nikolay Korneychukov was born out of wedlock to Emmanuil Solomonovich Levinson, a Jew, and Yekaterina Osipovna Korneychukova, a Ukrainian woman from Poltava. The future writer's mother worked as a maid in the Levinsons' St. Petersburg home before marrying Emmanuil — and it was there that Nikolay, who would later take on the pen name Korney Chukovsky, was born on March 19, 1882. Unfortunately, the young family would fall apart soon after Nikolay's birth: Emmanuil refused to officially marry Yekaterina, despite having two children together with her (Nikolay as well as his older sister Mariya) as well as having lived for three years in a common-law marriage. The children were unable even to take on their father's surname. After discovering Emmanuil's decision to marry another woman, Yekaterina took her two children and moved to Odessa, settling on Novorybnaya (which is now Panteleymonovskaya) street.
The tragic end of his parents' relationship had a strong influence on the young Chukovsky. His peers teased him mercilessly, never letting him forget his status as a bastard child. He frequently had to witness the rude and hostile treatment of his mother by the neighbors, who judged the unwed mother harshly. Already as a child, Chukovsky began to escape into writing, the fantasies of battles between good and evil characters serving as a reflection of the conflicts raging in his mind. The feeling of inferiority, instilled in him as a child, continued to plague the author into adulthood — those sorrowful memories can also be traced in the author's first novel, "Silver Coat of Arms." In the book, he describes his childhood home on Novorybnaya Street: a dirty and noisy place inhabited by the lowest strata of society. His family was very poor. Yekaterina worked most of the time, while her children spent their free time on the street, in a typical Odessa courtyard where the residents "…fry fish in sunflower oil in the same spot where they dispose of their trash; argue, fight, and reconcile – and all day, from morning to night scream at their countless children who scream back like wild animals. Anytime you walk into the yard, it sounds as if a catastrophe has just occurred – the roof fell through, or someone was murdered. However, it is just an ordinary courtyard — filled to the brim with southerners who simply do not know how to keep quiet." Many Odessa writers found inspiration in such surroundings, but to Chukovsky, there was little charm to be found in this kind of life.
It seems that Emmanuil provided at least some degree of financial support for his children, as Yekaterina was able to send the 6-year old Chukovsky to the very reputable kindergarten on 22 Yevreyskaya Street, run by Madam Buchteyeva. It was there that Nikolay's first meeting with Volodya Zhabotinsky — future poet, publicist and one of the founders of the state of Israel — took place. The friendship with Zhabotinsky would go on to play an important part in Chukovsky's life. Later, as classmates at one of the city's gymnasiums, they collaborated on a satirical student magazine. Nikolay would get expelled from the school for this early literary endeavor (although some versions cite his family circumstances as the cause of his expulsion), but this did not end the friendship between the two young men.
After being expelled, Chukovsky spent most of his newfound free time in his books. Coming across an English workbook, he taught himself the language to the point of being able to read English authors in the original: Edgar Allan Poe and Walt Whitman, Thomas Mayne Reid, Alexander Dumas, Robert Stevenson and Walter Scott. Later, Nikolay became fascinated by Western philosophy and devoted himself to studying the works of Schopenhauer, Nietzsche, Spencer, Engels and others. The young writer even formulated his own philosophical theory, which only three people agreed to hear out: a street-sweeper named Saveliy, a girl who would go on to become Chukovsky's wife. His best friend at the time was Zhabotinsky. The latter became interested in his friend's theories and recommended Chukovsky to his boss at the Odessa Novosty newspaper. Upon being hired as a journalist in 1901, Nikolay came up with what would become his famous pen name – "Korney Chukovsky." He wrote articles and feuilletons for the Odessa Novosty, and interviewed writers who visited Odessa, such as Lazar Karmen, Ivan Bunin, Aleksandr Kuprin. His knowledge of English came in handy in 1903, when he was sent as a reporter to England. There, in the course of his work, Chukovsky met Winston Churchill and the future British monarch George V.
After returning to Odessa in 1904, Chukovsky continued writing for publications in Odessa, Kyiv and St. Petersburg. By that time, he had already moved to another address in Odessa, at the corner of Kanatnaya and Bazarnaya streets. In 1906, he moved to the small Finnish town of Kuokkala (known today as Repino), and after that to the Peredelkino village on the outskirts of St. Petersburg. He gained renown as a critic and translator, and made connections with many famous poets and writers: Vladimir Mayakovsky, Vladimir Korolenko, Anna Akhmatova and Osip Mandelshtam, among others. Chukovsky was especially proud of his friendship with Boris Pasternak. He was also the first person to congratulate Pasternak on his receiving the Nobel Prize in literature in 1958, something for which he would later be subjected to persecution by the Soviet authorities.
In 1907, Chukovsky published his translations of Walt Whitman's poems, cementing his reputation in the literary community. In 1917 he would begin extensive work on his favorite Russian poet, Nikolay Nekrasov. It was a project that went on for many years. He was the first to publish many of Nekrasov's poems that were censored in Czarist Russia. In 1962, the completed work — "The Craft of Nekrasov" — received a prestigious state award, the Order of Lenin.
Korney Chukovsky only became interested in children's literature and psychology when he was already an established literary critic. His study of "child language" would become one of his greatest contributions to Russian and world literature. Chukovsky's book "From Two to Five" is widely considered one of the most important books in the Russian-language field of child psychology and pedagogy, but it was the poems he wrote for children which made him known and loved across the USSR. It must be said that achieving success as a children's writer is much more difficult than gaining renown with an adult audience. It is very hard to put yourself in a child's place and see the world through their eyes. Chukovsky turned out to be a master at this, and his poems continue to delight children even a century later. His characters, brought to life in movies and cartoons — the kind animal doctor Aibolit, the pirate Barmaley, Krokodil and the talking washstand Moydodyr — are still warming the hearts of nostalgic adults and entertaining young children today. Perhaps, Chukovsky's secret is in retaining a childlike wonder at life, walking the fine line between reality and the imagined, fairytale world we leave behind as grownups.
Of course, the foundation of Chukovsky's great talent was laid in his childhood — and it was a childhood spent in Odessa, although Chukovsky himself did not have any particularly warm feelings about it. He called Odessa a "revolting" city and considered himself to be "from St. Petersburg." It is not hard to understand the writer's resentment — his childhood was far from worry-free. But Odessa does not take offense at his mixed feelings! Indeed, every year in August, Odessa hosts the Korney Chukovsky Literary Festival, and the house in which he is thought to have lived as a child bears a commemorative plaque with his name.
Interesting Facts About Korney Chukovsky:
Although he taught himself English, Chukovsky lacked the opportunity to practice the spoken language, and had rather poor pronunciation and grammar. During his first visit to England in 1903, he often had a hard time making himself understood. The reason was that Chukovsky pronounced almost all words phonetically: for instance, he said "wreeter" instead of "writer" and "tkhe tablay" instead of "the table."
In 1905, Chukovsky witnessed the battleship Potemkin uprising while in Odessa. He was on board the ship twice, and delivered letters from the sailors to land.
In the 1960s, Chukovsky decided to adapt the Bible for Soviet children. This was a risky project for any Soviet writer to undertake. The authorities demanded that the words "God" and "Jews" be excluded from the text. For this purpose, a creative pseudonym was invented for God — he would be referred to as "Yahweh the Wizard." The book, titled "The Tower of Babel and other Biblical Tales" was released in 1968, but soon thereafter, all copies were destroyed.
Chukovsky was a friend to many Soviet dissidents and offered them assistance to the best of his ability. Sergei Yesenin, Alexander Blok, Isaac Babel, Osip Mandelshtam, Aleksandr Solzhenitsyn and Anna Akhmatova were frequent guests at his home.
Chukovsky's contemporaries, as well as literary historians, note that Chukovsky often used coded language to write friends and enemies into his children's books. One of the most well-known examples is Josef Stalin as the villain in "Tarakanische."
When awarding Chukovsky with the Order of Lenin in 1957, Nikita Khruschev complained to the writer that even though he gets very tired at work, his grandchildren still force him to read "Moydodyr" to them in the evenings.
In 1962, Chukovsky received an honorary Doctorate in Letters from Oxford University.