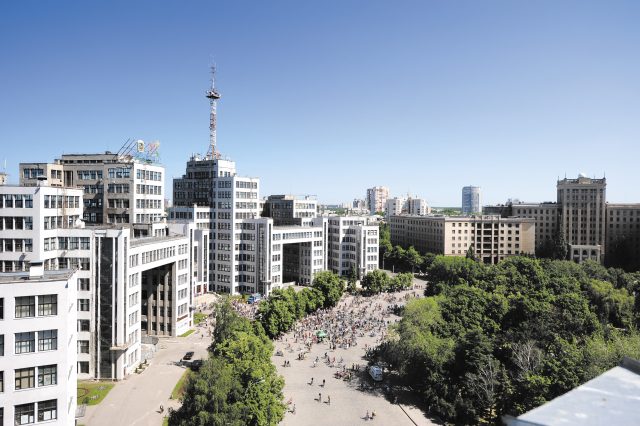 Kharkiv's Freedom Square hosts one of the largest modernist architectural ensembles in Europe, a reminder of the city's leftist heritage. But the space was threatened earlier this year by controversial plans for a new column. This article first appeared online in the Calvert Journal.
Earlier this year, promotional pictures emerged of a tall, neoclassical column — 86 meters high and crowned with an angel and an Orthodox cross — to be situated in Freedom Square, a collection of dramatic Constructivist buildings in Ukraine's second city Kharkiv. Not only did this pompous design not fit into the ensemble of the square in question, it seemed to be a provocation against it. The column was to stand in the place occupied, until late 2014, by Ukraine's largest Lenin statue; the winner of the questionable "open competition" for the monument's design, Kharkiv city architect Sergey Chechelnitsky, presumably imagined that replacing Lenin with an angel would chime with current trends towards decommunization and nationalism. However, after a wave of protests and debate, the column was cancelled, and efforts were accelerated to preserve the neglected buildings around it instead.
How did this happen? From 1919 until 1934, Kharkiv was the capital of Soviet Ukraine. In 1924, a competition was announced for plans for a new administrative centre in Freedom Square; between 1927 and 1929, the House of State Industry (Derzhprom in Ukrainian, Gosprom in Russian) was built to a design by Sergei Serafimov, Samuel Kravets and Mark Felger. The building became a symbol of the rapid development of modern, industrial Ukraine. The first monolithic concrete skyscraper in the USSR, a series of towers linked by high glazed walkways. Even today, its scale and drama is strikingly futuristic. It was placed on the UNESCO Tentative List of World Heritage Sites. In 2003, however, the building underwent a renovation so inept that it was removed from the list.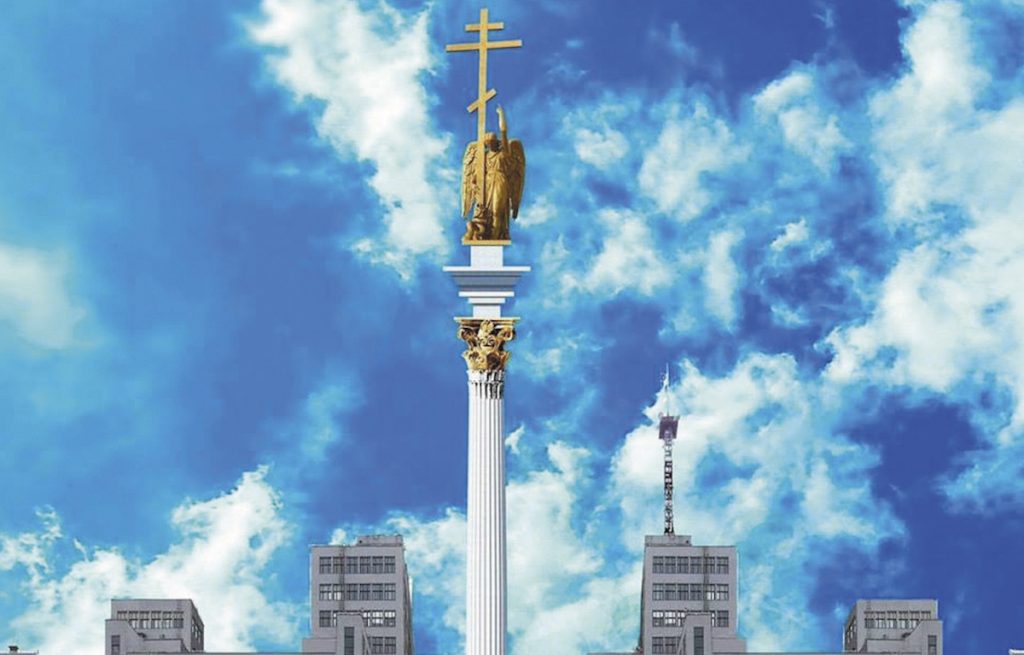 Besides Derzhprom, several other impressive Constructivist buildings were built on Freedom Square in the early 1930's. This largescale urban planning ensemble is among the largest monuments to leftist urbanism in Europe. The other buildings — the House of Project Organizations, the House of Cooperation, the Hotel International and the building of the Central Committee of the Communist Party of Soviet Ukraine — form a wide circle approached through the square. However, the original outlines of these later buildings are no longer visible; between 1949 and 1954, everything on Freedom Square except Derzhprom was decorated in Stalinist neoclassical style. Today, these individual buildings have official status as monuments of local significance, but there is no protection for the square as a coherent ensemble.
In 1963, a park was established at the centre of the square, and a towering statue of Lenin was erected in front of it. Like many other monuments to communist leaders, the statue was torn down by activists in September 2014. The authorities didn't stop there. In 2016, a corrupt city administration simulated a competition for a new monument on Freedom Square. As expected, the winner was a project by the aforementioned Sergey Chechelnitsky, a well-connected figure working for the City Council. How did it happen that this place — internationally significant, nearly UNESCO-listed — was treated in so careless a manner? How did the sort of kitsch represented by the abortive angel-topped column come to dominate the urban spaces of post-Soviet Ukraine?
Ukraine has its own locally important factors — wild capitalism, all-pervasive corruption and weak rule of law and regulation. But all this is accompanied by a wider historical and social problem: a process of demodernization typical of the entire post-Soviet space, whereby modernism is denigrated and postmodernism is embraced — a postmodernism that has not proven lenient towards its predecessor. In Kharkiv, three factors have conspired to create the anti-Constructivist climate typified by that column: Stalinism, Russian imperialism and Ukrainian nationalism.