Founded by the vivacious 26-year-old designer Julie Paskal, the eponymous brand has become one of the brightest names in the Ukrainian fashion world. Paskal's brand has also gone way beyond the local market, and ballooned to become an international sensation, garnering the Odessa native international recognition.
In 2014 Paskal was included on the short-list for the LVMH Prize. Last year she was honored to have her 2016 collection featured in the display window at Colette`s in Paris. Finally, this past March she became the first Ukrainian designer ever to have a solo show in the official lineup of the Paris Fashion Week. Consequently, the new PASKAL FW16/17 collection will be represented in more than forty stores worldwide. Remarkably, this story of dashing success and a meteoric rise to the highest levels of fashion took place over three years of what she freely admits was very hard work.
Born to an Odessa family of scientists, Julie was raised in a creative environment. Her mother, a physicist with an artistic soul, engaged the girl in all kinds of artistic activities and supported her ambitions up to the moment when Julie wanted to try herself out as designer. It was not until she was a student at Kyiv National University of Building and Architecture however that she would decide to dedicate her efforts to sewing a few pairs of dresses. Her mother was the one to help her find the only laser-cut machine in the city. At that time Julie was just obsessed with an idea of making something no one was making. Who would have known five years ago that the laser-cut print would become her indisputable signature?
She began making her annual trips to Paris in 2013, immediately getting a fair amount of attention from buyers.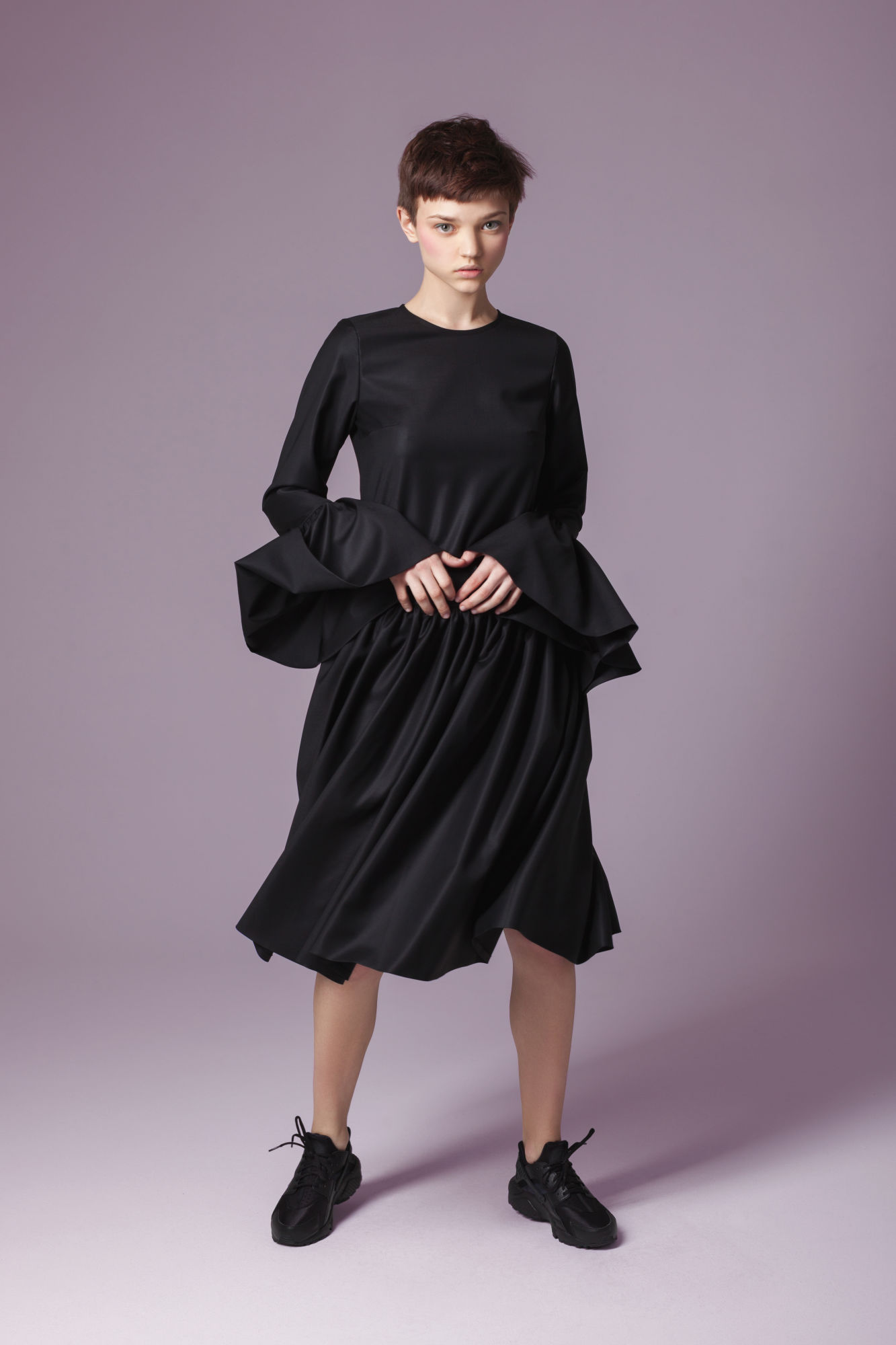 "My first steps were so timorous that if I had studied to be a designer, it simply wouldn't count, would have not have gone anywhere" Julie recounts
"Now, though I do think that things could have gone faster, I wouldn't change a thing. There was a time when nothing was going happening, so I worked industriously to master the necessary skills, just trying to figure out how things worked. You always need to have that base down before you can grow big". Julie believes that in the past three years she has become more mature and confident in her craft and more self conscious of what it is that she is doing. Perhaps, it is no coincidence that sales have multiplied by a factor of ten. Of course the respect and approval that she has garnered from such fashion world personas as Sarah Endelman and Sarah Mower are useful for realizing that she is on the right track. For her the main issue now is to work to maintain the level that she has performed at her Paris debut, which is no insignificant task.
Remarkably, this story of dashing success and a meteoric rise to the highest levels of fashion took place over just three years
Today the brand produces four collections a year. While that pace is considered to be the norm for a recognized and established brand but, it is a frenetic and time-consuming goal for a novice team. Apart from creating the designs, Julie also runs a small factory with her partner, where everything has to be perfectly attuned with her vision – the interior, atmosphere and the furnishing are minutely observed. "Clothes carry hidden vibrations" Julie assures us "so it's very important to know where the item was produced and by whom."
Working with her close friends and loved ones is very important for her. Her mother helps with the show production and her brother is firmly engaged in technical issues.
The fatal flaw in her ideally-built career, however is the same in Ukraine as it is everywhere else. It is that most modern issue of the life/work balance. Julie is a mother of two children: a three and a half year-old daughter and a year old son. Living between Odessa and Kyiv requires constant travel as well late nights and myriad personal sacrifices.
Julie tries to spend every spare moment outside of work with her husband and children. Lying on the sofa at home or walking on the beach is the relaxation of the highest level, let alone it's the only one available for now. "Sometimes I get sad that I hardly have any free time" she admits. "There is no time for music, for books, for parties. Even if we occasionally do go out to a party, we'll discuss it for about a month afterward, because it seems like such a big deal when it used to be something ordinary. I feel too busy and am always too distracted from my self. This is the only thing that discourages me."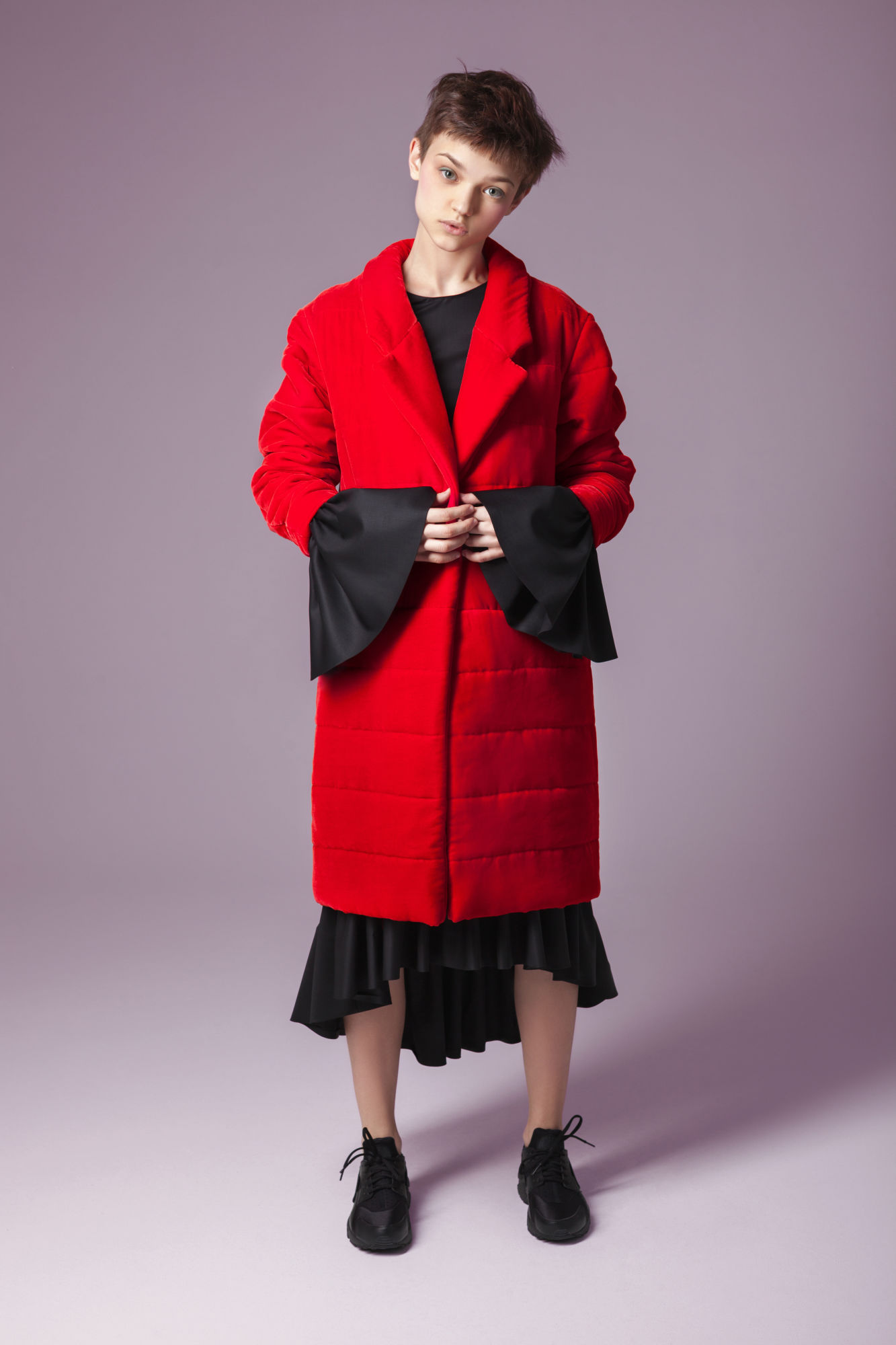 Of course this is the price of success. Those small and carefully husbanded joys of everyday life however become the main source of inspiration for her collections. Julie does not focus on the conventional way of conducting fashion research, such as hunting for minute references and creating massive mood boards. She filters the essence from the natural flow of her life as if it were occurring unintentionally.
She is also motivated by the heady spirit of civil society that has spread across Ukraine over the last two years
She is also motivated by the heady spirit of civil society that has spread across Ukraine over the last two years. `It's not that complicated. You just have to try hard. Especially now when our country is so full of people with a young spirit and a desire to do something good. That is to say, merely to work for money, but for the sake of doing something great. So many people are engaged and this synergy is so inspiring. I feel like this is the future!` she enthuses.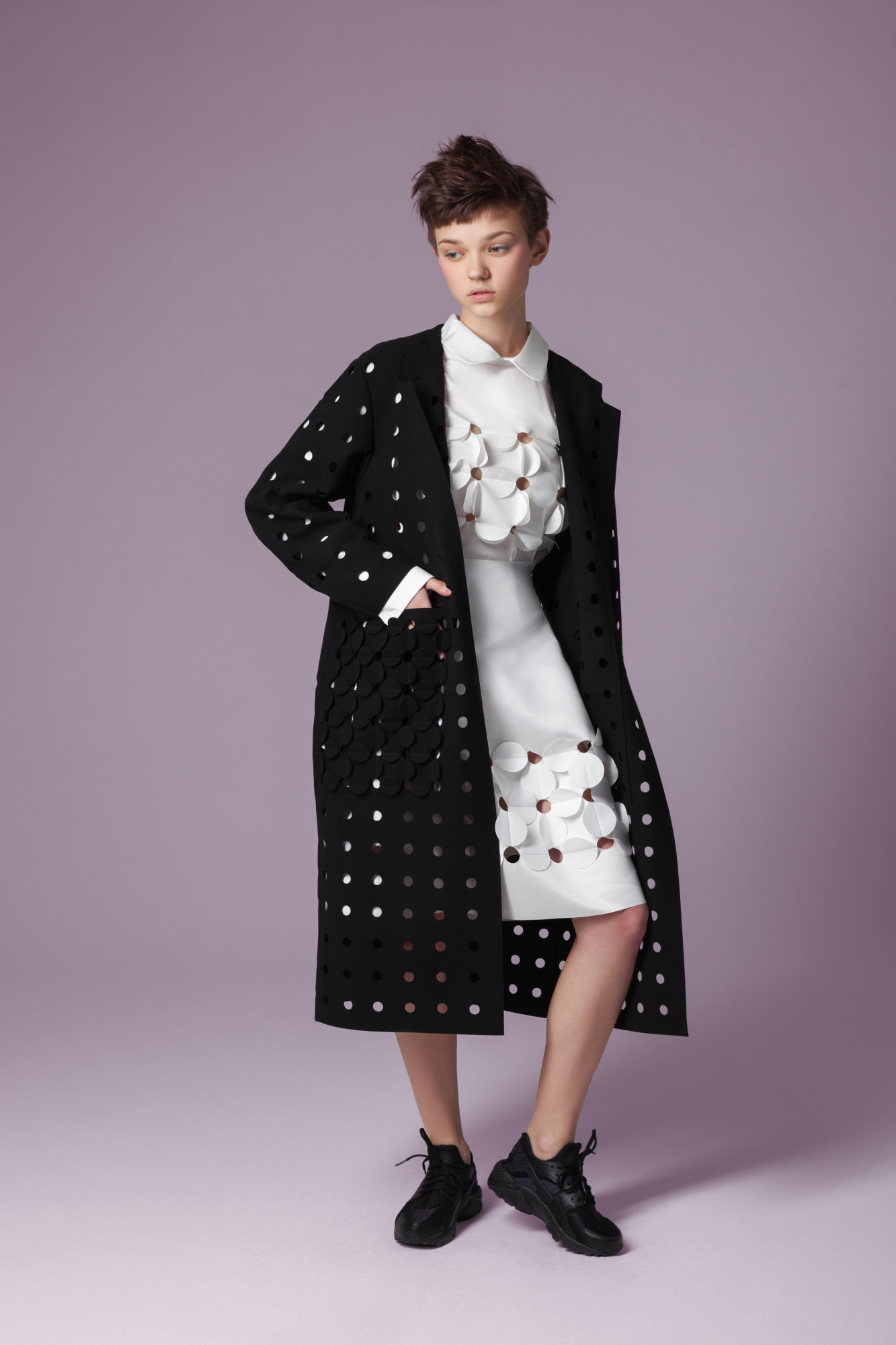 For herself, Julie does have committed plans for the future these include starting a kids clothing line and adding lingerie to her adult collections. Both possibilities seem equally attractive, though perhaps both also remain tantalizingly out of reach: she does not have the time to sew for her own children – piles of fabric bought especially for her kids sit waiting idly for the right moment. While she dreams of the small things, success feeds on routine. But when one is in the midst of a creative flow there is no time to stop, no matter how busy or exhausted one might be. At the same time, the value of small things grows the busier that we get and when something does get accomplished, it can feel as big and grand and overwhelming as that show in Paris.