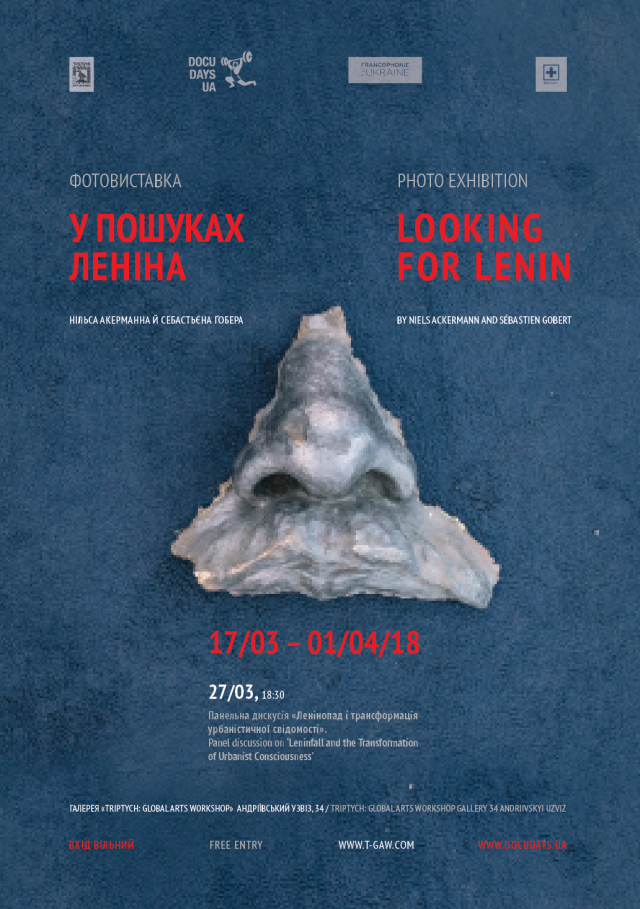 17.03 – 01.04.2018
Triptych: Global Arts Workshop (34 Andriyivskyy Uzviz),
Daily 11.00 – 19.00. Free entry
www.t-gaw.com
www.fb.com/trip34tych
Join us for the exhibition opening at 17.00 on Saturday 17th March 2018.
The 15th edition of IHRDFF Docudays UA and Triptych: Global Arts Workshop, with the support of the Swiss Embassy in Ukraine and the Journées francophonie 2018 programme, present 'Looking for Lenin', the critically acclaimed series of photographs published in 2017 in the book of the same name. Swiss photojournalist Niels Ackermann and French journalist Sébastien Gobert travelled extensively across Ukraine in the wake of the Revolution of Dignity in search of the fragments of the crumbling Soviet past. In their opinion, the various fates of Ukraine's toppled Lenin monuments provide an insight into the profound transformation of Ukrainian politics, society, and national identity that is happening today. Ukraine's Leninfall is perhaps the most sensational of symbolic purges in the contemporary world, but not the only one. As countries around the world take stock of its monuments, who will remain in sight, who will vanish forever? What criteria of equality do we apply to the monumental remains of past regimes?
On Tuesday 27th March 2018 at 18:30, we invite you to join our panel discussion on 'Leninfall and the Transformation of Urbanist Consciousness', where four creative thinkers swap notes on the future of Ukraine's decommunized cities and the role that the public space plays in building civil consciousness and transforming identity.
Participants: Sébastien Gobert, (French independent journalist, traveller, and writer, co-author of 'Looking for Lenin'), Oleksandr Mykhed (writer and art-curator, who has authored 6 books, which have been translated into 10 different languages), Svitlana Shymko (independent film director who holds the DocNomads international masters degree in documentary film directing. Her documentary work she focuses on political, social, and feminist issues, and includes 'The Fall of Lenin', presented at last year's Docudays UA).
Moderated by Myroslava Hartmond, curator, writer, and researcher, and participant of the 'Looking for Lenin' project.