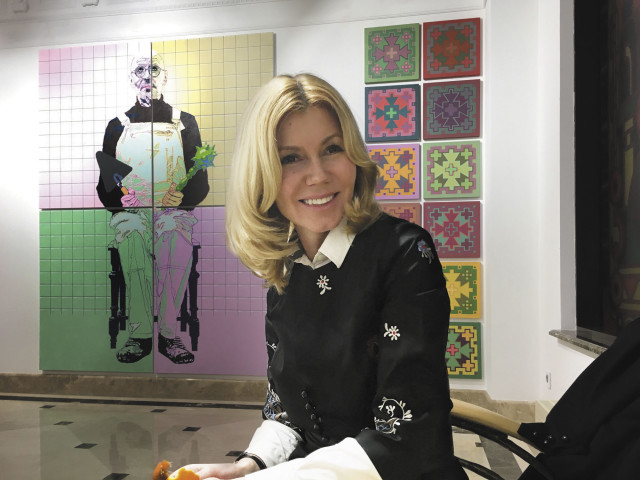 Natalia Zabolotna, the General Director of the Kyiv Mystetskiy Arsenal, an art world reformist, heads up a new social media campaign to bring Ukrainian culture to the world stage.
On a recent spring morning Natalia Zabolotna, the head of Art Ukraine Foundation, parked her SUV by a stadium in the Shevchenkivskyi District of Kyiv. Carefully walking in her high heels, Zabolotna tried not to accidentally step on the stray syringes and broken bottles that littered the path to the stadium. The place looked sad and deserted, "a shame for anyone who cares about the future of our next generation," Zabolotna concluded shaking her blond head in frustration. Her colleague photographed Zabolotna with a sign in her hands and the dirty stadium behind her back. The sign read: "#SOSмайбутнє" (#SOS future).
The flash mob that Zabolotna and her friends founded several months ago in Kyiv, Odessa and Lviv turned into a full-scale civil society movement spanning the entire country. The goal was to save some of Ukraine's most glorious architectural heritage: buildings that include historically important monuments and early Soviet era sport centers, many of which are now in truly dismal condition; some even laying in ruin. Zabolotna, her friends and volunteers decided to put together a detailed register of all the valuable but troubled places requiring urgent investment and restoration. They call their project "#SOSмайбутнє."
A patriot and optimist, Zabolotna is convinced that Ukrainian civil society has a key role to play in urging the government to save objects of cultural heritage. "If today the state does not invest in children's sports schools, stadiums, swimming pools, as well as museums, theaters and other cultural centers, tomorrow Ukraine and its international donors will have to invest in the juvenile penal system, special police units and hospitals for drug and alcohol addiction," Zabolotna told me in an interview earlier this month at her recently opened Art Ukraine Gallery on Mikhaila Grushevskogo Avenue.
Most Ukrainians probably wish that their children could play sports in comfortable and clean athletic complexes, study music, theatre or dance at modernized art schools, walk in clean parks and see restored architectural monuments. Zabolotna, a mother of two, felt confident that her experience would be useful for bringing Ukraine's culture back on its feet.
Fortunately, she is not a novice in dealing with ruins.
A few years ago I profiled Zabolotna for Newsweek magazine. On the day we met for the interview, Zabolotna showed me around the construction site. We walked together through the still half-ruined rooms of the Arsenal, a spectacular building that Catherine the Great had ordered constructed more than 200 years ago. Zabolotna's ambition at the time was to convert the core of the structure, with its elegant stone columns and brick arches, into the biggest museum of contemporary art on the territory of the former Soviet Union. She envisioned that it would become a magnet for international art events that would bring flocks of international art lovers to Kyiv.
Despite improbable odds and political obstacles, Zabolotna managed to bring her vision to fruition. In it's first five years of existence, over two million guests have visited the museum's events, many of which have become annual occasions: the ART-KYIV Contemporary, Great Culture Salon, Books Arsenal fair and dozens of exhibits, presenting both local and international artists.
Even as construction workers were still fixing the Arsenal's leaking roof, equipping the museum with heating systems and building toilets, Zabolotna and her team filled the Arsenal's rooms with great art, preparing the first exhibits of European graffiti, street-art, and Ilya Chichkan's politicians with monkey faces. They also negotiated to bring hundreds of masterpieces from the world's best museums for short term exhibitions in Kyiv. Zabolotna built a network of connections at the Kunsthalle in Düsseldorf, at the Guggenheim and MOMA in New York City, as well as dozens of others from among the world's most prestigious art institutions.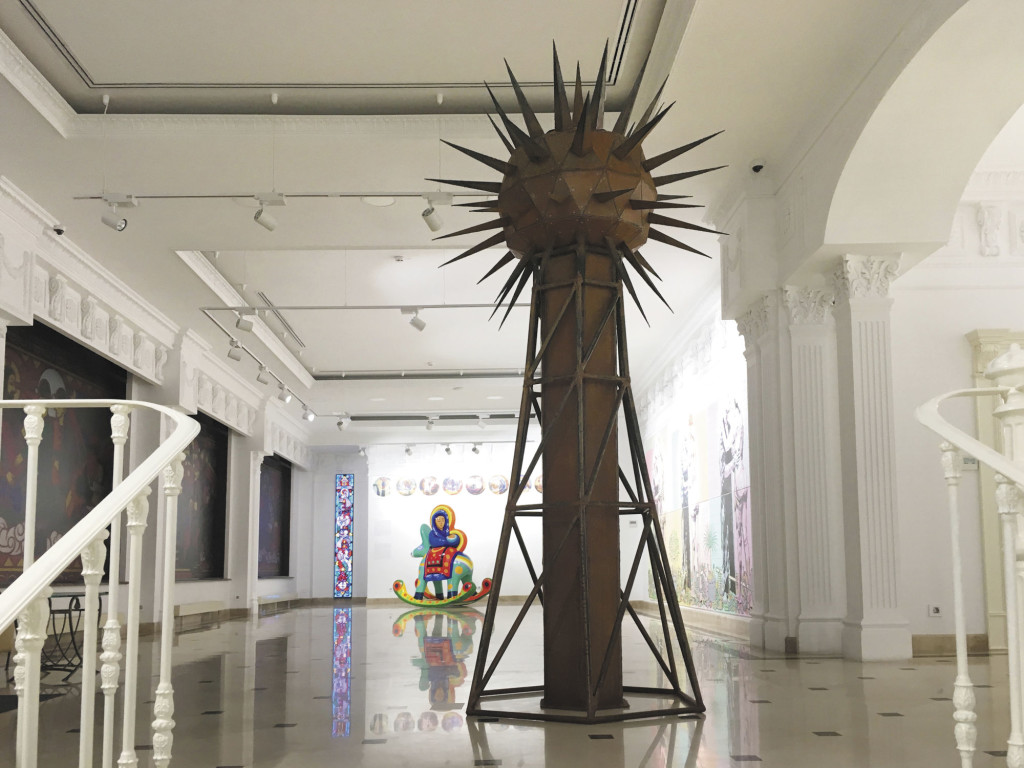 In 2013, when I observed Zabolotna at work, or as we say, "in the field," at the 55th Venice Biennale, she seemed to be friends or on good terms with many leading international curators.
With Ukraine on her mind, Zabolotna went about interviewing European officials and art experts to perfect her knowledge of the issues surrounding the modernization of the state museum system. Like many experts she recognized that Ukraine lacked contemporary expertise on bringing museums up to modern standards. During the last five years she has put great effort into developing legislation to establish a system of government financing similar to the one that operates in Britain, where cultural, educational and environmental projects are financed by a portion of the proceeds from the state lottery.
"Unfortunately, Parliament did not support our initiative to create a systematic foundation for humanitarian development" she explained with a sad inflection in her voice. "So, instead we are building up the efforts and capacities of civil society, with a network of volunteers who will be tasked with documenting all the degrading cultural centers, churches, village cultural clubs and palaces. Our country is full of great and important palaces, but they are in miserable condition and some are literally falling apart," Zabolotna points out.
"We are putting together photographs of concrete sites on an interactive map and creating a sort of  'Wikipedia' of our heritage that we will use to illustrate the scale of the catastrophe," she added. "After that, we are going to calculate the costs of fixing each site."
She believes that it was the struggle that she put up in lobbying for her law, a concerted effort that she began together with Ukraine's most effective reformers and parliament members, that caused her to lose her job at the Arsenal. That politically motivated setback did not cause her to abandon her ambitious ideals, however. "Our SOS platform is calling for a cultural Renaissance in Ukraine," she firmly states.
In April, Zabolotna organized a diplomatic breakfast for representatives of fourteen embassies at her gallery and presented the "#SOSмайбутнє" project. Two journalists who were members of the team, described the historical, cultural and social value of each building, be it an athletic facility or a cultural center. Western diplomats expressed their interest in Zabolotna's project: "Our Dutch guests were especially helpful and asked to meet again to negotiate the details of cooperation, and our Estonian partners — whose steps we are following in our initiatives — also supported us very strongly."
Like many other industries in Ukraine, the art scene has unlimited potential, which has not gone unnoticed by international figures in the art market. The well known Russian curator Marat Gelman, who is now based in Montenegro, works with some of Ukraine's most impressive and established artists. He suggests that Ukrainian leaders would do well to think about about taking seriously the challenges within the international tourism business and focus more on historical monuments that attract global tourists.
"In the 21st century instead of the competition between Pepsi Cola and Coca Cola we are going to see Kyiv competing for tourists with Prague and Odessa with Nice, and the more of its cultural heritage that Ukraine manages to save and protect, the closer it will be to victory," he explained.
Zabolotna is a strong and unrelenting believer in the maxim that one day, Ukraine's culture will flourish on an international level. She is sure that just as in Western democracies, the tobacco, alcohol, lottery and gambling businesses will eventually be obliged to chip in to the national arts budget and to help save the country's heritage. Knowing Zabolotna's stoic and revolutionary spirit, I would not be surprised to see the "#SOSмайбутнє" movement make that happen more quickly than anyone could imagine.
Anna Nemtsova is a correspondent for Newsweek and The Daily Beast covering former Soviet States. Her work has also appeared in The Chronicle of Higher Education, Washington Post, Foreign Policy, Marie Claire, and The Guardian. She is the winner of the 2012 Persephone Miel Fellowship and a 2015 recipient of the IWMF Courage in Journalism award.