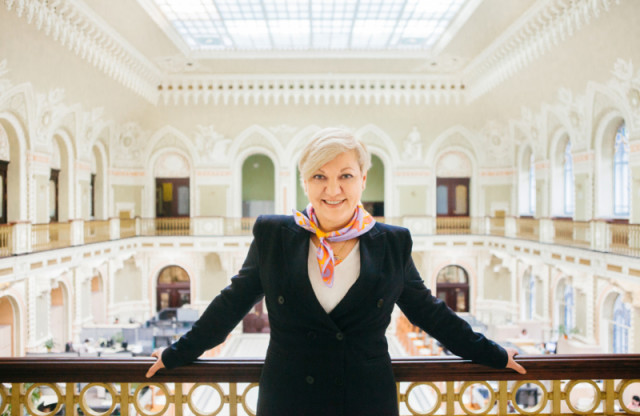 Valeria Gontareva, head of Ukraine's Central Bank (NBU), issued notice of her resignation today, claiming that "reforms are done," and that her "mission is complete." Gontareva's resignation, which takes effect May 10th, comes as welcome news to her enemies, while leaving President Petro Poroshenko in the difficult position of finding a replacement central banker and securing continuity of policy.
Gontareva's Central Bank oversaw several of the most significant and unpopular reform efforts in recent memory, including the of axing artificial support for the Hryvnia in favor of a flexible exchange rate and the needed liquidation of a portion of number of Ukraine's largest banks. This December, she was instrumental in nationalizing PrivatBank, which is the country's largest lender.
Gontareva's activity has earned her the support of international aid organizations (particularly the IMF) and the Poroshenko bloc, while drawing the ire of various Ukrainian oligarchs and lawmakers, who accuse her of colluding with Russia. In the past several months, Gontareva has had her home vandalized with the image of a pig cloaked in the Russian tricolor by the National Corps, a political party associated with the far-right Azov battalion. She has also had a coffin delivered to her doorstep and was forced on one occasion to appeal to the police to disperse protestors surrounding her residence. Subtlety may not be her opponents' strong suite, but they have made their message clear: at a press conference this morning, Gontareva complained of "political pressure," which appears to have played a crucial role in her resignation. Rumors of her desire to quit have circulated since February. 
Public distrust for Gontareva has been very high even by the standards of the Poroshenko administration (hovering around 80%) according to the Democratic Initiatives Foundation. This is no doubt the consequence of both her "shock-therapy" anti-crisis policies and the efforts by various disgruntled businessmen and lawmakers to identify her name with Russian economic sabotage.
Her introduction of a flexible exchange rate for the Hryvnia resulted in the currency's value plummeting from 12 to 27 Hryvnias to the dollar in 2014. She was also responsible for the closure of 88 of Ukraine's 180 banks in a campaign against money laundering. These banks were in shambolic state or were in some cases even so called 'Zombie banks'. However, her efforts to bring Ukraine in line with IMF and EU demands and to pursue unpopular policies in the name of long-term financial stability have distinguished her from her peers. Her track record and the conditions of her resignation will make finding a replacement particularly difficult. 
Not only has Gontareva's commitment to policies appealing to Western sponsors been singular, but her resignation also signals to would-be successors that Poroshenko will be unable to defend them from elites opposed to reform. Gontareva and Poroshenko had once been business partners, and the President had every reason to protect her reform efforts. His failure to do so is likely to dissuade those who might take a similar tack by implementing contentious policies to guarantee continued support from the IMF, who called for the Ukrainian government to "safeguard the NBU's independence" last week. 
On April 2nd, Gontareva told reporters that she had suggested to Poroshenko potential successors in the event of her resignation. Currently, the names of bankers and politicians including the CEO of Ukreximbank, Aleksandr Hrytsenko, the CEO of Raifaissen-Aval Bank, Volodumur Lavrenchuk, and former Prime Ministery Arseniy Yatsenyuk have all been circulated as potential NBU chiefs. President Poroshenko will have a hard time selling this position to either Lavrenchuk or Hrytsenko. Yatsenyuk has already publically declined the post in March. It will be harder to still for the Poroshenko bloc to persuade Gontareva's successor to adhere to her approach, and remain committed to transparency and reform. This in turn may come to impact the IMF's already skeptical outlook on Ukraine, endangering the critical $17.5 billion lending program set to continue until 2018.
Gontareva herself expressed the view that any future NBU chief should be a technocrat rather than a politician. As she herself has found, that distinction may be impossible to maintain. Her successor will no doubt keep this lesson in mind when accepting the position.