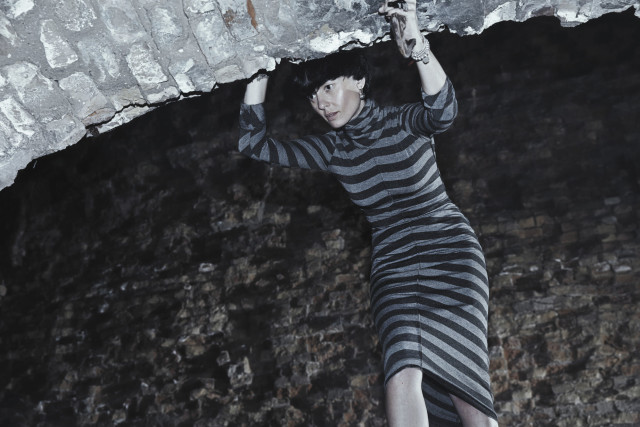 While Ukraine is facing a crisis that manifests itself in many aspects of life, there are still people who feel responsible for the ones who are unprotected by the government and society. Fashion designer Anna Shash and her husband could be role models not only for orphaned children, but for fellow Ukrainians as well.
Anna doesn't call herself a designer. She believes one would have to graduate from at least three universities in different parts of the world to have an idea about what design truly is. Originally from Odessa, she began her fashion career in retail, worked as a buyer, and is now a co-founder of the "W8Less" clothing brand, selling clothes online and in a showroom on Vozdvizhenka, the most picturesque part of Kyiv.
Anna is inseparable from her husband and business partner Daniel. They met at work and their relationship developed quickly. "For us, every day begins with a briefing and careful planning. We are a fiercely hard-working family."
The idea of creating their own brand first emerged in Lviv, where the couple used to go for weekends. Daniel was completely surprised when Anna knitted the scarf-like headwear known as a snood for their son— he didn't even know she was good at knitting. That's how they came up with the name "W8Less." "W" is visually similar to the Ukrainian letter "Ш," first letter of the surname Шаш (Shash), "8" stands for the snood Anna knitted of weightless yarn in Lviv, which starts with an "L."
"I dreamed of creating clothes," says Anna, "but I've never thought that dream might come true. But all you have to do is work, to set and reach goals. Set two complicated goals at a time and you'll see how fast you reach one. A knitted snood for my baby son was our starting point and all that you see now was made with our own hands."
Plan well, work hard, turn a profit — is sounds simple and obvious. But in fact, Anna and her business are somewhat secretive. You can't just drop into the showroom by strolling along the street. The entrance is from the courtyard and there is no information posted about working hours. Is it a friendly place? Do they care about having customers? But when one enter the space, you find that it is all about caring.
"We don't believe that all people are good. Mostly they are not, and that's okay, you just have to keep in mind that the world is harsh. You can fall and hurt yourself." This is not something you expect to hear from a sweet, slender young woman with a ready smile. "When we chose the location for our showroom, we didn't want it to be too easy to find. No one could drop in from idle curiosity. We only wanted to see the people who came here purposefully. We don't like people who are trying to get something out of us like we owe them, or try to cheat us, or flatter us with alternative motives."
Anna explains the couple's philosophy: "We believe that a need for achievement takes root in childhood deprivations — people try to obtain something they had been missing. But often, what we really need is just understanding, because all troubles come from something unspeakable that we hold inside. So, speaking of charity, first we have to define what the need is. Charity is not just about financial help, like 'here is your money, child, and get lost.' Orphanages in Kyiv are full of toys and things. On winter holidays, people bring bags-full to shelters and completely forget about the children after. But if you want to help, you must understand the need. And people need care…" Speaking of this makes Anna emotional and she asks Daniel to tell about the project.
"Osvitoria" is a non-governmental non-profit organization, finding sponsors and helping them manage educational projects that help children build their future. "Osvitoria" runs workshops all over Ukraine, as well as in the Donetsk Region, preparing children for their first occupation. Their motto is "We are not giving fish for a day, but teaching them to fish for a lifetime." "Osvitoria" proposed that Anna and Daniel teach a sewing workshop. "There is an orphan boarding school graduate seamstress in Dobrovelychkivka, Kropyvnytskyi Region," says Daniel. "She wanted to do a workshop and looked for someone who could help not only financially, but also lead the children by example, show them how to create a whole production line with their own hands. So we are going to Dobrovelychkivka with a conference, not just intending to bring sewing machines or fabric — we are going to tell children how everything really works. We want to inspire them, to show that they can become someone by mastering the skill. We developed a 6-month plan: they will sew some basic packing bags for us, we'll sell those and give part of the money to development, and part to the makers, showing that they are capable of earning money.
There are about ten kids, girls mostly, in sixth or seventh grade. They are going to have a dance pretty soon, and Anna can help them with patterns and fabric for the dresses, but that's not main intention. Most importantly, we want to show them how the real world works,  bring them to markets and other events where they could sell their handicrafts. Many talented children in orphanages only need an opportunity to grasp so they can get themselves out of that situation. Success stories of children like that give us goosebumps, it feels like magic. You trust in someone, they return your trust, and when time passes maybe they will say: this family, those two — they helped me to find my way!"
The homelike showroom feels full of energy and light. The clothes are fashioned in a casual urban style, mostly dark colors. Everywhere are pillows and plaids, fluffy bootie slippers and plush sleepwear. It is a strange contrast: there are no bright colors, but a lot of bright ideas. Everything looks calm and stable, and these people are glowing with confidence in the clothes they create, in their philosophy.
Anna shows a turtleneck in different hues: "To us, inky, wine, coral colors are very bright. We worked with black only, but people asked for color, so we made these. Our main colors are black, gray and white — because white is the second black. This is the psychology: Earlier my life was full of colors. People are trying different things when they are looking. But when you know what you want, you don't want to prove anything — black is for you."
The space created by this couple is full of enchantment. One can't possibly leave the showroom in the same mood as having entered it. There are so many impressions per square meter of space, it is easy to dissolve into the ideas, become renewed and inspired — weightless.
Anna's last message stays with me: "It is so important to dream. I am teaching my son to dream, he is a big dreamer. I believe that family is the most important thing. We have fish, the dog and our son. Family is something that you can raise." It looks like that is what the couple is doing with their brand— turning the people around them into family.
Dariya Popovich is a journalist living in Kyiv.