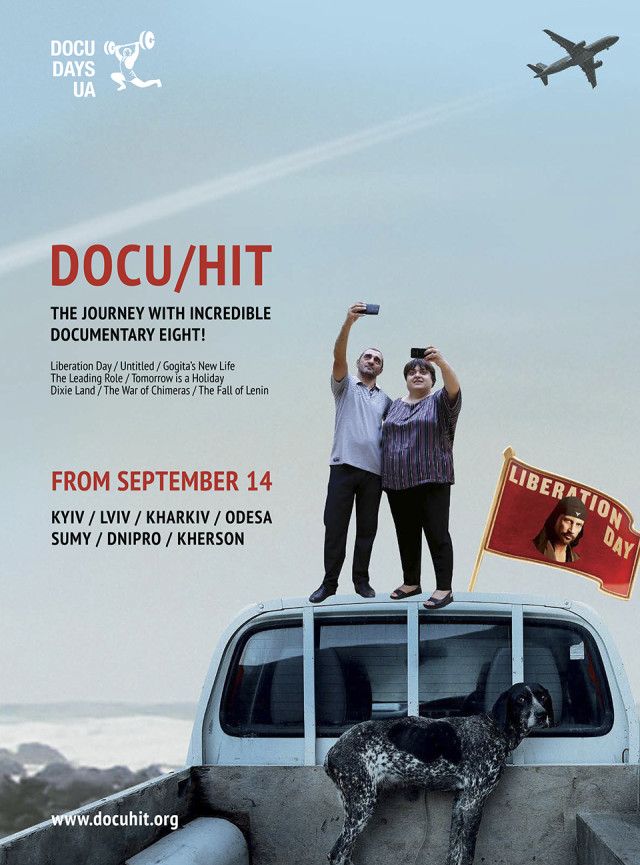 DOCU/HIT invites you to a journey with incredible eight documentaries!
On September 14, the DOCU/HIT will be on wide screens of seven Ukrainian cities. The films will be shown in Kyiv, Odesa, Lviv, Kharkiv, Sumy, Dnipro and Kherson. These are journeys through the contemporary reality, from the Balkans to Ilovaysk, from a Kyiv apartment of a famous Ukrainian actress to the central concert hall in Pyongyang.
The theater program will feature works of the masters of contemporary documentary filmmaking. In particular, it will include the new film Untitled by Michael Glawogger, co-directed by Monika Willi, which was premiered at this year's Berlinale. The program will also feature the films Leading Role and Tomorrow Is a Holiday by Serhiy Bukovsky.
Leading Role ('Golden Dziga' national film award and Best Documentary Award at the Odesa International Film Festival 2017) is the director's honest conversation with his mother, the film actress Nina Antonova. And Tomorrow Is a Holiday is, without exaggeration, a Ukrainian documentary classic.
In addition, the audience will have an opportunity to watch the new film by Roman Bondarchuk, whom Ukraine nominated for Oscar with his film Ukrainian Sheriffs. Dixie Land became the best Ukrainian film at the OIFF 2017. This film is a bright journey from childhood into the adult world.
This year, again, the DOCU/HIT program will allow the audience to talk to Ukrainian directors after the screenings. Meetings with documentary filmmakers and heroes from movies will take place both in Kyiv and in the regions!
In particular, the program will also include screenings of The War of Chimeras by Anastasia Starozhytska and Maria Starozhytska. The film is a reconsideration of the personal experience of the director Anastasia Starozhytska and the volunteer soldier with a military nickname Lavr; it is a journey from illusions to the heart of war. We will also screen The Fall of Lenin by Svitlana Shymko (special award of Docudays UA-2017), an ironic documentary story about saying goodbye to the Soviet era in Ukraine.
Two other authors' journeys included in DOCU/HIT are Gogita's New Life by Levan Koguashvili and Liberation Day by Uģis Olte and Morten Traavik. Liberation Day is a provocative trip to a country where dictatorship rules. The film traveled a few dozen festivals across the world. And the story by Levan Koguashvili (special award at Docudays UA-2017) is a trip from prison to a new life.
The addresses of cinemas and the full screening schedule look at docuhit.org.