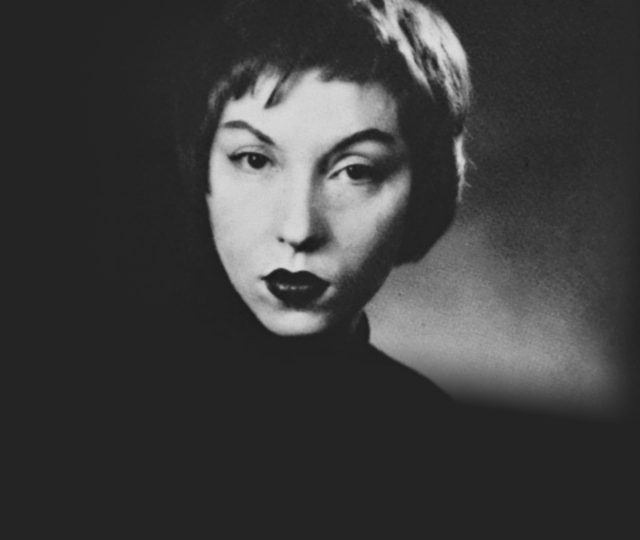 Four decades after her passing, the acclaimed Brazilian writer Clarice Lispector (December 10, 1920 — December 9, 1977) is becoming ever more lionized for her stylistically innovative prose and cult favorite novels. She was mostly unknown outside of Latin America until 2009, when the American writer Benjamin Moser published his breakthrough biography of her "Why This World: A Biography of Clarice Lispector" and brought her work to interested American and European audiences. Clarice was born Chaya Lispector in Chechelnyk, Podolia in contemporary Ukraine, and her literary reputation in her native country is only now beginning to emerge.
The Lispector family fled the Russian Civil War through Romania to Brazil, sailing from Hamburg and arriving in Brazil in the early months of 1922, when the future writer was a year old. Her family later moved to Rio de Janeiro when she was a teenager, and after attending law school in Rio, she began working in journalism and quickly became famous for her revolutionary novels. After marrying a Brazilian diplomat, she left Brazil and spent the next decade and a half traveling in Europe and the United States before returning to Rio de Janeiro in 1959. Her "Complete Stories" published in America in 2015 heralded the beginning of her worldwide popularity.
On a recent trip to Brazil, Bohdan Nahaylo, the renowned British-Ukrainian journalist and former senior United Nations figure, discovered her work. Smitten by this remarkable figure from the past, he wrote her a literary love letter which is published here for the first time.
From the Author: I discovered Clarice Lispector quite by chance when visiting Rio de Janeiro in May 2014. Not knowing Portuguese, and wanting something to read about Brazil, I went to an English-language bookshop. The newly published biography of Clarice by Benjamin Moser was on display and the title and theme immediately seduced me. After reading this marvellous book and some samples of Clarice's works in English I was hooked. A new wonderful writer, so different, human and honest, had drawn me into her world, a voice so individual and yet so universally ours. Learning that she had been born Ukraine and her family had been forced to flee from it, like my own, brought me even closer to her. Over a caipirinha, or two, I felt the urge to reach out to her and wrote her a letter.
Rio de Janeiro may 27, 2014
It was not in Ukraine that I met you, nor could it have been. You were no longer young, and I was already somewhere between middle and old age. In fact, you had been dead for quite some years, but in your books, which I discovered quite by chance while visiting your adopted city of Rio de Janeiro, you were still young, enticing in the photographs and audacious in spirit.
You too had been a child of those forced to flee from their motherland, to grow up in a foreign land and, while knowing why you were different, to master its language and ways. Having adapted and succeeded in making your mark, you soared and remained forever suspended in flight. Where was it safe for such an elusive hybrid as you to land with no certain place to call home other than within your soul?
How cruel that time and the injustice, bigotry and cynicism we call history denied us a chance to meet and talk, to exchange impressions and experiences, and to console one another through empathy and a shared sense of the one-eyeds in a world of the complacent and indifferent.
You were not even given the chance to enjoy a childhood in the land of your birth, and though it would remain forever associated for you and your family with suffering and the merciless annihilation of the Jewish people, you somehow never renounced your link with Ukraine which was so strangely beautiful and vibrant, and cruel and deadly all in one.
I too grew up the son of refugees from Ukraine, but I have been fortunate to see this land gradually free itself from oppressors from both outside and within, remove the ugly blank spots in its historical memory, and establish a sense of justice, dignity, pride and hope. In this emerging new inclusive Ukraine you and your works should have their place, and your spirit should feel welcome there.
I am assuming of course, and cannot be sure, that you would have found me interesting and worthy of your attention. But now that you are there, beyond that opaque partition which separates the living from the dead, I can only relate to you through the literature you left behind — your intimate insights, confessions, doubts and hopes hidden behind the loose-fitting mask of fiction beneath which you wore your sensitive, perceptive and candid self. By responding in writing — a medium that fixes feeling and coveys it through space and time.
We will join you soon enough, but for now we resonate to what you conveyed. We salute your talent and honesty and your efforts to help all of us answer the question — "Why this world?" Your life's work has inspired us and contributed to our shared existential understanding of what is a "Breath of Life" in a cold universe and uncaring world.
Bohdan Nahaylo is a British-Ukrainian scholar, journalist and veteran Ukraine watcher. He has worked for Amnesty International, Radio Liberty, the United Nations and Democracy Reporting International. He combines his professional work as a political analyst and policy advisor with a passion for literature, music and culture.