In the 1980's a group of Odessa artists set about debunking the Soviet ideology. Now, one of them continues the project and finds it is still relevant today.
I have an old heirloom that I'm proud to have kept: it's a fur "sweater" that I wear from time to time. It's back is made of felt — like a grandmother's slippers — and it represents the "fashion" of the legendary 1980's, a tumultuous period when artists and designers took standard materials and created things hitherto unknown from them.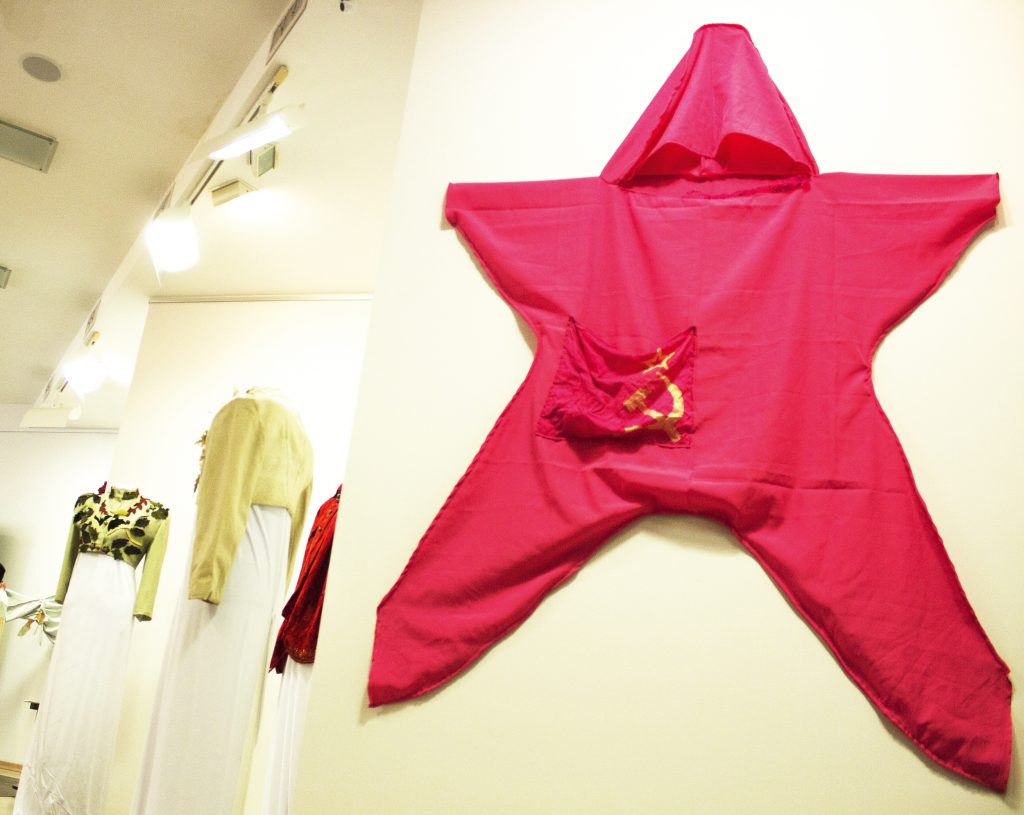 However, most importantly, that sweater and a dress with a Soviet star on the breast are the works of Vanya Ren, a talented Odessa designer and artist who died tragically, yet created many things and constantly participated in performances and art shows in the '80's. Ren was a legendary figure in that circles (he was also a friend of mine) and his tragic early death brought a close to that era.
Items like these, created in the 1980's to debunk or mock Soviet communism, are central to "Decostumization", a new project from Vladimir Umanenko (also known as Uma) at "NT-art". Yes, the name is correct: "Decostumization" is an analogue, an answer to Ukraine's "decommunization campaign". The project not only coincides with the 100th anniversary of the 1917 revolution, but also with Uma's birthday. The exhibition, lectures and meetings are the continuation of Uma's preliminary presentation at Kyiv's Mystetsky Arsenal.
Here we should mention that true "de-Sovietization" never actually happened in Ukraine — and we live with that fact on a daily basis. It is in our minds, our hearts, our souls. Still, Gorbachev's Perestroika appeared to open the floodgates to allow all the lies and rot of the USSR era flow out. In the 1980's, artists and fashion designers created bright, colorful works exposing the essence of communism. In Odessa, the most prominent artists were Uma, Irina Dratva and Vanya Ren.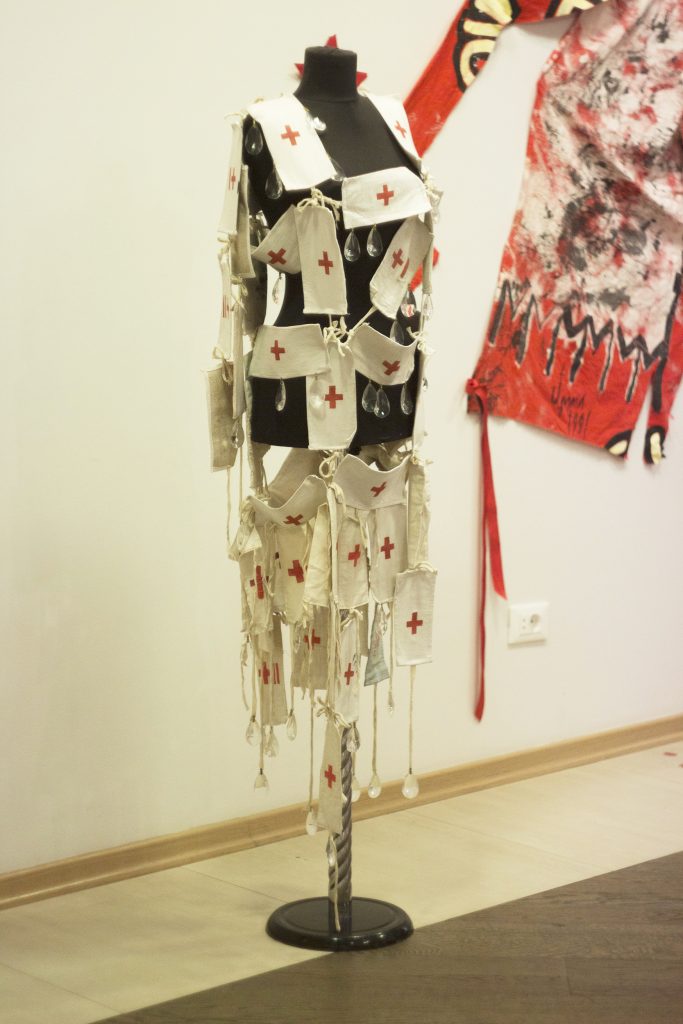 Uma has preserved, reconstructed and presented these works in "Decostumization". They depict a period of hope, when artists refuted the Soviet ideology through mockery and sarcasm — both of which are imprinted in each of these works.
The most unpleasant item in the collection is a wire corset. Despite its fearsome appearance, in the 1980's, it had no frightening connotions. But, back then, even the recreated Gulag quilted jacket — in many ways, a comic gag — was perceived as something positive, a symbol of hope that Sovietism had ended.
Alas, these works have not lost their relevance. It's not so easy to eradicate all the old Soviet habits and stereotypes from our minds. Moreover, some new ones have emerged, and they may be even worse…But let's not talk about these sad things now.
There are only several truly genuine Soviet items on display. For example, a number of flags with the USSR coat of arms were turned into a comfortable dressing gown. Oversleeves labeled with a person's social task ("Duty Officer" or "Head of Post", for example) have been sewn into a suit. We should also make note of a dress with holes cut into it in the shape of "Cheka", "OGPU", "NKVD", "KGB" — abbreviations that used to make people tremble with fear.
A particularly funny item is a kimono made from a map of the USSR. It is printed on oilcloth table linen. Behind the kimono is a rosy dustpan (in Russian, "sovok" — used as a pejorative for the Soviet Union or a person with a Soviet mentality). There is also a skirt sewn from a mixture of Soviet and Nazi symbol — a combination with obvious symbolism.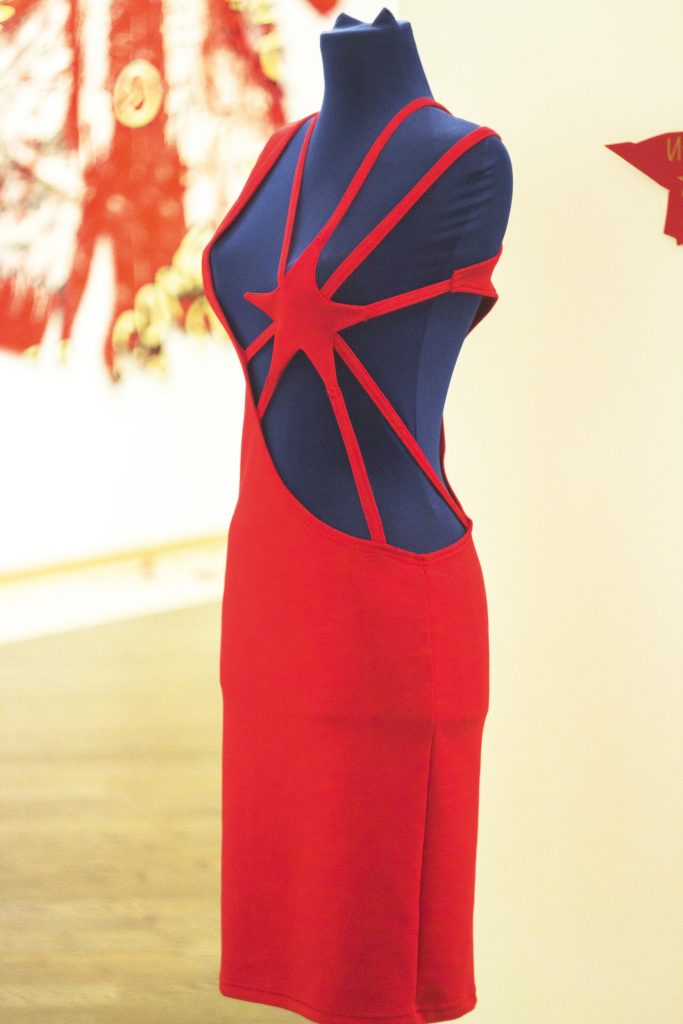 But the exhibition's opening day was not as joyfully optimistic as the 1980's because the "cursed past" has not yet been overcome. After all, "decommunization" must first occur in people's minds; it is more than renaming the ruble the hryvnia. For this reason, visitors to the exhibition were treated to tomato juice with salt: it is both "red" and associated with the Soviet period.
Irina Dratva came all the way from New York City to Kyiv for the opening Arsenal.
"I came to draw a line, to show, 'I was there, I was involved'. It was summer. Uma and I walked a lot, remembered many things", she says. She recalls how German journalists came to Odessa and asked what fashionable clubes we have. "And you answered: 'Yes, here is our favorite, the main club!' Our apartment — and my workshop — was then the center of gravity. Everybody and anybody was 'clubbing' there", she says.
"Life was turbulent, but optimistic and people experienced a sensation of 'euphoria', which was full of vital energy". Dratva recalls "There were a lot of ideas".
"And I asked Uma: 'Where? Where did you get all these materials, flags, pennants?' He replied that they were mercilessly thrown away at the time, and he simply collected them. It was the materials that provided the ideas: for example, military jackets.
Partially preserved by Uma and the reconstructed by Irina, the jackets bring back memories of medals, ranks and vain exaltation. Unfortunately, this all lives on today. "In the '80's, the evil past was turned into a joke. Sarcasm and mockery of the recent communist past was very chic. But was it a joke?" After all, the sarcasm was gained through much suffering Dratva explains…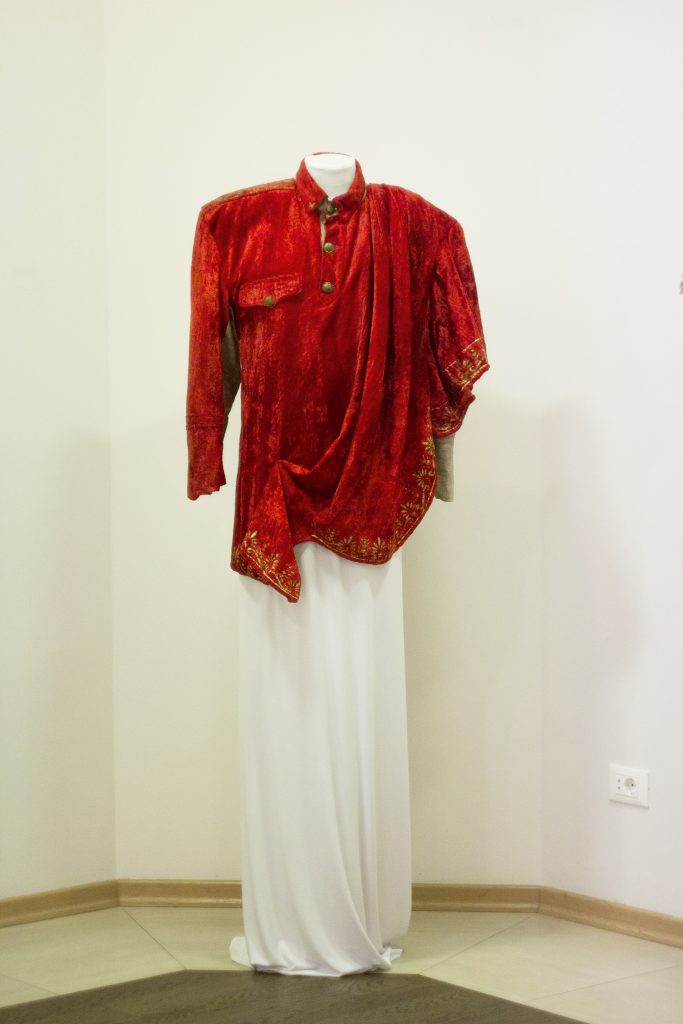 "That euphoria lasted for a long time. But not forever. Uma left to join the famous 'Maski Show', I went to the United States, and Vanya died. Now it is history and I treat myself as part of the story. Yes, we never overcame the Soviet worldview, but there was a breach at least.
The corset, made of wire, which I wore for fashion shows, is in fact a statement about the Gulag, about the Holodomor. It must go on".
And this is the purpose of "Decostumization". Vladimir Umanenko takes pride in the fact that he saved, recreated, and added objects to the project. And, alas, they are still relevant.
Ute Kilter is an art-critic.