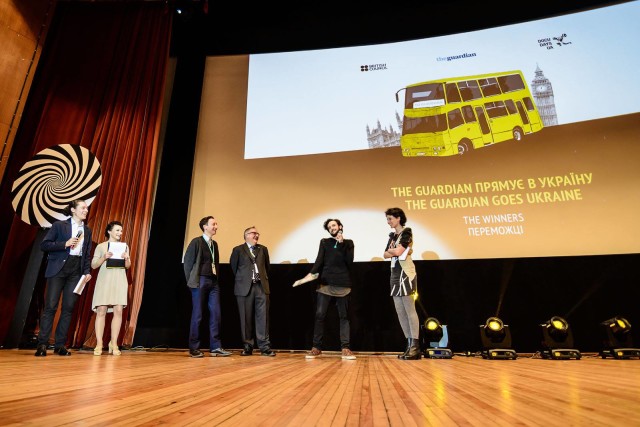 Docudays UA, held this year from March 24 to March 31, is launching a new platform DOCU/PRO, the purpose of which is to familiarize Ukrainian documentalists with international cinema platforms, to train project presentation skills at pitching sessions, to find international partners and financing abroad, and to provide assistance with project development at all stages.
This spring, finalists of the DocWorks:UA/UK program, organized jointly with the British Council in Ukraine, and the Sheffield Doc/Fest will pitch their projects in the framework of DOCU/PRO. Six teams were selected for participation. The pitching is organized for beginning directors and intended to develop collaboration between documentary makers from Ukraine and Great Britain. The DOCU/PRO platform will also feature training for finalists of the international competition Warscape/"Voennye Landshafty" initiated by Docudays UA jointly with the Delegation of the International Committee of the Red Cross in Ukraine. Finalists of the competition from all over Eurasia will present their projects at the pitching session, focusing on life in the conditions of war, as well as the consequences of armed conflict for civilians. The winner will receive $5,000 for continuation of their work. Submission of the projects continues until February 10th.
Winners of last year's competition by Docudays UA and British newspaper The Guardian — "The Guardian comes to Ukraine" — will present their short films: Alisa Kovalenko "The Match of Her Life," Svitlana Shymko "Leninopad," and Semen Mozgovyi "History of the Winter Garden."
Visitors of the DOCU/PRO platform will also benefit from a series of professional lectures. One of them will be read by publicist Thessa Mooij (New York), discussing international festival promotion and informational support. As founder of Silversalt PR, she has worked with the International Documentary Festival in Amsterdam (IDFA), as well as with international festivals in Helsinki.