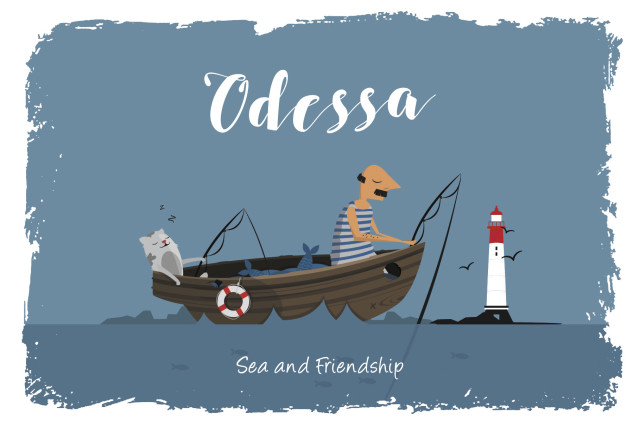 From the staff of Moy Gorod: My city. It could be the city I was born and grew up in, or the city that I fell in love with after a single visit. Fell in love with its originality, its changeful weather, its gentle sea and its unique people – scattered across all the continents, with the sun under their skin, and their own dialect and accent. Like anything of value in this world, this city should be protected. Not only saved and preserved, but developed and improved. This is possible only when it's citizenry learn to love and appreciate it, to keep it clean and preserve it's culture, to negotiate and cooperate instead of arguing. When they start building sustainable businesses instead of pursuing short-term benefits. We, the residents of Odessa, walking these streets every day, have gotten used to seeing flaws and getting upset about them. It's part of every Odessite's daily life, but there is a path from merely wanting change to actually making it happen.
Moy Gorod is a social project launched by the Netpeak agency and  the Vertamedia company to discover and rally Odessites who want to make Odessa a comfortable, beautiful and clean city instead of just moving abroad, as so many choose to do. Moy Gorod is a place where anyone can post ideas, discuss them, find like-minded people and raise money to implement the best initiatives to make Odessa a better place to live. Moy Gorod is not engaged in targeted assistance. The aim of the project is to drive systemic changes.
The platform was started in the spring of 2015 by two people in a small office within the walls of the Netpeak agency. A lot has been accomplished over the past year: we've launched the platform website and the team has grown to 7 people. 7 projects have been successfully completed and 12 more are being implemented at this moment. We started a campaign to change the public's civic mentality, enlisted experts from different fields to help the cause and featured a large number of social projects on our website. In the first three months of operation the site received 90 project ideas, proving that Odessites have something to say and are ready for changes.
Reflecting our interest in systemic change, Moy Gorod is a multi-faceted platform that allows the realization of the most ambitious projects to make our city more attractive for visitors and business partners. We bring together people who are ready to deal with specific challenges faced by many tourist cities: cleaning the streets and beaches, conserving historic buildings, creating new art objects. We encourage and support initiative — if you have thoughts on how to improve the city, you can submit a proposal to the Moy Gorod website and receive extensive support.
Our team can help transform an idea into a full-fledged project, including finding experts and a dedicated team, raising funds and realizing the project's full potential. If you are not ready for an independent project, you can always support one of the projects already on our website — at the moment, there are 48. If you are already working on positive changes in the city, we will be happy to tell the public about you and your efforts.
The website's "Events" section offers the opportunity to discover interesting social events, or post information about an event you are planning. There is a blog collecting inspiring examples of positive changes in the city, the history of volunteers' and regular citizens' good deeds, announcements about grants and competitions, as well as articles about the problems and examples of successful urban solutions around the world.
A rankings section allows Odessites to share their opinions about the current problems of the city in a simple survey format. Rating is on a scale from 1 to 5 and the evaluation criteria include such issues as landscaping, roads and transport, environment and cleanliness. By clicking on a particular issue, you can view all the ideas and projects on the platform aimed towards solving relevant problems. Apart from the main platform website you can get acquainted with the major projects on our English page – http://en.mg.od.ua.
Moy Gorod is a non-profit, non-partisan platform uniting all kinds of people and organizations for positive change, and we are always happy to speak about our friends, volunteers and partners. Currently, the platform has partnerships with 13 Odessa businesses – Netpeak, Verta Media, Ringostat, Intersog, VRC, KeepSolid, Nova Ukraine, SinGree, New Media, La Novale, Clickky, Surflaguna, Ukrtelecom. Many of these companies are well-known outside of Ukraine and are parts of top-rated business organizations. Our informational partners are iQSpace, Odessa Business News, Razom, Odessa Media, Mayak, Narodnoe radio and Prosto Radi.O. CLS Company and Advocado are providing Moy Gorod with reliable legal support.
We, the team of Moy Gorod, are convinced that it is crucial to first change people's minds in order to drive real and permanent changes in our city. It is a long journey that requires a lot of time and resources, but we believe that nurturing a sense of responsibility in our peers will help preserve the city and attract investments. For example, putting more litter bins, setting high penalties for smoking in public places — these are undoubtedly effective measures. But we want to start change with ourselves, change the way people think about living in their city.
A civilized man won't throw a piece of trash on the ground. Not because he is afraid of penalties, but because he respects himself and the place he lives in. This is a kind of person who will put an effort to make his home and his city clean, not making excuses like: ​​"if others are littering, why should I have to clean up after them?" "We" — are not only the team of Moy Gorod. "We" — are the ordinary residents of Odessa who love their city, who come to our website with their suggestions and then see these ideas come to life on the streets.
A lot needs to be changed. We need to overcome the narrow-mindedness and stagnation of thought, get away from the philosophy of "It's not my problem." One of the city's main concerns is the lack of cleanliness, including issues with household waste thrown out in improper places, animal feces on the streets. The situation at Odessa beaches is far from perfect as well, with more litter in the sand than in the bin. At Moy Gorod, the systemic solution to this problem is divided into three sub-projects. These are: "Do not litter" signs on the beach, boxes with eсo-packs for cleaning after pets and "My city without garbage." Change is slowly happening, but in all such cases the root of the problem lies in the people, in their minds and attitudes.
One of the best ways of engaging the public is showing that it's really not hard to help. This is one of the secondary objectives for the project "cherrytea.od.ua." Its main goal is to give things that are unnecessary for some people to those who need them. Anyone who has shoes and clothes in good condition can fill out a form on the website and either take the belongings to those who submitted the application, or wait until one of our volunteers can deliver them. During the first year that the website was active, the number of people willing to give away far exceeded the number of those in need. This is a very important indicator that Odessites are not indifferent to the needs of their fellow citizens.
The project "Models of tourist attractions for people with visual impairments" was the one to provoke the most willingness to help. Its goal was to make tangible 3D models for visually impaired children. The project has collected 154% of the required funding.
As a way of encouraging Odessites to be more considerate toward each other, we've launched a special project called "Cards for proper parking." It's no secret that the problem of parking is acute in modern cities. There are a lot of aggressive official initiatives aimed at fighting this issue, but they mostly succeed in augmenting irritation and generating aggressive responses. We try to achieve our goals not through conflict, but through nurturing a caring and responsible attitude to the city, to each other and even to ourselves.
By helping create and discuss initiatives, collecting resources and implementing projects, and focusing on actions rather than words, Moy Gorod is making city improvement a real sustainable trend. Odessa deserves to be a clean city, without rudeness and aggression, hospitable to guests, safe at all times of day or night, inspiring for artists and poets, thriving in every way — but it can only become so with the love and effort of its people.