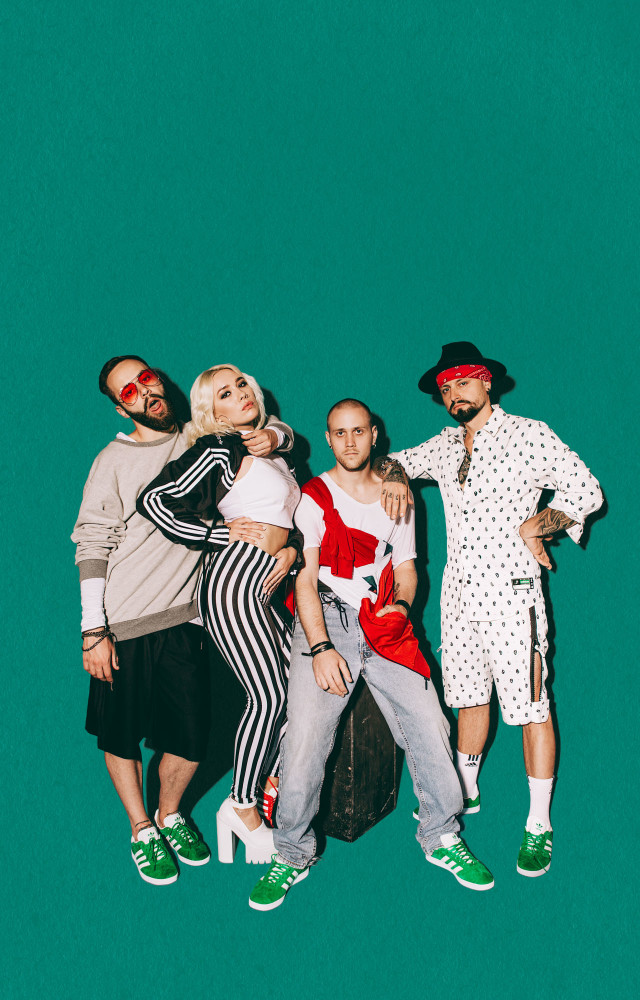 The Erised, a band originally from Kharkiv, are fresh blood in Ukrainian music and something absolutely new for the world music industry. Young and talented, they also have quite a bit of experience and accomplishment behind them. Although only at the start of their journey, they have already been signed to the British music label "Med School Music" and have presented their first music video to the song "Even If" from debut album "Room 414," which was released earlier this summer.
The Erised are: vocalist Sonya Sukhorukova, Daniil Marin on the keyboard (of Ukrainian bands "Detail" and "Kotkee"), guitarist Igor Kirilenko ("Hidden Element") and drummer Aleksandr Lulyakin (also known for being part of the popular Ukrainian band "Boombox"). We met Sonya and Daniil on Independence Day to discuss the release of their album next autumn, what they think of the state of Ukrainian music industry today and what it's like to be the first Ukrainian band to sign a contract with a British music label.
The Odessa Review (Eugene Chukhriy): Hello, it's a pleasure to have you in Odessa. How do you feel about giving your first show in the south, at the Koktebel Jazz Fest?
Daniil Marin: To be honest, we're beat, not having slept for the past 3 days. We've been partying and having our vacation by the sea. (laughs)
OR: How did The Erised become the band that it is today?
DM: Initially, there were six members, but now it's four of us left in the band. We have been friends with our guitarist Igor since 2012. Igor and another musician friend of his had been making music together for some time. We decided to collaborate, made a few tracks together, and one day they sent me a demo. That became our first song — "Pray." The track really evolved in the studio, and after we finished the musical part we realized that we needed an English-speaking singer. Since we had experience working with foreign labels, we started doing research. We had been asking our friends if they know anyone who could sing and write songs in English, and at the same time be the vocalist in our project. Then, one day, we met Sonya. She sang "Pray"… We were shocked — she blew us out of the water with her beautiful voice and perfect English. From that moment on, we were a real band!
OR: Can you tell us a little about the process of recording your debut album? What was it like for Ukrainian pioneers to work with a British label?
Sonya Sukhorukova: We are all working together, sometimes remotely. Guys send me demos, while I work on the song in my own time, trying to find the best vocal line for that music. Then we write lyrics all together. The process of recording our debut album took place in our home studios. But the finishing touches were a job for the "Med School Music Label" professionals. We're happy with the results!
DM: To be honest, we want to show that it's not some pipe dream for Ukrainian bands to work with foreign labels. You just need to be confident in what you're doing and you'll have a shot at becoming a successful project worldwide.
OR: What was the reaction of the audience here in Ukraine and abroad?
SS: We've heard many reviews, some of them saying: "This music is just too slow for me." But we have to admit, the most unexpected reaction was from the worldwide music community. The British band "Enter Shikari" became fans after we posted our first video, so we made a re-mix to one of their songs shortly thereafter — everyone was happy. It was also our first experience working with a foreign band.
DM: Selena Gomez's manager tweeted that he's a fan, after he discovered our album. Sometimes such things happen to us.
OR: You released your debut album "Room 414" this June, and of course it's a bit early to ask, but are you working on new material while you're on tour?
DM and SS: Yes! We have a little secret to share, we are planning to release our next album by next fall, so we've just begun working on it! We want to show that we're not just a "one-album-band" — all the members of our band see a bright future for The Erised and we are ready to make more music together!
OR: What about the other projects you're involved in?
SS: Well, my solo project is on pause, I think. I'm in no hurry with it.
DM: So is mine. Time will tell, for now we're all into The Erised.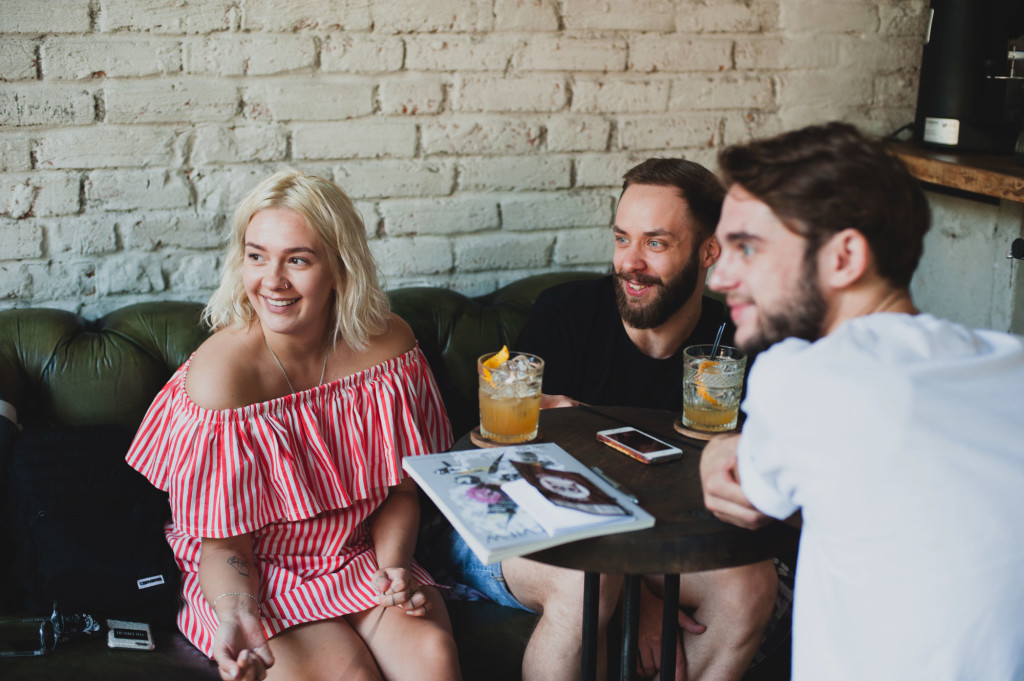 OR: You're working with a British label but still living here in Ukraine. What is the difference between working with Ukrainian labels and British?
DM: They are much more professional, and the thing that we want to do is bring our experience to Ukraine. I think Ukrainian bands deserve to have the same opportunities! We know a lot of good musicians from our country and we're always open to collaborating with anyone who asks. The more good music we discover — the better for everyone.
OR: What was your inspiration during the recording of your debut album?
DM: The final stage of recording was between October and December. So there's a sort of autumnal feel to it. I can describe the whole mood of the album in three words — easy going, melancholic and erotic.
SS: Erotic?
DM: Yes! A friend of mine wrote me a message not so long ago. She said that it's very sensual, that's what she discovered with her boyfriend while they were listening to our album! (laughs)
OR: In which Ukrainian cities have you performed so far? And which ones are you planning to visit?
SS: The first one who dared to invite an unknown (at the time) band was a girl from Lviv. She was a super open-minded organizer, who has always invited brand new bands. I was sure that we'd just be playing a show for a few bystanders, but by the time we came on stage there was around 700 people who were into our music and who gave us extraordinary energy that night.
DM: We've also played in Kyiv. To answer the question about our plans for new gigs — we can hardly wait to play in Kharkiv. It's where we met, and we have a big local fan base there and friends' support. We are also glad to announce our upcoming show in London this September, it will be our first gig outside Ukraine.
OR: How is festival season going for your band this summer? Where have you played already? Tell us about the festival of your dreams!
DM: We performed at the Atlas Weekend festival in Kiev this July. Another great experience for us was our performance at the opening ceremony of the Odessa International Film Festival this year. The next one will take place in Chernomorsk over the next few days and its name is well known — Koktebel Jazz Festival.
SS: We all think that the best festival to play at is Coachella, and it doesn't matter on which stage, if there will be a chance in the future for us to perform there.
OR: Which contemporary Ukrainian musicians would you recommend everyone should know?
SS: "Cape Cod" (aka Maksim Sikalenko) and "Constantine" (participant of "The Voice. Ukraine"). A few months ago this fresh duo released their first album and already got a few warm-up shows during the tour with Ivan Dorn. Another artist we'd like to mention would be another duo — "Dvoe."
DM: "Dumna Sumish" is one of our old favorites. Not so long ago they came out with a new song — and we liked it! We're eagerly awaiting their next release.
OR: Continuing our conversation about Ukrainian music, can you share your thoughts about the situation in Ukrainian music these days?
DM: After the Maidan happened in Kyiv in 2014, significant changes occurred in the music industry in general, people became much more enthusiastic about local artists. The audiences started paying for music again. We are delighted by people coming to our concerts with vinyl records for us to sign! We would be happy to see as many interested listeners as possible now and in the future, so we're doing as much as we can to support the Ukrainian music industry.
OR: Do you have any words of inspiration for the readers?
DM: Be confident and listen to good music. It's a little funny to say "good music" because everyone has their own opinion. Don't forget to experiment! You'll never create anything new without experimenting. Leave your comfort zone. It's the only way to succeed.