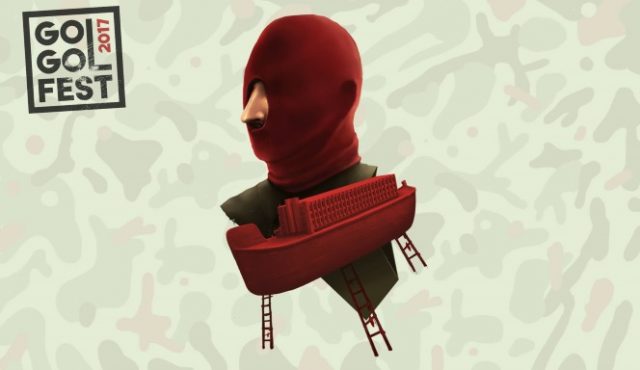 The 10th anniversary multidisciplinary contemporary art festival GOGOLFEST 2017 Ark was taking place in Kiev in this September. The festival lasted until 17 September. Therefore, we decided to describe what happened in the last days of the festival.
This year GOGOLFEST included visual, choreographic and music programs, which were presented at two locations: VDNKh (Ak. Glushkov Avenue, 1) and Dovzhenko Center (1 Vasilkovskaya Street).
On September 15, at the Scene 6, Javier Martin (La Coruña, Spain) performed as a dancer and choreographer, whose trademark has been the use of an epistemological approach in performing. His work was based on improvisation and precise stage language. "Oximórica" is a dance to the music of Oleg Karavaychuk. This was a creative interactive project, built on the basis of the difficulties of improvisation, when bodies of both spectators and dancers, invaded space and interacted in it, each time changing the performance.
Also, on September 15 on Scene 6 of Dovzhenko Center there was shown a musical and dance performance Diversity from Totem Dance Group, Olympic snow, by famous percussionist Jose "Pepe" Garcia and flutist Felicia von den End. An amazing show where rhythms were set by a flute and electronic ambient.
On September 15 and 16 in Concert Hall of VDNKh was shown an amazing show that have conquered Europe – "Terabak de Kyiv". The program of cabaret of amazing beauty, combining unique Ukrainian girls from the freak-cabaret "Dakh Daughters" and circus artists from the Parisian theater "Le Monfort». This was not just a technique of equilibrists and magicians, it was not just circus acrobatics or magic – these were short and vivid stories of love and loneliness, tenderness and sadness that could touch your heart without words.
On September 16, at the location Рlivka. Uho Hall of the Dovzhenko Center hosted a concert Waiting for the Dawn of the famous virtuoso and composer Hayk Melikyan. The works of such outstanding composers as Lubos Fiser, Maxim Kolomiets, Tristan Murray, Jonathan Harvey, Hayk Melikyan, Alexandra Filonenko, Tatev Amiryan, Harutyun Dellallian, Henrik Goretski were performed.
On September 17, at the location of Рlivka, Uho Hall in the Dovzhenko Center, Ensemble Ascolta presented the program Traumechanik. The works of Francesco Filidei, Marco Stropp, Eres Holtz, Enno Poppe, Robin Hoffmann were performed. Ensemble Ascolta today are some of the most recognized orchestras working in the genre of "new music." The orchestra's instrument has become a line-up, focused on percussion and wind.