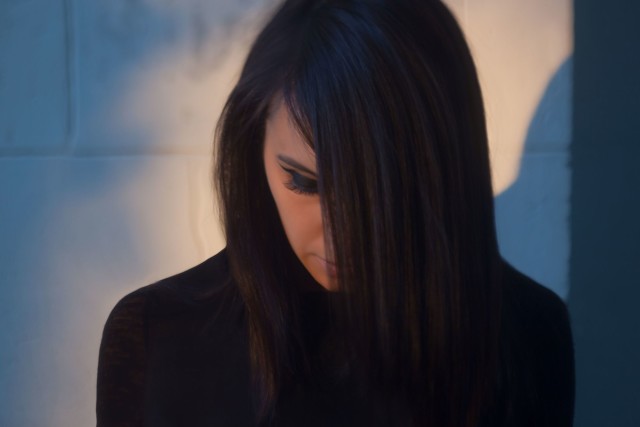 Raised on jazz, soul and the traditional songs of her Crimean Tatar people. She experienced the temptations of easy fame and betrayal. She lost her family home to annexation and conflict. Persevering, she won the Eurovision 2016 contest in Stockholm to become a national and international sensation.
Music had played an important role in Jamala's life since her early childhood, when she would fall asleep listening to the records of Stevie Wonder and Sara Vaughn. Music also came to her with her heritage as her ancestors were musicians who performed traditional Crimean Tatar music. It was the main force which carried her through her life and has helped to her overcome the many obstacles that blocked her path in life. And, of course, it was her musical gifts that won her the 2014 Eurovision contest, during which rendition of her song "1944," reminded the world of the tragedy endured by the Crimean Tatar people, propelling her to the position of Ukraine's most beloved singer.
The Source of Music
Born Susana, Jamaal Jamaladinova's family was never short on musical talent. Her father was a conductor and her mother a pianist and teacher at a local music school. Her father was a Crimean Tatar and her mother was an Armenian. Jamala was born in 1983, when the family was still living in Kyrgyzstan, the Soviet republic to which her grandparents had been deported in the wake of the events of 1944. Later the family would return to her father's homeland— they moved to Crimea at the end of the 1980's as part of a wave of returning Crimean Tatars, when the weakening of Soviet totalitarians first allowed for a return to ancestral lands. A few years later, the Soviet Union collapsed and independent Ukraine was born.
An important question arose: where should a girl with a four-octave voice go to study? The answer was naturally enough at conservatory. Thus in 2001, Susana joined her older sister Evelina in Kyiv, where she was captivated by the local music scene. Her place of pilgrimage became the iconic art club "44," where concerts, after-parties and jam sessions would be held. "I would sit there until three in the morning, and then call my sister to tell her I didn't have the money for a taxi, and I'd go to spend the night at a friend's place." There, the young student would meet with jazz legends such as Billy Cobham and Joe Zawinul. She absorbed the spirit of the scene, and observed the virtuoso musicians who frequented Kyiv.
Jamala didn't have to wait long for her first breakthrough. The 17-year-old singer become a laureate of the "DoDzh" jazz festival, and afterwards received an invitation to study in Moscow. She was, of course, excited by the opportunity but her father forbade her accepting it, explaining that she would be deceived, like many other young singers before her time. "It was the truth," recalls Jamala, "I was very gullible at the time." She listened to her father and remained in Kyiv.
The Time of the "New Wave"
Jamala's years of training and diligence began paying off in 2009. She competed in the pop-music contest "New Wave" in Jurmala, Latvia, where she performed Shirlie Bessie's "History Repeating," and wowed her audience. In the second round, she sang a Ukrainian folk song, and in the third, an original piece. The jury was enchanted, and Jamala was crowned the winner of the contest.
At this point, Jamala faced a choice — whether to pursue an academic path or make contemporary music her vocation. Her victory in the contest helped to decide her fate. After "New Wave," she began receiving her first major awards in Ukraine, such as "Idol of Ukrainians" at the "Person of the Year" ceremony. Everything was going well, yet she felt that she was not moving in the direction that she needed to be.
On the stage in Jurmala, Jamala played the role of pop musician, both in her performance and in her song choices but she soon had a change of heart about playing a persona she did not believe in: "I realized, that the most important thing was to behave organically, not to pretend to be someone you are not. I realized that from that point on I would only offer people what I myself believed in, and sing what I wanted to sing." This deep desire for authenticity, a somewhat rare desire among pop musicians, made her want to be herself on stage and it drove her interest in performing her own songs. The producer Jamala worked with at the time did not support that idea however. A year after her success at "New Wave" in 2010, she began working with a new producer, Igor Tarnopolsky, which heralded a turning point and a new artistic period in her career.
The First "Eurovision" Effort
At the end of 2010, Jamala entered the national selection for the "Eurovision 2011" contest. After her victory in the semifinals, she came in third in the finals. Everything seemed to go according to plan, but the final results of the contest's mobile voting came as a shock: more mobile numbers voted for Jamala than for any other contestant, yet the number of final messages sent in her favor was surprising low. The selection process ended with an enormous public scandal. Although the organizers recognized their mistake and announced a recount and rerunning of the final selection, Jamala refused to participate.
Along with the issue of her disagreement with her former producer, this episode encouraged Jamala to take her own decisions in hand and to pursue her career in the way she envisioned it. By 2011, she had released her first album "For Every Heart," which was presented at a large solo concert in Kyiv. A year later she premiered her song "Goal" at the Euro-2012 football championship. Around the same time, she began shooting Oles Sanin's breakout epic "The Guide," in which she played one of the lead roles — the film would be put forward by Ukraine as a contender for the Oscar for Foreign Language Film.
In 2013, Jamala released her second album "All or Nothing," where, as in her first, she included traditional Crimean Tatar music alongside her original songs in English. She continued to emphasize her connection with her people and their culture. By this time Jamala was becoming more and more successful, but she was not yet aware of the challenges that she and her fellow Crimean Tatars would have to face in the coming years.
The Age of Turmoil
In November of 2013, protests began on the Maidan in Kyiv, the first events of the Revolution of Dignity. In December, Jamala appeared at the protests and voiced her support for the movement. In March of 2014, Russia annexed the Crimean Peninsula, where Jamala's parents continued to live. To this day, the experience has left an indelible impression and psychic scar on Jamala, as well as on her songwriting and performance.
Ukraine was exposed to an entirely new Jamala with the release of her 2014 album "Thank You." Soul and funk, the music she had been raised on, were incorporated into her new sound, alongside electronic elements. Her new songs shared the themes of her earlier work — love, friendship, searching for purpose and happiness — but their language had changed. Most fundamentally, these new songs were in Ukrainian. Ukrainian is not Jamala's native tongue, but it has become the language of her most memorable songs — "Confused," "Breath," and "The Way Home."
Like many artists she is a perfectionist and is rarely satisfied with her own work. In her words, "Mozart's brilliant 'Requiem' would not have existed had he not written hundreds of others. The thing is, you have to write a hundred, two hundred songs to have the opportunity to write your best work. Its absolutely necessary."
With time, Jamala approached the height of her talent. "The Way Home" describes the distance that separates a person from their childhood home, and their attempts to return. The song functioned as a prologue to "1944," the track that would win Jamala the 2016 Eurovision contest.
Europe Heard 
"1944" refer to the year of the deportation by Soviet authorities of the Crimean Tatars, from their homeland to Central Asia. One of the victims of the deportation was Jamala's grandmother. This personal story and family drama at the heart of "1944" symbolically represent the experience of both the Crimean Tatar people and the survivors of violence around the world.
Jamala's song made waves. One of the Russian representatives at Eurovision declared the song to be a political provocation, and demanded that Eurovision expel the Ukrainian contestant. The news of this accusation led to Jamala being interviewed by dozens of figures in European media, from the BBC to France Press. Consequently, millions of Europeans came to understand the deep political meaning of the song, and the message that Ukraine sought to deliver to Eurovision's audience. The clarity and universality of Jamala's "1944" meant that the message was heard loud and clear all over the world. Votes were cast, and Jamala emerged as the winner. She was given the highest score by all 11 judges and viewers from 6 countries. Despite the fact that Jamala's piece seemed unusually somber for an entry in the Eurovision competition, she was victorious and provided Ukraine with a much needed emotional victory in it's conflict with Russia.
On May 12th, 2017, a year after her victory at Eurovsion, she will premiere her new material at a solo concert in Kyiv. The concert titled "I Believe in U," intimated a message of multi vectored belief: Jamala's belief in herself, her audience, and of course, Ukraine — the "U" representing her homeland.
Igor Panasov is a music critic living in Kyiv.