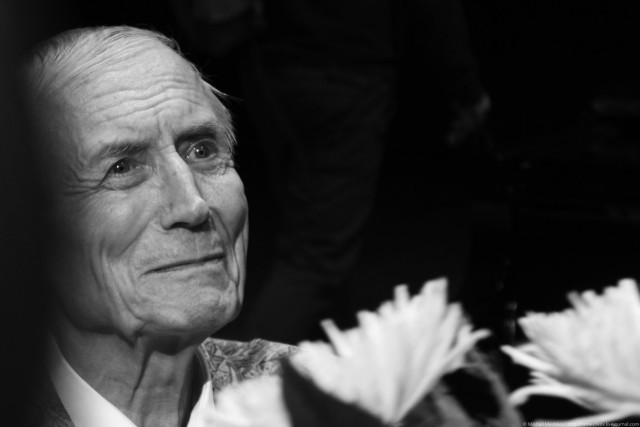 The Russian dissident was a flamboyant and remarkable figure who was in excellent physical shape until his death at the age 83 on April 1st. His seminal 1961 poem 'Babi Yar'  which spoke about the killing of Jews by the Nazis at the Babyn Yar ravine in Kyiv became legendary, broke a slew of Soviet taboos and made him into one of the most famous poets of his his day. The poet's Post-Soviet career was just as checkered as his Soviet era maneuvering however. This piece first appeared in Tablet Magazine
Whatever one may have thought of his poems or his artful gesticulating in delivering them or of his astute political maneuvering in having become the primary "official" dissident poet of the Soviet Union, the death of Russian poet Yevgeny Yevtushenko at the age of 83 really is the end of an era. Yevtushenko, who was born in the freezing Siberian logging town Zima ("winter" in Russian) and died in another deep province—that of Tulsa, Oklahoma, where he had spent decades teaching—was a wunderkind of the Soviet writing world. The New York Times obituary began by describing Yevtushenko as "an internationally acclaimed poet with the charisma of an actor and the instincts of a politician whose defiant verse inspired a generation of young Russians in their fight against Stalinism during the Cold War." But the part about generations of Soviets fighting against Stalinism is not entirely precise. His persona and his work was rather an exhaust valve for the system to channel widespread dissatisfaction with the regime.
Yevtushenko got an first early glimpse of fame while he was still in his early 20s, with poems that harshly denounced the dictatorship of Joseph Stalin. He ascended to the highest peaks of literary renown several years later when his 1961 epic poem "Babi Yar" was published in the official Literary Newspaper (Literaturnaya Gazeta). The poem was written after his brief visit to the Kiev ravine under which the bones of almost 100,000 Jews lay; it exorcised the official Soviet refusal to recognize that Jews were the principal target of the massacres. "Babi Yar" is an undeniably searing and revolutionary work of political art and the poem breached the taboo of discussing the Jewish specificity of the killing. Though, true to form, he would later admit that he had bowed to official pressure to censor parts of the poem.
However, its publication took place only 15 years after Soviet (Russian and Ukrainian both) Jewish poets such as Ilya Selvinsky, Ilya Ehrenburg and Lyudmila Titova having been stymied or blocked from publishing their own responses. In fact, we are only now unearthing many other literary artifacts related to the massacre, such as the response of the great Ukrainian poet Mykola Bazhan.
In one of the most famous musical/literary collaborations of the twentieth century, Yevtushenko's most famous poem was set to music by the composer Dmitri Shostakovich in his Symphony No. 13 "Babi Yar." The poem became his "Freebird," which he read continuously over and over to rapturous audiences who could not get enough of it.
Yevtushenko's poetry was lexically simple, relying on staccato iterations and simple, stark imagery of the sort that had long been jettisoned by the prevailing modernist currents in the West. The basically naturalist poems were in many ways lyrically wholesome and neo-Romantic, though also owing a great deal to the flattened planar tradition of Post-Mayakovskian revolutionary syntax. But the poems, it should be said  could be quite bombastic and clunky. He was, technically speaking, in many ways often a really bad "great" poet and his massive oeuvre, spanning more than six decades, ran all along the spectrum in quality. The political energies, their context, and his inimitable declamatory style carried the poems along after the formal quality sputtered. If it is hard to imagine that they will stand the test of time without the ballast of his persona; we are in any case living in a post-poetic world.
It is hard to imagine the scale of his importance now, as he constituted a direct lineage to the great Russian poetic tradition, of elevating moral figures to the state of political arbiters in a dictatorial culture of autocracy. Yevtushenko was quite literally a rock star in the Soviet Union, in the time before the category had been exported there from the West, giving readings of his poems to gatherings of people several hundred thousand strong who would gather in a stadium to listen to him declaim his poems with declarative gestures.
With his crimson and silver-covered suits and pastel striped shirts, he was a peacock rather than a true dandy. He has been accused of being a perpetual self promotion machine who thought himself to be living reincarnation of Pushkin. In his youth he had been an athlete and would have been a member of the Soviet soccer team if he had not chosen the life of literature. His energy was always phenomenal. He was by all accounts, beloved by his myriad students, even when, as in the case of a college classmate of mine (who is now writing rapturously of Yevtushenko's influence on his work), they were dragooned into driving his suitcases to the airport.
Yevtushenko's legacy is quite complex. It should be readily admitted that all of the criticisms of Yevtushenko as the cosseted "official" dissident, one who had the private phone number of whoever happened to be the current occupant of the post of Secretary General of the Communist party, and who walked the fine line between being a rebel, a malleable party hack and an exportable cultural commodity, are quite true. He was a cultural ambassador for Soviet Union at a moment when the last of if it's moral credibility was in the process of being relinquished among even obdurately blind fellow travelers of the regime. Joseph Brodsky famously despised Yevtushenko for his deft political positioning, and what he considered to be treacly poetry and a cunning character, resigning in 1987 from the American Academy and Institute of Arts and Letters when Yevtushenko was made an honorary member.
"Yevtushenko is a high member of his country's establishment, and he lies terribly about the United States to his Russian readers" Brodsky explained in 1987.
It is true that while he openly attacked the Stalinist legacy (both of his grandfathers had been killed amidst the massive purges of the late 1930s), Yevtushenko only did so at the same exact moment that the system had begun realigning itself and implicitly allowing such criticism. It is true that he was expelled from his prestigious university in 1956 for defending Vladimir Dudintsev's scandalous novel Not by Bread Alone, in which an idealistic engineer fights Soviet Bureaucracy.
He did not take part in the campaign against Boris Pasternak, he was against the 1968 Soviet invasion of Czechoslovakia, he attempted to help Aleksandr Solzhenitsyn in every way he could. On the other hand, he publicly and somewhat gruesomely backed the trials of the poet Yuli Daniel and his friend, the journalist and human rights campaigner Alexander Ginzburg, known as the Sinyavsky-Daniel trial. He championed Che when doing so was the thing to do. Yevtushenko was governed by furious passions and certainly possessed a great and astringent moral consciousness, but it was always harnessed to his pitch-perfect political instincts.
In his old age, he remained steadfastly, even dogmatically political in his positions, which were not always pretty. He was embraced by the new Russian consensus after the dissolution of the Soviet Union and like many of his peers among the Russian dissidents, he went full on nationalist in his old age. This could be seen when he penned a truly turgid and outrageously tone-deaf poem "The Nurse from Makiivka," dealing with the Russian conflict with Ukraine. In the poem, a noble nurse who works in an orphanage for HIV-positive children in the industrial Donbas city is shredded to pieces by the rifle fire of three evil Ukrainian army officers on her way home from work. The outpouring of commentaries relating to his legacy has been predictably saccharine and overblown from the Russian side, and understandably more ambivalent from the Ukrainian side.
When I attended his last public reading in New York City early this spring, to a packed hall of elderly Soviet emigres, all his signature quirks and habits were in attendance. The reading lasted at least two-and-a-half hours and was punctured by grandiose asides and rambling disquisitions on various matters which included hilariously self-exculpating anecdotes of his conversations with Robert McNamara. He read out a screamingly bad poem based on his reaction to the terrorist killings by truck in Nice, France. Yet the thundering, stentorian rendition of "Babi Yar," smoothed and brought to perfection after a lifetime of practice, was everything it was promised to be. It will likely never be forgotten by anyone who was in the audience that night.
Vladislav Davidzon is Chief Editor Of The Odessa Review