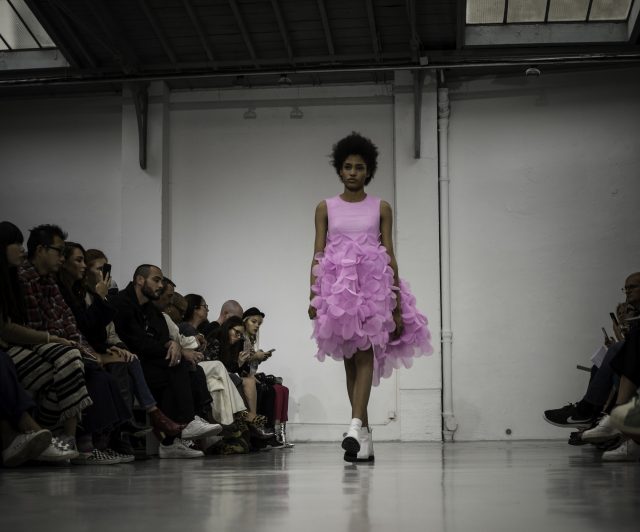 This year's Paris Fashion Week was not the first to feature Odessa native Julie Pascal as a representative of Ukrainian fashion.
The well-known Ukrainian designer from Odessa, creator of her eponymous Paskal fashion brand, has for several years been the only representative of Ukraine in the official program of the international fashion event, and thus finds herself in a unique position within the Ukrainian fashion world. She will also be remembered by fashion historians as the first Ukrainian designer to have played that role.
As an Ukrainian woman living in Paris, a fan of her progressive designs and also a great admirer of everything of fashion related, I simply could not miss her show. I had first seen the beautiful Paskal dresses on display at Colette, which is known to design mavens and fashionistas world wide as the the chicest concept- store in Paris. Indeed, the very fact that the Ukrainian brand was represented there at all is already a huge success and a major victory for the whole of the Ukrainian fashion industry. Ukrainian fashion, it need not be added, has in recent months garnered attention all over the international press.
The Paskal Spring / Summer 2018 collection did not disappoint such high expectations.
For me personally, the collection (entitled "Head in the clouds") effortlessly reached a synthesis of childish playfulness with a certain magically light if also mature aura. Her newest collection is full of confidence and features the most delicate pastel colors intertwined with charcoal black and fresh grass green. The turquoise color of the dresses presented at the very beginning of the show made my heart race with anticipation. But the true character of the entire collection was, without a doubt, those very clouds of different shapes and sizes that Julie Paskal placed together, like pieces of a jigsaw puzzle, as prints on her dresses and bags. I especially want to praise the collections fabulous bags. Every piece from the Spring / Summer 2018 collection by Paskal was created to be worn as well as to be seen. The pieces give freedom of movement and comfort, and at the same time they are really bright in every meaning of the word. The starkly positioned combination of colors and tones is yet another thing that truly amazed me during the show.
Photo credit (c) Fifi Bristoche.