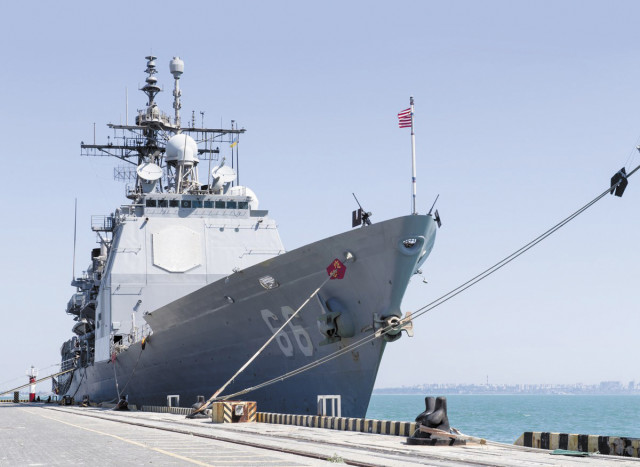 On July 10, military forces from 16 countries gathered for a ceremony in Odessa to kick off Sea Breeze 2017. The annual military exercise has existed for 20 years, but this was hardly a half-hearted repeat of a two-decade old tradition. Russia's continued war against Ukraine in the occupied Donbas region and its militarization of the Crimean peninsula, which Moscow annexed in 2014, have made Sea Breeze an increasingly difficult exercise. But those actions have also helped attract more international participants. This increasingly robust and complex training may be critical to helping Ukraine shore up its national defense. But it also should prompt the country to ponder the purpose of a defense partnership with NATO and the broader aims of its defense policy.
Bigger and better
This year, Sea Breeze was very big indeed: Belgium, Bulgaria, Canada, France, Georgia, Greece, Italy, Lithuania, Norway, Poland, Romania, Sweden, Turkey, Ukraine, the United Kingdom and the United States all took part.
They brought with them a total of 31 ships, 29 aircraft, and more than 3,000 service personnel, spanning a variety of warfare arenas: maritime interdiction operations, air defense, anti-submarine warfare, damage-control tactics, search and rescue, and amphibious warfare with air and land elements, to name a few.
This year the area of operations stretched all the way from the Black Sea and Ukrainian territorial waters up to the country's airspace and its Odessa, Kherson, and Mykolaiv regions.
"The key thing about this exercise is that, over the last renditions of it, it's becoming far more complex — it now includes a very robust sea, air and land component," said Navy Captain Matthew Lehman, deputy commander of the US 6th Fleet's Task Force 65 and the officer in tactical control of Sea Breeze.
In fact, the only country whose presence noticeably declined this year was that of Russia. The Russian "Liman" intelligence ship sank off the coast of Istanbul in April as a result of a maritime accident. As a result, Moscow's reconnaissance ship CER-201 "Priazovye" had to carry out the country's annual surveillance of Sea Breeze from a few miles away.
Un-learning bad habits
The Sea Breeze exercise was designed to enhance flexibility and interoperability, strengthen combined response capabilities, and demonstrate resolve among allied and partner country forces in order to ensure stability in the Black Sea region. For the Ukrainian Navy in particular, a four day period of "free game" was the most challenging — and also the most beneficial — part of the exercise.
Let's be blunt. The Ukrainian military leadership is used to Soviet-style exercises where everything is planned and spontaneity as well as operational decision making further down the chain of command is shunned. In those outdated exercises, operational command and control is usually far from the points of engagement.
Ukraine's military leadership has long been stuck in this post-Soviet time warp. The learning curve to reach modern Western standards of command and control is steep. Of the five broad areas requiring significant attention, Ukraine's priority is that of the military management system. The others — defense and resource planning, capabilities development, logistics, and reserve force systems — are all reliant upon developing the first.
Unlike Ukraine, the country's western partners rely far more upon the senior non-commissioned ranks, as well as the captains and majors (or service equivalents), to make operational decisions. These ranks are expected to have operational flexibility and to inform and instruct the general staff, admiralty, and air commanders on what works and what doesn't (as well as the reasons why.)
In this regard, Ukraine still has a long way to go. Sea Breeze's "free game" period will undoubtedly underline the considerable work left for Ukraine before it can achieve effective interoperability with its Western partners.
Sea Breeze also demonstrates that the obstacle to Ukraine's aspiration of meeting NATO standards by 2020 is not just that of acquiring equipment, but also dealing with the issue of how command decisions are made and who makes them. Even then, there is far more to meeting NATO standards than military ability alone.
Broader challenges
NATO membership may be far off, but exercises like Sea Breeze are still important. They will continue to bring Ukraine closer to the alliance's requirements.
Although much discussion of NATO focuses on its Article 5 collective "security blanket," Ukraine would be wise to focus its attention on Article 3 of the alliance's founding Washington Treaty. It states: "In order more effectively to achieve the objectives of this Treaty, the Parties, separately and jointly, by means of continuous and effective self-help and mutual aid, will maintain and develop their individual and collective capacity to resist armed attack."
Ukraine should treat Article 3 as more than a military endeavor — it requires economic, political, social, and infrastructure resilience, too.
In essence, Ukraine must emphasize continuous and effective self-help. It must maintain and develop its individual capacity to resist armed attack, while increasing the resilience of all other spheres of life. That approach might open the possibility of a "coalition of the willing" outside of the NATO umbrella.
The year 2020 is also important for another reason. That's when Ukraine claims it will provide its navy with 30 more ships — a target almost as ambitious as meeting NATO standards.
During Sea Breeze 2017, it appeared that the US agreed to transfer a number of Island- class offshore patrol boats to Ukraine. That will go some way toward meeting Kyiv's target. The US primarily employs Island-class boats for surveillance, law enforcement and drug interdiction operations, and search-and-rescue work.
However, the 30 new vessels will have a working/seafaring life measured in decades. This raises some questions about the strategic thinking behind what will, essentially, be a new navy. Meanwhile, the immediate threats facing Ukraine are abundantly clear — and will remain that way far into the future.
Thus, we can reasonably expect that the majority, if not all, of the 30 vessels will have the sole purpose of countering Kremlin military projection from a reinforced and increasingly offensive (rather than purely defensive) Crimean peninsula.
These vessels must not simply aim to counter the Kremlin in 2020. They should also be ready for what Moscow could deploy to Crimea in 2030 and 2040.
But many open questions remain: What are the relevant weaknesses of the Kremlin naval presence in Crimea? Will the new vessels adequately exploit those weaknesses now and in the future? If so, for how long? What role will they play in any Ukrainian military doctrine?
Are they primarily to defend Odessa and other Ukrainian ports and more generally to retain control of Ukrainian waters?
Or will they have expeditionary projection ability? Are they suitable for secondary roles — handling immigrants, preventing piracy, carrying out smuggling patrols, or participating in humanitarian missions?
How extensive will technology transfer be between Ukraine and NATO when equipping these vessels?
What role can these vessels play in any potential "coalition of the willing" in the Black Sea (and beyond)? How well will the vessels fit into any larger international naval force?
And how does the current Ukrainian civilian and military leadership see Ukraine's role beyond the Black Sea? With the new vessels, will Ukraine's projection capability meet its aspirations for international operations in other waters?
The procurement decisions of today will greatly affect Ukraine's ability to project itself three decades later and Ukraine must develop its naval forces with a focus on the future.
We have Sea Breeze, but are the winds of change blowing hard enough?
Nick Holmov is The Odessa Review's political columnist. He is a writer, and consultant specializing in Ukrainian politics, civil society, local governance and security affairs. He is the founder of the widely read Odessatalk blog.