A pathbreaking fashion runway showing of seven designers came to Washington D.C.  featuring seven Ukrainian designers on November 30. A slightly different version of this Article first appeared in The Atlantic Council's New Atlanticist. 
Vogue magazine cannot get enough of Ukraine's new fashion designers and eye-catching traditional designs. Since the Euromaidan revolution three years ago unleashed a torrent of creative energy in Ukraine's creative industries, the magazine has covered the country's hot fashion scene half a dozen times.
On November 30th, seven of Ukraine's designers were on display at a fashion show in Washington, DC, "to celebrate Ukraine's creative culture," said Alexa Chopivsky, executive director of the American Center for a European Ukraine and one of the organizers.
War, internally displaced persons, and the never-ending Minsk process dominate international coverage of Ukraine—when it is covered at all—but that's not the full picture.
In fact, said Chopivsky, Ukraine is brimming with creative energy and talent. Ukrainians are the fourth most educated people in the world, the founders of WhatsApp and PayPal were born in Kyiv, and the country is the number one software force in Central and Eastern Europe.
"Our goal was to highlight one of Ukraine's many success stories to an audience of Washington influencers," said Chopivsky.
The fashion show was organized in partnership with the Ukrainian Federation of America and supported by the Ukraine Export Promotion Office's #FollowUkraine initiative. The main sponsor of the event was Ukrainian businessman Oleg Bakhmatiuk.
Still, said Chopivsky in opening remarks, "Tonight is not about politics. Tonight is about bringing together some of Ukraine's top designers."
Around two hundred people filled the ornate room at the Society of Cincinnati in Washington's Dupont Circle. The audience, said Chopivsky, was "blown away by the beautiful Ukrainian designs. This beauty is a direct product of Ukrainians' character, soul, and creative energy."
The evening was a complete immersion in Ukraine's cultural contributions. The models were members of the Ukrainian diaspora who volunteered for the night. As they changed between collections, the audience was introduced to jazz versions of Ukrainian folk music performed by violinist Innesa Tymochko Dekajlo. A photography collection by Treti Pivni Art Studio of modern Ukrainian women wearing traditional floral headdresses, or vinok, stood in the entryway.
Here are seven designers from Ukraine to keep your eye on.
Serebrova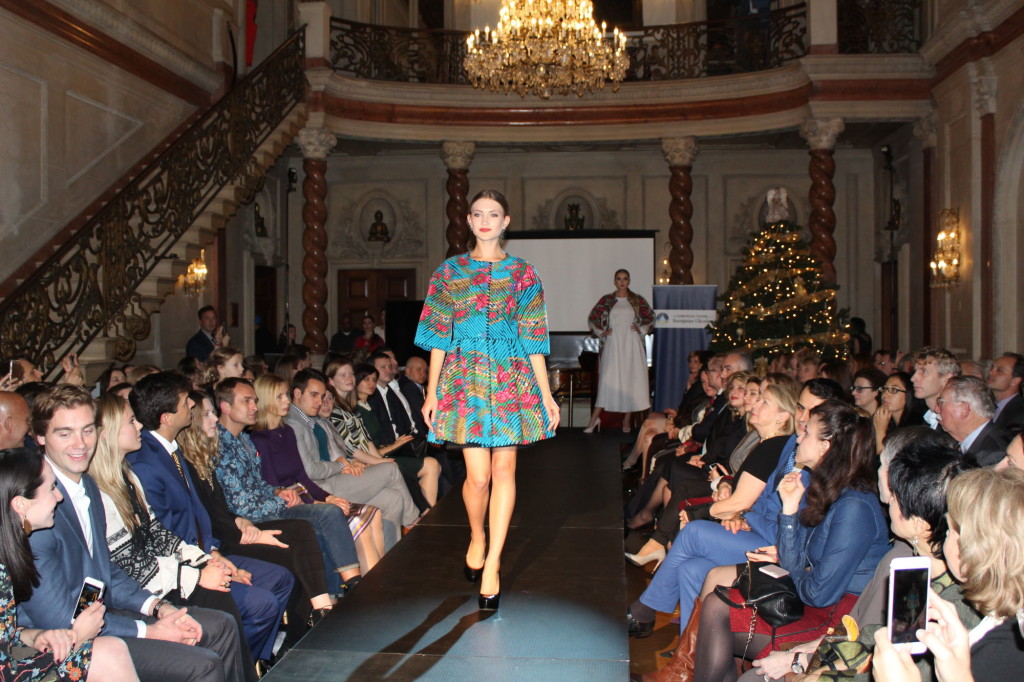 Founded in 2003, Serebrova takes traditional design to a new level in a casual collection. Anyone who has spent time in the former Soviet Union probably owns a traditional black Slavic scarf with bright pink roses and a mustard gold border. Repurposing this traditional motif, Serebrova has added black stripes and bright blues, greens, and pinks to create eye-catching blazers and dresses.
Olena Dats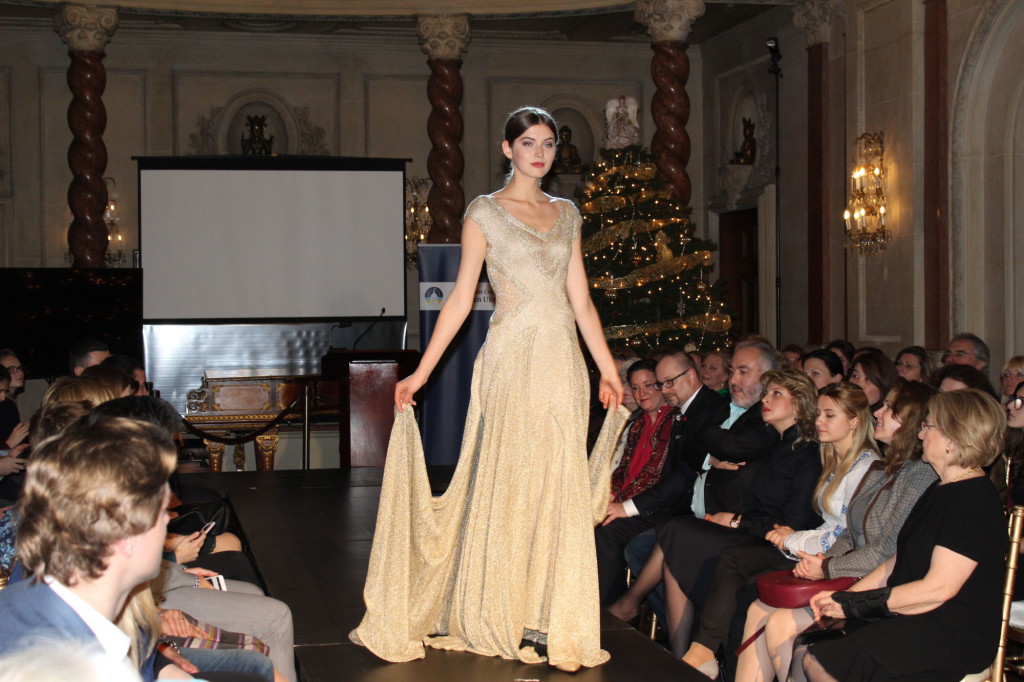 Olena Dats is an internationally known designer with eight boutiques in Ukraine and stores in Paris, Los Angeles, and Dubai. A number of Hollywood stars have worn her imaginative, feminine dresses to film festivals and parties.
Roksolana Bogutska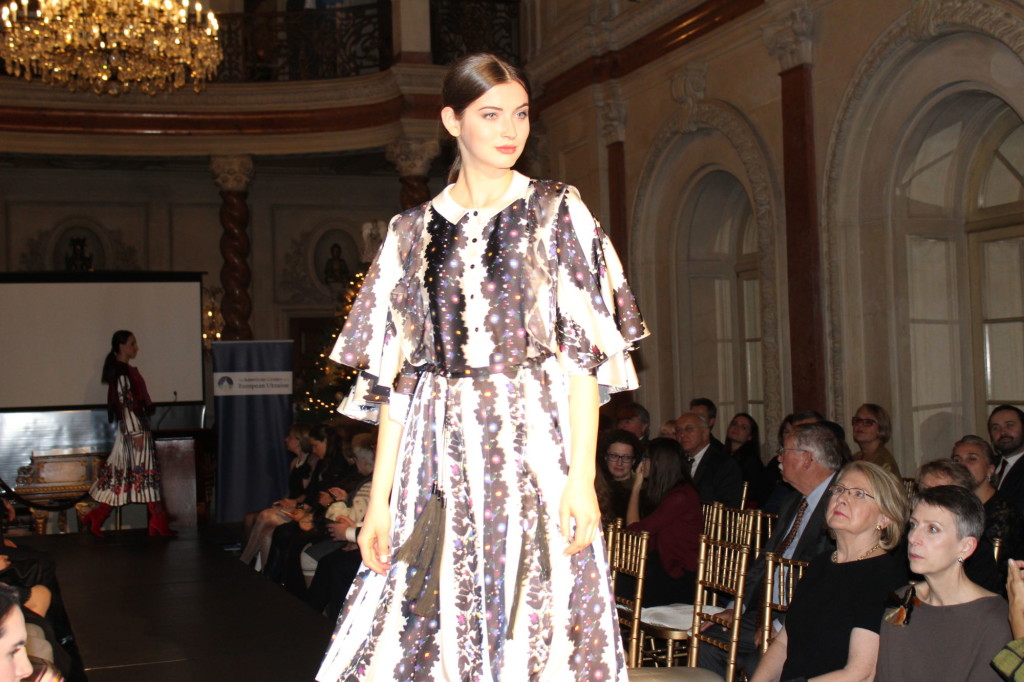 Roksolana Bogutska offers a feminine take on traditional design with sumptuous velvets and striking prints. She pairs a traditional vyshyvanka with a bold taffeta skirt and equally bold embroidered velvet boots for an arresting look. Bogutska designed the costumes for pop star Ruslan's Wild Dances concert tour when she won the Eurovision Song Contest in 2004, as well as First Lady Kateryna Yushchenko's inaugural gown in 2005.
Oksana Polonets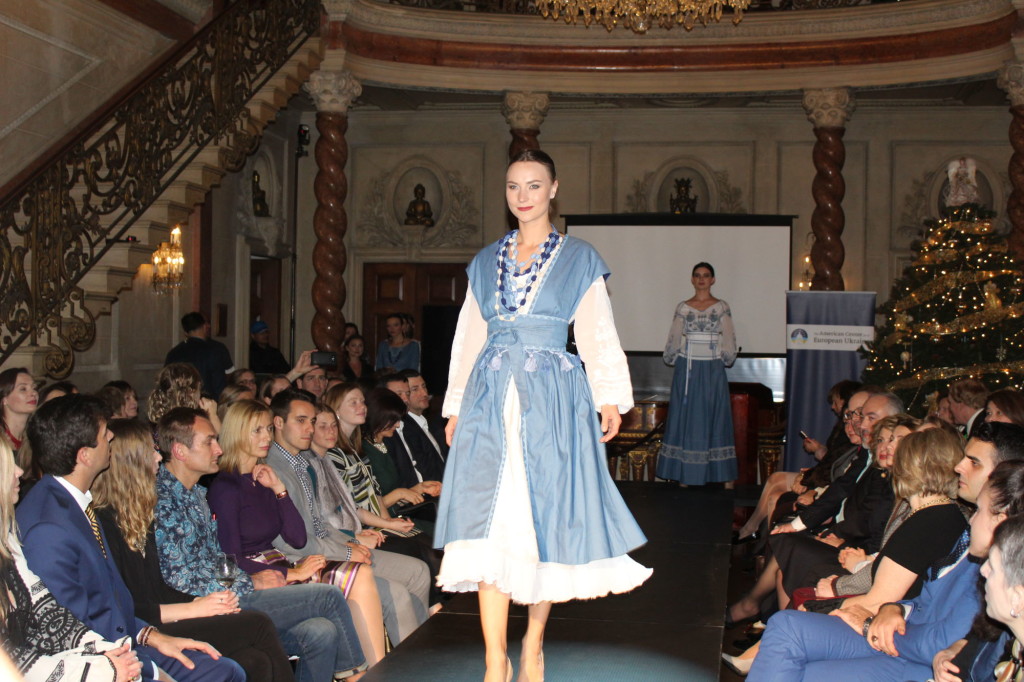 Oksana Polonets is known for her traditional design and use of embroidery. Feminine vyshyvanka on linen and sheer fabric with florals and geometric designs are complemented by mostly tea-length skirts in her current collection. She set up her studio in 2003 and recently opened a store in Lviv. Polonets designs clothes for men, women, and children.
Ornament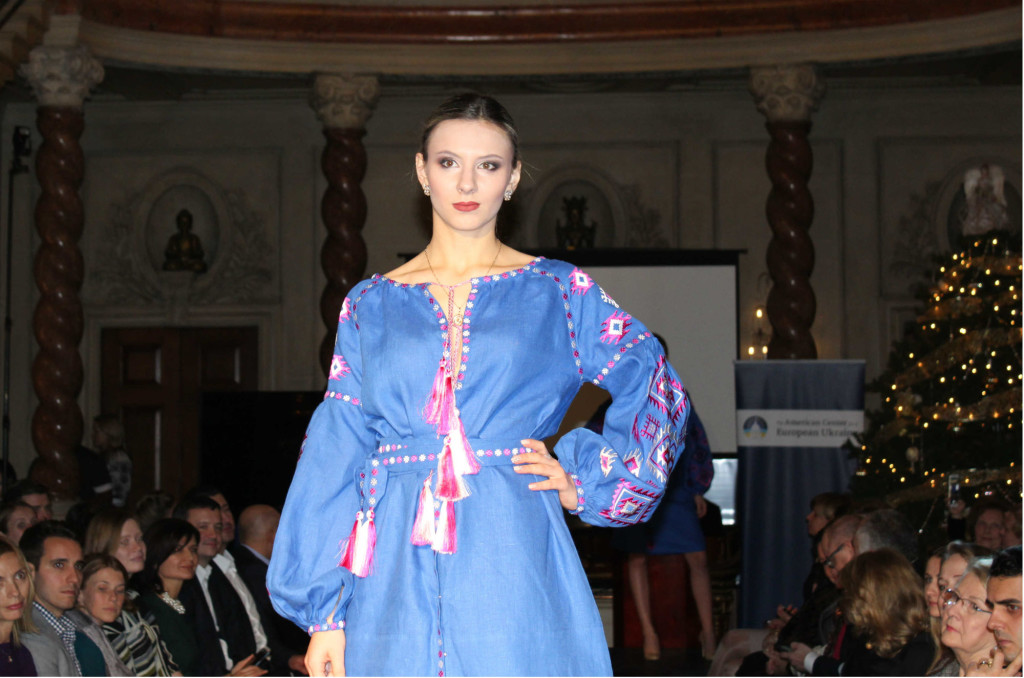 Ornament's new collection features periwinkle blue, hot pink, and black linen dresses festooned with traditional embroidery. The company specializes in modern women's clothing.
Ruta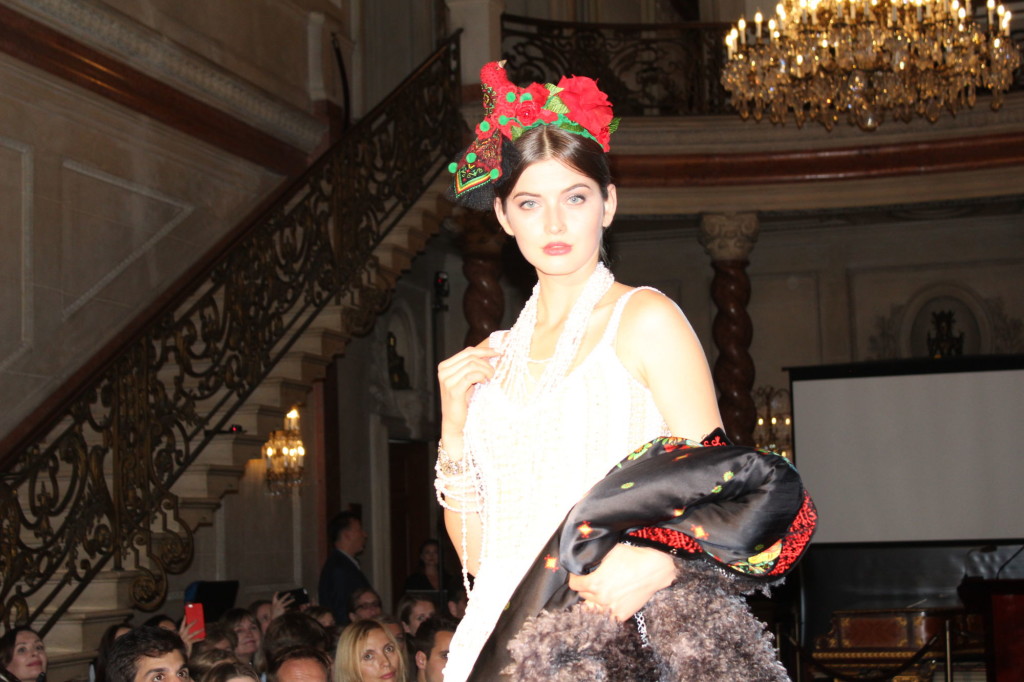 Ruta designs are bold and textured, and many incorporate fur and velvet to make a dramatic statement. Founded in 2011, Ruta designer and founder Liudmyla Bushynska credits Ukrainian folk art as her inspiration.
Golda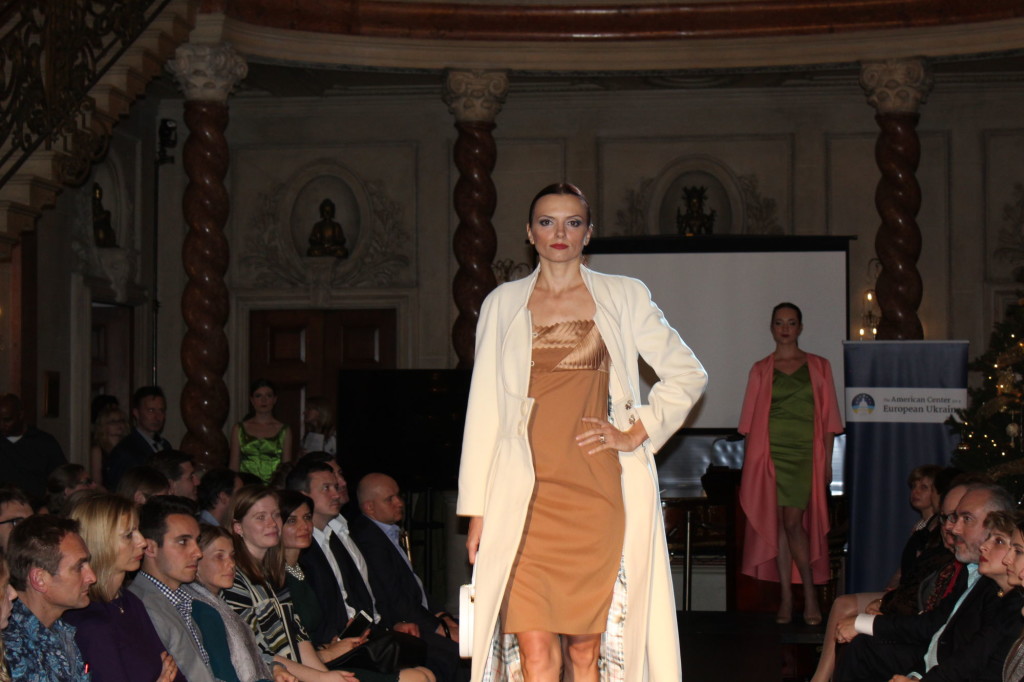 Golda offers a feminine and sophisticated take on office-ready clothes and lovely cocktail dresses.
Melinda Haring is the editor of the UkraineAlert at the Atlantic Council.