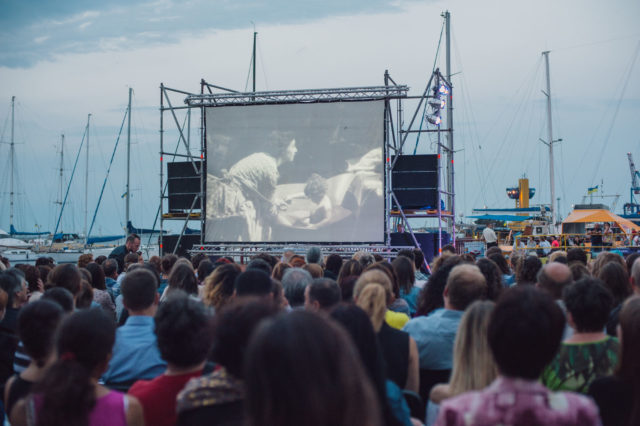 On July 8-10th, the 7th annual 'Mute Night' Film Festival took place at the mooring of the yacht club of Morvokzal.  As in other years, the black and white silent classics were accompanied by the stirring sounds of live accompaniment. The festival was quite enjoyable and amply rewarded the high expectations that audiences had built up over the years. The  one hitch in the experience was that Saturday's unexpected rainstorm forced a rescheduling go the 1934 Chinese film "Goddess" to Sunday night. The UK film "Cottage on Dartmoor" garnered a lot of attention as well. The 1929 film focuses on an emotionally unstable barber (an early inspiration for Sweeny Todd?) who lacks any emotion other than that of romantic jealousy. This gem is one of Britain's last silent films, but is was one of director Anthony Asquith's first films.
Another particularly interesting featured in the program was 1926's "Taras Tryasylo" by director Peter Chardynin. It was filmed at the world-famous Odessa Film Studios, making it a truly Ukrainian masterpiece. The historical drama is based on the poems of Vladimir Sosyury, in which Ukrainian peasants are in conflict with Cossacks and Polish magnates. The movie captures a topical dramatic historical narrative at the beginning of the Soviet Union.
The other films in the festival's catalogue were also a treat: 1921's "Backdoor" by directors Leopold Yesner and Paul Leni; 1928's "The Wind" by director Vicor Shostrom; and 1928's "The Unprecedented Hike" by director Michael Kaufman. All the films fit into the vital 20-year period of the late blooming of silent cinema between 1920-1940. This is definitely a list of films for one to watch in the future.
The music accompanying all of these unique films was truly a treat. The live orchestras came from as far as Mexico and Belarus, with a few local favorites from around Ukraine. They captivated the audience and enhanced the movies to their full potential. Overall, the atmosphere, the audience, the music, and the films made this year's "Mute Nights" a very distinct.