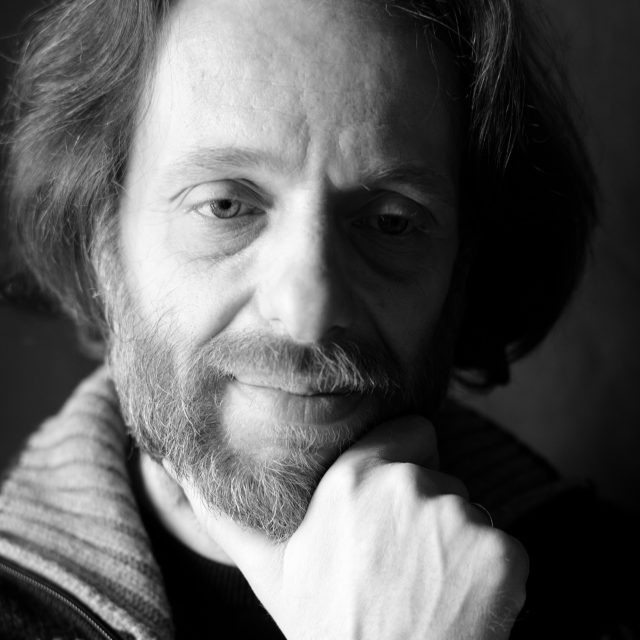 In March, Kyiv hosted the 15th Docudays UA International Human Rights Documentary Film Festival. This year, the festival moved to a new location, with the Zhovten cinema as its main venue, instead of "Cinema House" where it took place previously. How successful was it at creating a festival atmosphere? Which films won this year and why? How competitive are Ukrainian documentaries on the global arena? And why are Ukrainian documentaries rarely shown in cinemas? We asked all these questions to Gennady Kofman, the programming director of the festival. He also told us about the non-fiction film projects he is currently involved in as a producer, as well as about a film he is happy he hasn't made.
Why did these films become Docudays UA winners? What kind of issues do they bring up? What kind of tendencies can we talk about?
– The jury's decision at any festival is subjective. We have no influence on it. This year's absolute champion is the Ukrainian film "No Obvious Signs" by Alina Gorlova. (The film got the DOCU/WORLD contest prize in the DOCU/RIGHTS nomination. The main protagonist of the picture, a woman coming back from the war to civilian life and facing post traumatic stress disorder, was awarded a prize from the Ukrainian Helsinki Human Rights Union. The film also received a prize from the "Letter to Fest" distribution company and from "Current Time TV", the festival's media partner. – Editor.) I think this was predictable, since the film responds to the most bitter questions in the country. The message of the film is not only relevant for Ukraine. All of human society should be attentive to people coming back from war. Here in Kyiv, we don't feel everything going on with them there. One could look for some directing flaws, yet, in this case, you don't feel like doing it.
The national contest winner was Dmytro Lavrinenko's "Whereufrom". The film divided the audience into those who absolutely loved it and those who didn't accept it at all. I assume it fulfilled its main goal — there was no indifference. In your opinion, why did it win?
– The choice is solely on the jury. Perhaps, the picture vividly stood out from the rest of the DOCU/UKRAINE program. This is a work by an independent director from Kharkiv. His previous pieces have also been shown at our festivals in different years. (The main character is a 45-year-old Ukrainian street sweeper who has turned his home into a storage place of old junk. He makes unsuccessful attempts to find a spouse and flies every year to the US, where his mother lives. – Editor)
Four years ago, right after the events of Euromaidan, people started talking about the rise of Ukrainian documentaries. How did the situation change during this time? How relevant are Ukrainian non-fiction films abroad? Do foreign viewers and festival selectors find them interesting?
– Before Maidan events and the war in Eastern Ukraine, I often faced this problem and kept talking about it: you could have an impression that Ukrainian directors had nothing to make films about — it was hard to find a topic. And I cannot find an explanation for this or a direct connection with the eruption of Maidan and the war. I also cannot link it just to the start of financial support from the Ukrainian State Film Agency. Perhaps, there is something mystical here. As a matter of fact, nowadays both the authors who applied for the Agency's financial support and those who make films exquisitely on private money have plenty of interesting topics. About 45% of Ukrainian films presented at this year's Docudays are independent projects made without any state support.
While in 2014-2015 international festivals in Europe were more curious about the response to revolutionary and military actions in our country, today this "wave" has long decreased and this topic, maybe unfortunately, is less appealing to festival selectors abroad. Nowadays, Ukrainian documentaries compete with foreign films as equals. It's fortunate that Ukraine made use of this advantage and managed to present itself on the international market. Today, all the leading European documentary festivals include Ukrainian films. Festivals compete with each other for our authors. And there is no more leeway for us, this is all in the past: selectors are interested in a story, its protagonist and how the film was directed.
Apart from the Docudays festival, you are involved in documentaries as a producer. Three of your projects won the tenth pitching of the Ukrainian State Film Agency. Tell us about each of them: what are the films about and when can we see them? Let's start with "Ivan's Land
It's a film about a self-taught painter, living in the Kyiv region, who has left behind all earthly temptations. He paints in Maria Prymachenko's style. Andrii Lysetskyi, the director, plans to keep filming till the end of 2018 to capture all the seasons.
The second projects, called "The Elf's Tower" (by Polina Kelm) tells the story of people with mental illnesses. During pitching, some experts questioned whether it's ethical to film them.
– It is, indeed, relevant watching of patients who are undergoing a course of treatment at a mental institution. There they decide to put on a theatrical performance. Yes, on the one hand, those people are different from us, but on the other, they tell us something we usually don't think about. The work on this film will be finished in 2019, too. The film is being made together with Poland, with financial assistance from the Netherlands. We want this film not only to be an artistic expression but also to bring up the issue of socializing such people.
A person taken to a mental hospital strives to get away as soon as possible and never come back. Sergey, after he had checked into the hospital, not only stayed there but also organized a theater. People acting in the theater include both patients and teenagers, and even Sergey's children. He doesn't divide the participants into different groups. They are all working together on the performance of "Elf's Tower", a play written by one of the patients.
This play is a metaphoric fairy tale where an elf, the main character, comes to a cruel city of humans. It's a city where all the inhabitants care only about themselves and survival. The elf wants to give people wings to get them away from their everyday routine. Yet no one believes him, everyone just insults and mocks him. And only one disabled girl trusts the elf, puts on the wings and manages to fly over the city, over the people, and over the troubles…
Similarly, Sergey, after he had arrived in the hospital, saw not sick patients, but unique, special people, human-elves whom he is trying his best to deliver from the cage of prejudice. It's about bringing them back to the world and, foremost, to themselves. That's why Sergey strongly believes that art's real purpose is changing the world for the better.
The third project is my favourite. Of course, my demands on it will be the highest while watching. This is Serhii Lysenko's project about a priest at war, called "Our Chaplain".
– The contract with the Ukrainian State Film Agency for this project hasn't been signed yet. We are planning to do it in spring. But the director has already been filming the subject for a long time. The fact that he's a chaplain isn't the most important issue in this project for me. I was impressed with this man's charisma. The fact that the director and the chaplain have been in close contact for a long while makes us hope we will get a film where the protagonist trusts the director and the viewer trusts what is shown on the screen.
How can a producer find his director? Do directors come to you with their own ideas or do you look for them at different pitchings?
– Every story is individual. In most cases, they are people from my circle, whom I know personally, or with whom we have common friends. That's why I need to trust the director from the very beginning. There can be situations when I feel kindly jealous: "Oh, that's a good project. It's a shame it's not mine". However, I mostly have enough of my people. Since human relationships at work are essential for me, I can't imagine changing a director in the middle of the project. Although I have, of course, some stories when I worked with people I would never work with again.
I wanted to ask you exactly about such a story. At the pre-last pitching of the Ukrainian State Film Agency you won with the project called "Me, Men and War" by Beata Bubenets. You turned down the realization of the project later. Why? At the last "Artdoc" she presented "Flight of the Bullet". I read that the show had been blown up by radicals. Was it this kind of project? Have you seen it?
– Beata is a student of Marina Razbezhkina, she has different filming stylistics. She really wanted to work in a professional team. When she came to offer cooperation, I watched her material and understood there was something to work with. Everything was going fine until Beata stopped hearing me. She started accusing me of propaganda and political censorship, of violating her as a director. But it was her who wanted to make a film in co-production – this meant we had to listen to the opinion of our potential partners, take experts' recommendations into consideration. Eventually, she said: "I'm taking an hour and a half of the video I took at war, and this will be my film". As an artist, she has a right to make an hour-and-a-half film by just pressing a button. I responded: "Why do you need a producer then, if your film is ready? You can just attach the titles". That was the first issue. There was another one: I didn't consider the material she showed me to be ethical.
This hour and a half – is it "Flight of the Bullet"? Have you seen it?
– Yes. I believe she should have been awarded a Putin or Peskov medal for this film. She treated the characters in front of her camera unethically, causing danger for their lives. I don't know how she could do this to the people who trusted her. Surely, for some festival pragmatism, such material can be successful. But a documentarist is always at the edge of an ethical issue. You know, the documentarists' favourite questions is: "Will you put out the fire or will you film people burning?" Here they not only filmed them burning but also made the fire brighter. I'm really grateful to the supreme forces who drove me away from this project, even though I lost a good bit of money.
Ukrainian cinemas are not willing to show our documentaries, though we have positive examples, like "Myth", or "The Living Fire". Nobody has claimed a single Ukrainian release for May yet, while the cinemas need to meet the quota — 15% of everything shown has to be a national product. What should be done in this situation and how can Ukrainian documentaries get on cinema screens?
– It's a sore point. We are now also working on the release of our projects, "Michail and Daniel" and "Delta".  It's essential for a producer to understand a film's target audience and the fact that not every documentary is meant for a cinema showing. Unfortunately, right now, in this country, there is no such distributor who would be involved specifically in documentary showings. But I believe this is just a matter of time, and soon Ukraine will see such a distributor. Surely, documentaries won't enjoy 200 screens but, I assume, 30 screens are achievable. Yet every cinema needs an individual dialogue. For instance, after we had released "The Living Fire" in "Zhovten", there was a public response, and the people of Ivano-Frankivsk, where the protagonist is from, began writing and asking when they would get a showing of the film. Their local cinema didn't want to show the film, arguing that they had already done a charity show, and everyone who wanted to had already seen it. The situation with this film also showed that a documentary can't run in the cinemas for only a week or two. It should be a long-term distribution, even if not in primetime.
This year, Docudays film festival changed its location. I understand the technical advantages of the "Zhovten" cinema, as opposed to "Cinema House". But did they manage to recreate the very atmosphere, in your opinion?
– It's hard to say now. Yet I think that the audience remained at 70-80%. Despite the authenticity of the "Cinema House" space, the technical equipment of the hall there makes a quality film showing impossible.  
Photo courtesy of Gennady Kofman