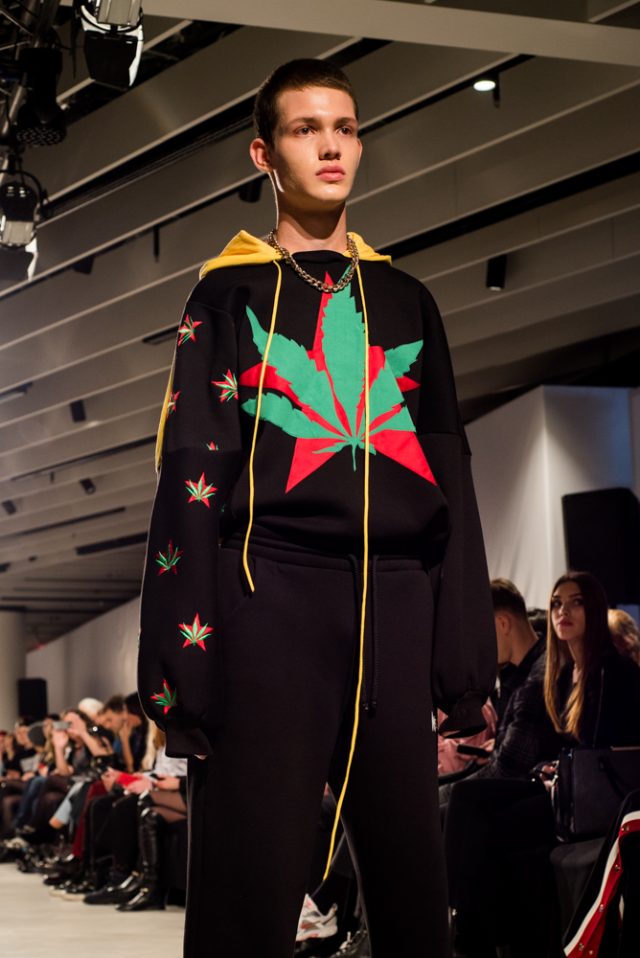 Kiev Fashion Days Dispatch — Day 2: Cannabis And Inequality
Photos by Katya Zolotuhkina
This is the second of a series of dispatches by Maria Romanenko from the Kiev Fashion Days. Each day, she will publish an account of the previous evening's events.
(Editors: This magazine typically uses the Ukrainian spelling of Kyiv, but will use the `Kiev Fashion Days` in this article as that is the name of the fashion festival).
Everyone knows that Ukraine`s alternative fashion is making waves across the world.
The second day of the Kyiv Fashion Days took place with three brands presenting their fall-winter 2018-2019 collections: Négligés, GIBSH and Katie Ann McGuigan. Having become the main venue for the show last summer, Kyiv's newly-renovated TSUM department store, which is located on Khreschatyk street, hosted all three shows on February 2.
Négligés, GIBSH and Katie Ann McGuigan all put out some different (and some even quite surprising) looks, which can be summed up by three main themes: gender inequality, heavy prints and… cannabis-inspired fashion.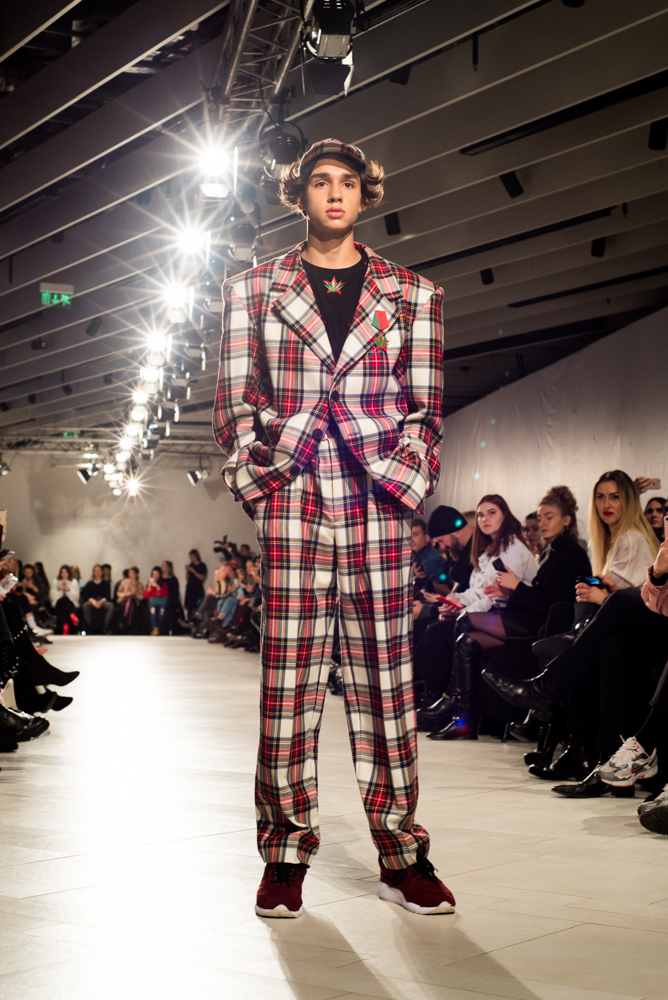 Négligés
Despite the Western fashion sphere now being quite familiar with avant-garde fashion brands, with Vetements taking the lead, Ukraine had not really seen the development of its own such alternative brands yet. That is until now.
Enter Négligés, a young and rebellious fashion brand founded by Oleksiy Dzhangirov and Kostya Nastevich. And when we say young, we really do mean it. Dzhangirov is only 18 and may at first glance fool you into thinking that he is a regular schoolboy.
Dzhangirov told the website fw-daily.com, which was founded by Daria Shapovalova, the woman behind the Kiev Fashion Days, that he decided to launch the brand after his first  visit to Paris. "After being so impressed by what I saw within my two weeks in Paris: Kanye West's showroom, Supreme, Vetements [fashion] show, the legendary Colette… that we came up with the idea of creating Ukrainian brand Négligés."
The word négligés translates from French as "the neglected" or "the cast-offs." The fashion they present is very street-style, it features provocative logos and slogans, such as the cannabis leaf print which was visible on most garments from the latest fall-winter 2018-2019 collection.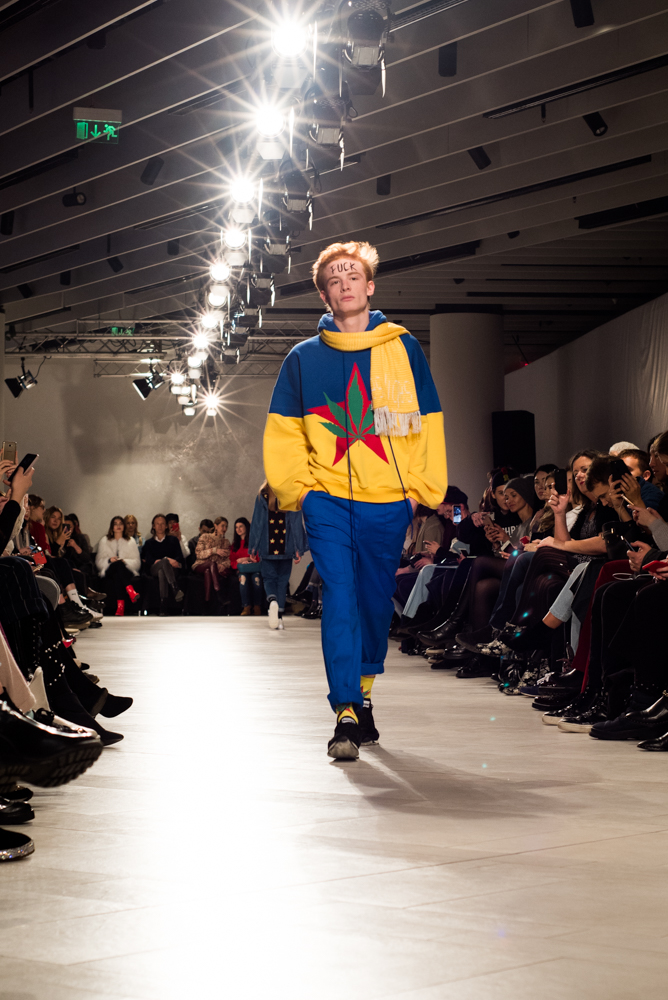 GIBSH
The GIBSH fall-winter 2018-19 collection was dedicated to inequality. Female models paraded around the catwalk with stitches drawn on their legs. The word "inequality" was stitched onto the models' sleeves and trouser-legs. Bright makeup and smeared lipstick on both male and female models completed the look.
Like Négligés, GIBSH is also fairly young. Founded just over a year ago by Ukrainian stylist Dmytro Gibshman, the brand seeks to combine the un combinable. "It's like putting a gay man and a homophobe in one bed and asking them to hug each other. Things like that bring a new sense to life," Gibshman told Ukrainian fashion magazine L'Officiel.
And so he does. One of his pieces presented during the show at the TSUM department store was a pair of jeans that can double as a scarf or a belt: one of the jean legs is long enough to tie around your neck or waist.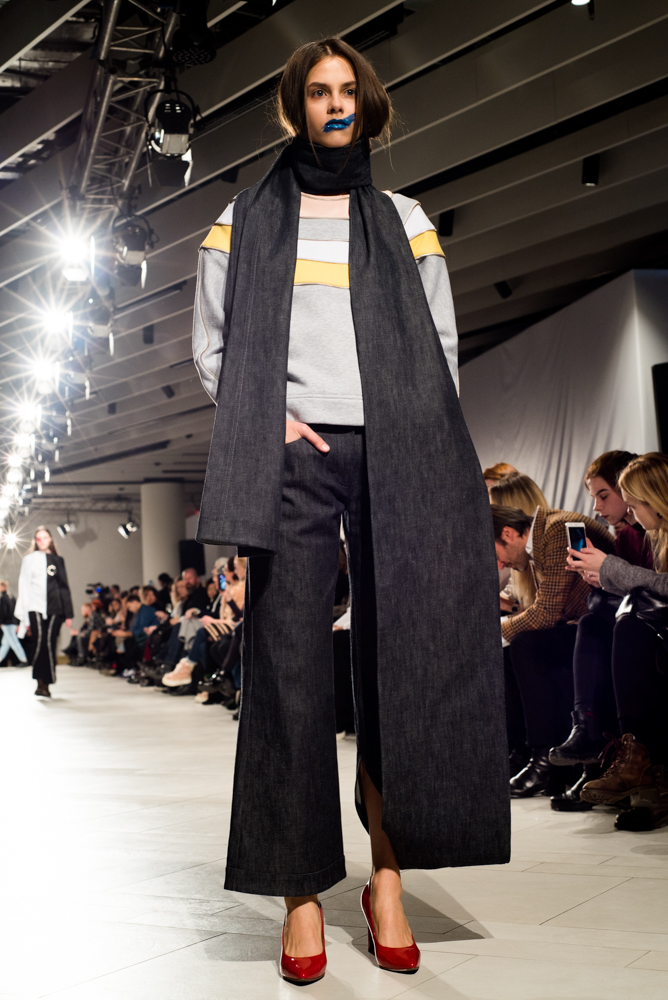 The colors that dominated the collection were khaki and red, as well as the monochrome colors: black, gray and white. And, of course, there was a great deal of denim.
Katie Ann McGuigan
Just as in previous years, Kiev Fashion Days features some international designers alongside the Ukrainian ones and a few of them came from the United Kingdom this year. Katie Ann McGuigan is one such designer. Born in a small town in Northern Ireland, the 25-year-old quickly rose to fashion prominence winning the prestigious Fashion Scout Merit Award in 2017.
Currently based in London, she uses a lot of graphic prints, which have now become her trademark look, much as they have for the high-end Italian fashion veteran Missoni. McGuigan's fall-winter 2018-2019 collection was dominated by red, orange, yellow, and brown colors.