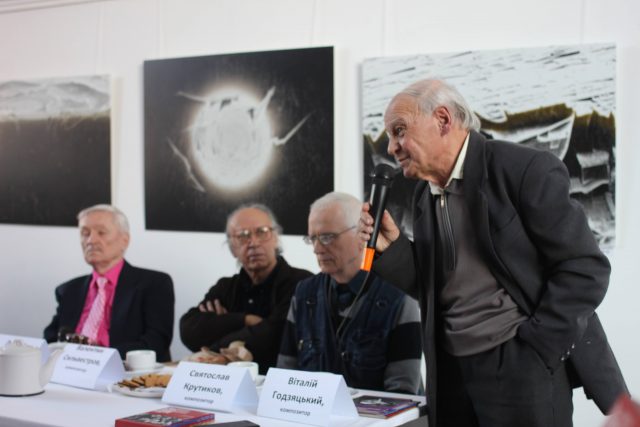 Back in the day, they were outcasts writing ideologically suspect music. Now, their works are being recognized as some of the most important compositions from post-World War II Ukraine.
An elderly man in a dark windbreaker trudged up an icy sidestreet in central Kyiv, his boots crunching the sidewalk's near petrified mounds of snow. As he walked, he eyed his feet through thick glasses, watching out for patches of black ice. Suddenly, a woman — also elderly, dressed in a black fur coat and hat — approached him.
"Excuse me, do you know where the music event is?" she asked.
"At Master Klass? That's where I'm going."
"I thought I recognized you!" the woman exclaimed. As they continued up the street, she began to praise the man, who demurely brushed her away. "Thank God that He sent you to us!" she said. "Your work is the most important thing for Ukraine right now!"
In fact, the man ostensibly sent by the Creator was Valentyn Sylvestrov, a Ukrainian composer known for his 1960`s avant-garde works.  Considered to be a giant of art song composition by many discriminating lovers of contemporary classical music, Sylvestrov first entered the Kyiv Conservatory in 1958 to study under composer Borys Lyatoshynsky. There he became part of a group of modernist composers and musicians whose works broke radically with official Soviet cultural policy.
Initially, they were ridiculed. But, that day, Sylvestrov and some of his colleagues from the "Lyatoshynsky school" — the composers Leonid Hrabovsky, Vitaliy Hodziatsky, and Svyatoslav Krutykov — were being honored with the release of new recordings of their works as well as a series of concerts.
The recordings — titled "The Kyiv Avant-Garde of the 1960's" — do more than just breathe new life into works from a previous generation. They also systematize some of the most important modernist compositions in Ukraine's history into one collection. The project, supported financially by the Ukrainian Ministry of Culture, is the brainchild of renowned Ukrainian pianist and musicologist Yevhen Gromov. He undertook the gathering, performance, and recording of the compositions in the four discs, creating the first such anthology of Ukrainian modernist music from the second half of the 20th century.
On January 25, Gromov presented the anthology at a small event at the Master Klass Arts and Education Center in Kyiv. He was joined by Sylvestrov, Hrabovsky, Hodziatsky, and Krutykov.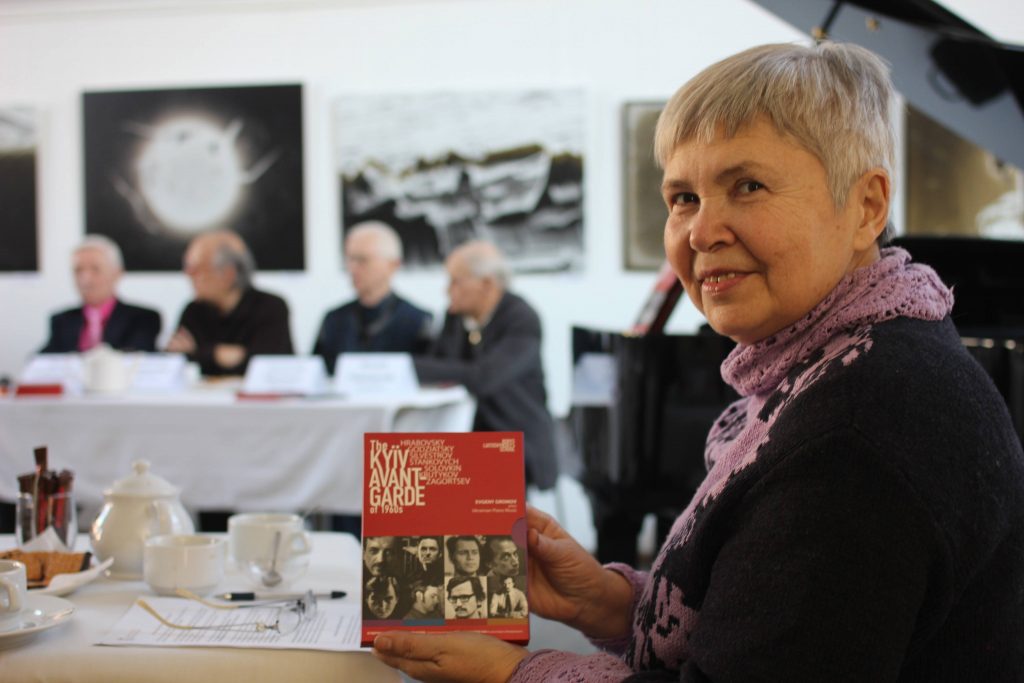 The release of this anthology would have been unimaginable decades ago. Sylvestrov and Hodziatsky were expelled from the Ukrainian Union of Composers in 1970 for their freethinking ways. Their colleague Krutykov left the conservatory in his fourth year under institutional pressure for his unusual style, and went on to compose music for television.
"At the time we were nearly pariahs," recalled Hrabovsky, who taught composition at the Kyiv Conservatory, worked as a composer, and edited a music journal in Moscow, before moving to the United States in 1990.
The situation for modernist composers who strayed from Soviet musicological expectations was particularly bad in Ukraine and the Soviet Union. "There was a big difference with neighboring Poland," Hrabovsky said. "Those composers could perform abroad and get international commissions. We wrote and wrote and hoped…and that lasted a very long time."
But not everyone took the most dim view possible of the Soviet era. Speaking at length during the anthology's presentation, Hodziatsky stressed that "none of us ever sold out." He also lamented the fact that musical and cultural institutions had closed due to a lack of funding since the Soviet collapse, a process that had effected classical performing institutions across the breadth of the post-Soviet world.
Funding had also proved a challenge for Gromov's anthology. The pianist noted that the Euromaidan revolution delayed his project. The change of presidents also brought change within Ukraine's cultural bureaucracy. It took him several years to reach an agreement with the new bureaucrats to secure state funding to continue the project.
Now, the project has come to fruition. And the composers themselves are pleased with Gromov's results.
"It's not just a pianist playing our works," Hodziatsky said. "We've had pianists play our works before. Gromov is also a historian and a researcher."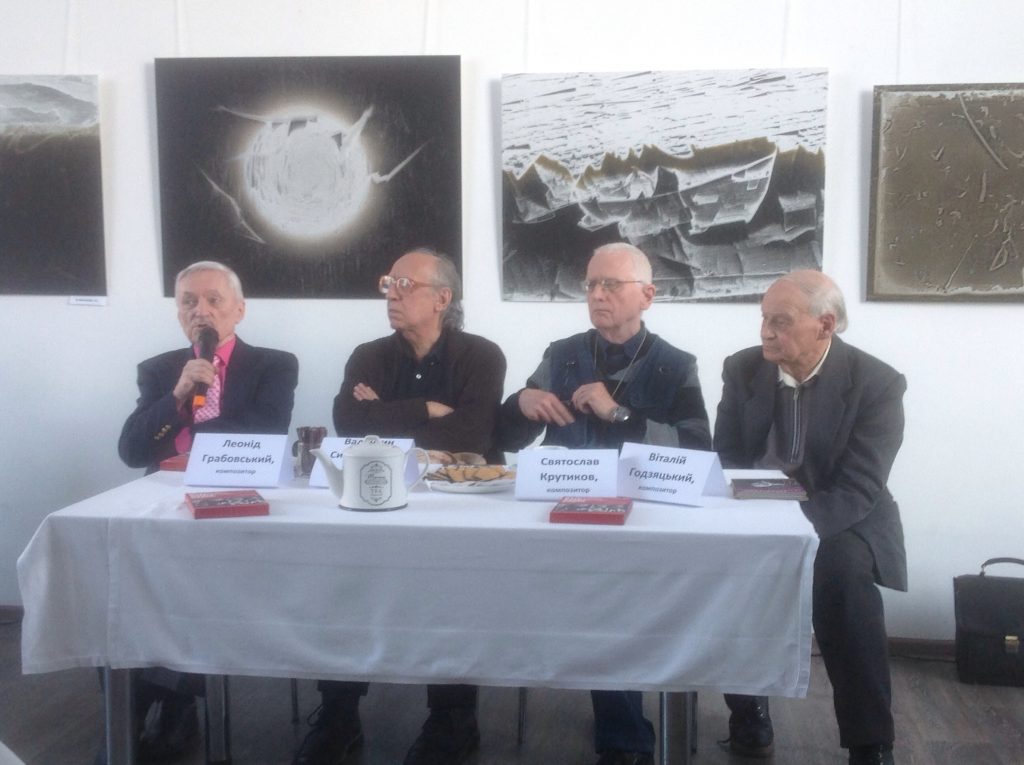 Gromov "summons Ukrainian music to life," Hrabovsky added. "When he believes in something, no one can convince him otherwise."
The anthology — which will be distributed to libraries and musical institutions for free —  aims to introduce contemporary listeners to Ukrainian modernist composers of the 1960`s and to help their music find a place in the soundscape of the 21st century.
But some of the composers have already found their place in modern Ukraine. Sylvestrov, who largely declined to speak at the anthology presentation, has ironically been the most vocal in his support for Ukraine's 2014 revolution, working to make music relevant to the transformations the country is experiencing.
Since 2014, he has written several compositions centered on the events of the Euromaidan revolution. One is dedicated to the memory of Serhiy Nihoyan, the first demonstrator to be killed in the crackdown on the protests on January 22, 2014. Another — "Maidan-2014," a cycle for a capella choir — was created during the events on the Maidan, but not composed traditionally, Sylvestrov told Ukraine's Espreso TV
"At first it existed as a direct reaction," he said. "Whatever I saw, I just wrote it down."