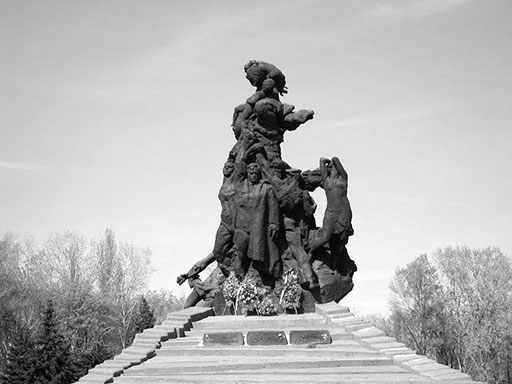 The official 75th anniversary commemorations of the Nazi massacres that took place at the Babyn Yar ravine in Kyiv will take place in the Ukrainian capital between September 23-29. The Ukrainian Jewish Encounter, a Canada-based non-governmental organization, working in cooperation with the World Jewish Congress, Ukraine's government and other Ukrainian Jewish and diaspora organizations, will also sponsor a series of public events in memory of what took place.
On a sun drenched Kyiv afternoon, September 29, 1966, the Ukrainian writer and dissident Ivan Dziuba addressed a crush of several hundred people surrounding him.
"I want to say a few words — a one-thousandth part of what I am thinking today and what I would like to say," he told the crowd. "I want to turn to you as people, as to my brothers in humanity. I want to address you, Jews, as a Ukrainian, as a member of the Ukrainian nation, to which I proudly belong. Babyn Yar, this is a tragedy of all humanity, but it happened on Ukrainian soil. And that is why a Ukrainian does not have the right to forget about it, just as a Jew [doesn't]. Babyn Yar, this is our common tragedy, a tragedy first of all of the Jewish and Ukrainian people."
Fifty years later, Mr. Dziuba is expected to return to the place where he uttered those words, the ravine in Kyiv known simply by its citizens as Babyn Yar, to take part in a ceremony. It is here, in a wooded area of Ukraine's capital, that one of the greatest single Nazi massacres of World War II took place: Over a two day period in 1941, on September 28-29, over 34,000 Kyivan Jews were shot to death. During the next two years of Kyiv's German occupation, more killings and burials of peoples the Nazis deemed enemies occurred at the ravine. These included Ukrainians, Roma, Soviet POW's and others. Yet of the estimated 100,000 victims at Babyn Yar, over two-thirds were Jews.
Babyn Yar is the most potent symbol of what has become known in recent years as "the Holocaust by Bullets". Between 1941 and 1945, some 1.5 million Ukrainian Jews were systematically shot in fields and ravines throughout the territory that makes up modern-day Ukraine. Because of its sheer magnitude, Babyn Yar survived in the collective memory of Ukrainians, even as first German, and then Soviet, authorities tried to destroy all traces of the crime.
To commemorate Babyn Yar's 75th anniversary, Ukraine's President Petro Poroshenko has launched a series of commemorative state events. In addition, a series of non-governmental commemorative events are planned. Public events sponsored by the UJE include a youth conference that will bring together 200 young people from Ukraine, the United States, Canada, Israel and Europe to participate in a week-long program that will focus on Babyn Yar and the Holocaust, emphasize historical awareness, mutual respect toward ancestral heritage and civic responsibility; a symposium devoted to Babyn Yar as a signal event of the Holocaust; and a memorial concert that will feature works by Max Bruch, Yevhen Stankovych and Johannes Brahms.
The UJE has also supported an international landscape competition, recently completed, that will expectantly act as a first step in helping transform Babyn Yar, currently deemed a recreational area, into a memorial park that will honor those killed and buried beneath its grounds.  In related events, the Pinchuk Art Centre is currently hosting the exhibition "Loss. In Memory of Babi Yar", which features the works of contemporary artists Christian Boltanski, Berlinde De Bruyckere and Jenny Holzer. A cinema series and documentary photo exhibit will also take place in Kyiv that week.
In his 1966 speech, Mr. Dziuba spoke not only of the importance of memory, but of the many factors that led to Babyn Yar: "This tragedy was brought to our nations by fascism. But do not forget that fascism does not start with Babyn Yar and it does not end there. Fascism begins with disrespect for a person, and ends with the destruction of a person, a destruction of nations — but not necessarily only with such destruction as in Babyn Yar."
He asked in those distant days of 1966 for Ukrainians to look within, to recognize similarities between the two peoples and to honor those Jewish figures rooted in Ukrainian lands. He expressed shame at the anti-Semitism he still saw among his own people, and asked that Jews also show understanding and tolerance. "As a Ukrainian, I am ashamed that among my nation — as among other nations — there is anti-Semitism, there is a shameful, unworthy human phenomena called anti-Semitism," he said. "We, Ukrainians, should in our environment fight against any show of anti-Semitism or disrespect to Jews, a non-understanding of Jewish problems. You, Jews, should in your environment fight against those who do not respect the Ukrainian person, the Ukrainian culture, the Ukrainian language, who unfairly sees in every Ukrainian a hidden anti-Semite."
Mr. Dziuba, who recently turned 85, will receive during the commemorative week the Metropolitan Andrey Sheptytsky Award, which is conferred by the Jewish Confederation of Ukraine and UJE to an individual in Ukraine, Israel or the diasporas for work in fostering Ukrainian-Jewish relations. Previous recipients of the award were UJE board chairman James C. Temerty C.M. and Ukrainian businessman Victor Pinchuk.
Mr. Dziuba's most important message 75 years after the Babyn Yar tragedy and his address to those present at the ravine a half-century ago is about the danger of remaining silent. "There are things", he said, "there are tragedies before which the enormity of any word is powerless and about which silence will say more — the great silence of thousands of people. Maybe for us here, it is fitting to do without words and silently think the same thing. But silence only says much there, where all that can be said has already been said. But when much still has not been said — when nothing has been said — then silence becomes the accomplice of lies and non-freedom. That is why we speak and must speak — where we can and where we can't, using all opportunities which happen to us infrequently."
Natalia A. Feduschak is Director of Communications at the Ukrainian Jewish Encounter