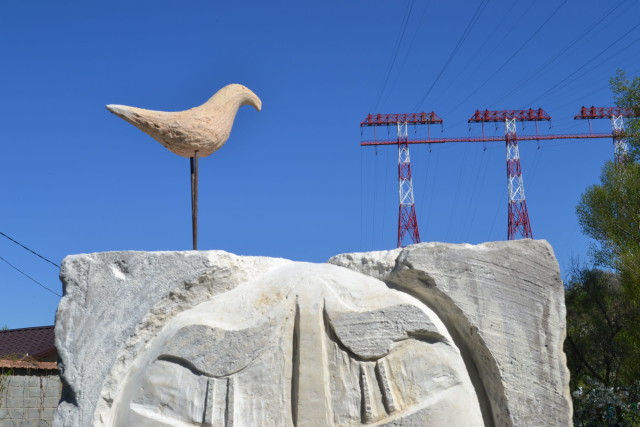 Zaporizhia celebrated its tenth annual "Land Art" festival the last weekend of April. Located on Sagaydachne, a territory that boasts a diverse history (from housing Neolithic structures to Cossack rebels), the festival encourages artists to engage with their surroundings–the key concept behind land art, an environmental art movement that gained popularity in the 1960's. However, the majority of the festival's content examined Ukraine's current political situation. Therefore, in addition to the relationship between man and nature, a concern inherent to environmental art, Zaporizhia's tenth annual "Land Art" explored the artist's role in politics
Organized by Art Gallery Barannik, Zaporizhia's contemporary art gallery, the city's environmental art festival is one of seven in Ukraine. "[Land Art] is already a well-developed movement in Ukraine," explains Natasha Lobach, Art Director of the Art Gallery Barannik, in a television interview. The first festival took place twenty years ago in the North Eastern Sumy region. Other festivals have taken place in Lviv, Kyiv, Chernivtsi, and Cherkasy regions, as well as a unique winter "Land Art" festival in Vinnitsa.
"Who creates art — man or nature?" was one of many themes discussed in Art Gallery Barannik's pamphlet about the history of the environmental art movement. Originating in the United States in the 60's, land art sought to bring artists closer to their natural surroundings and away from institutions that commodified – and corrupted – art. One of the most famous examples of land art is "Spiral Jetty," (1970) a spiral-figure carved into Utah's Great Salt Lake, it was created by Robert Smithson, who is widely considered to be the founder of the movement.
Utilizing organic and readily-available natural materials such as soil, bedrock, and wood, often in combination with man-made materials, like concrete and metals, land artists deliberate the precarious relationship between man and nature. "Artists present their own image of nature," Lobach explains. As a result, artists and viewers feel much more connected to their surroundings through a concrete revaluation of their ties to nature. In theory this should make them more invested in both the past and future of the lived enviornment.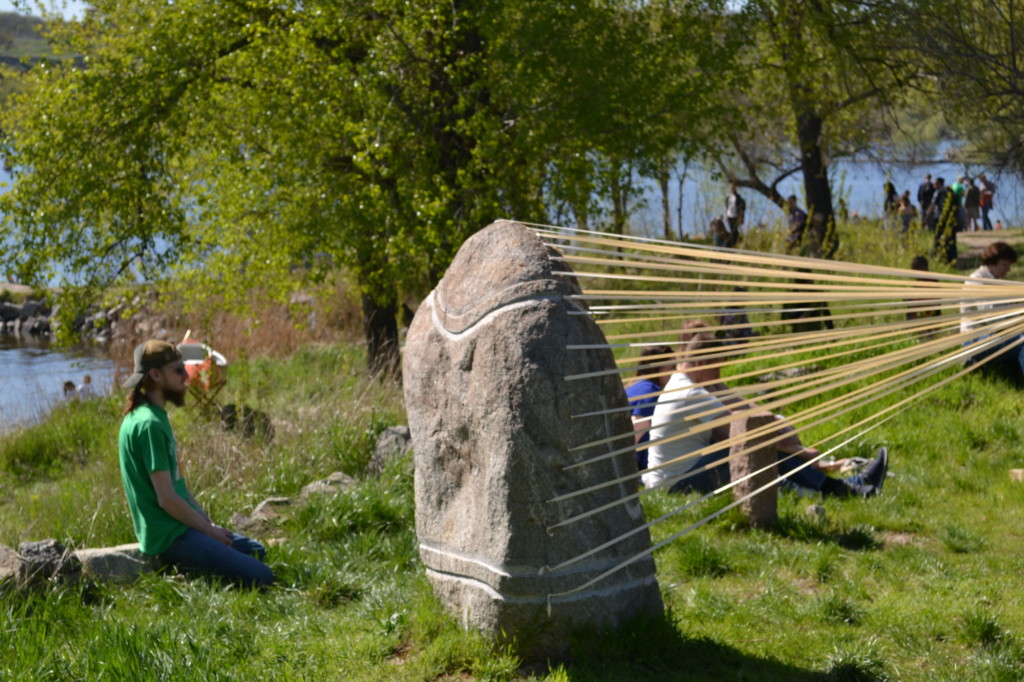 Since 2015, "Land Art" has been created at Sagaydachne, a riverbank opposite of the island Khortista, which was the festival's previous locale. Like a beacon of hope, the stretch of land rises above the surrounding steppe. Its history is no less compelling than it's physical shape. During the construction of DniproHES in 1928, Soviet archaeologists discovered megalithic structures on the territory that date back to Neolithic times. They also found remains of Cossack-style huts that supposedly belonged to 18th century Cossack leader, Sagay. As popular historiography details, Cosack Sagay returned to Zaporizhia after Catherine the Great disbanded the Zaporizhian Sich. He remained on Sagaydachne until the Russian army came to quell his rebel group.
Despite its fascinating history, the riverbank endured years of neglect and ruin. "No one paid attention to the history or the beauty of this place," states Alexander Shkalikov, a well-known artist and ceramicist in Zaporizhia. Sagaydachne, along with many of its relics, was partially flooded during the construction of the hydroelectric dam. It is thanks to "Land Art," Sagaydachne has reclaimed its historical and social significance.
Another impressive aspect of the festival is its success in uniting the local arts community. The first artist with whom I spoke, Erika Rabich, is a familiar face among "Land Art" goers–this was her ninth time participating in the festival. Sunbathing in a bikini, the artist approached me after noting my intense study of her object, which consisted of ribbons wound across trees, intersecting in the middle to form a shape in the letter "X."
"My work symbolizes that Ukraine is doing everything it can to protect its land," Rabich asserted. Her work is an expression of her politics: the figure "X" opened directly onto a view of Khortista, a popular symbol for Ukrainian independence; the ribbons were colored black and red to represent Ukraine's Right Sector political grouping.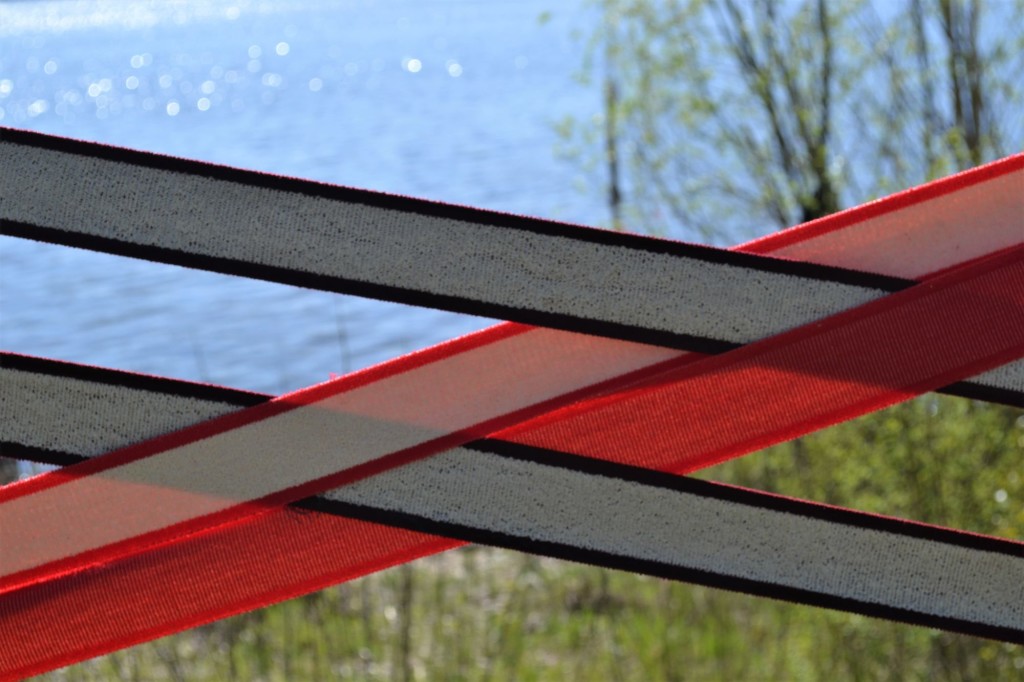 Rabich quoted Mikhail Svetlov's 1935 "Song of Kakhovka" which gained widespread popularity in the Soviet Union.: We are peaceful people but our armored train stands nearby". Though written during the Russian Civil War, Svetlov's work resonates with contemporary audiences: it commemorates the Red takeover of Crimea, which was the last remaining White stronghold.
The festival's politicization did not end there however. Shkalikov took me on a tour of his four art objects. Upon meeting at a nearby installation, a bridge freshly painted yellow and blue, Shkalikov brought me to his first object, which was a car dressed in a Ukrainian flag. The flag was used as a centerpiece during Zaporizhia Maidan protests in 2014.
The next object consisted of stones arranged in a circular formation, with a single stone in the center. The formation is meant to evoke images of the sun, energy, and growth. "There is no energy in Ukraine," claims the ceramicist. "Russia has lived on this territory for a long time." Pointing to Khoritsa, across from where we stood, Shkalikov referenced Cossack history, the era of Ukrainian independence–the era before Russia.
Oksana, the final artist with whom I spoke, shared with me an anecdote that captured the zeitgeist of the festival.  "Isn't there a war going?' is a question I receive often," remarks Oksana, responsible for the toilet-paper-mermaid creation that hung from a tree branch above our heads. "To which I respond, 'Nu Sho' [and what]?"
"Land Art" Zaporizhia demonstrates that art not only perseveres amidst conflict, but engages, and often thrives. Further, it is important to note that the environmental art festival does not aim to advance ideology or political agenda. Rather, it pushes participants to engage with ideas and concepts which are beyond themselves, whether those be related to environmentalism, human rights, or politics. As English poet John Donne famously exclaimed, "For I am involved in mankind," and let's face it, mankind is responsible for most of our misfortunes.
Nicole Steinberg is a 2016-17 Fulbright Fellow in Ukraine.