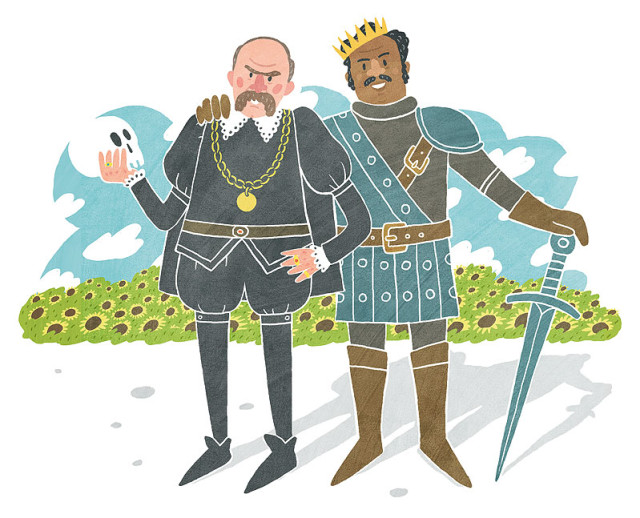 A newly staged play in New York City focusing on the unlikely friendship between Ukraine's national poet Taras Shevchenko (1814-1861) and the African American actor Ira Aldridge (1807-1867) provides a good opportunity to revisit this remarkable story and its illustration of the symbolic relationship between Ukraine and the United States of America.
New York City's East Village has always been a mecca for experimental theater, a place where theater goers with the most varied tastes could find represented whatever sort of work they cared for. The Yara Arts Group, led by Ukrainian-American Virlana Tkacz, is the resident company at the La MaMa Experimental Theatre and is particularly intriguing in that it often grapples with a complex and historically contingent idea of Ukrainian culture. Tkacz is well known in the New York downtown theater scene as well as her collaborations with the broadway legend Andre DeShields. The company's focus is on adapting original theater pieces based on 'eastern' (however broadly defined) historical materials that may be little known outside their own culture. The original pieces are often rooted in extensive research and documentation of folk or traditional historical culture, often inspired by epics or epic historical events which are then than transformed into theater productions.
Often the group's work is quite political and topical, as was the case with the theater piece "Dark Night Bright Stars", crafted in honor of the birthday bicentennial of the great Ukrainian poet and painter Taras Shevchenko. The presentation of the play was noteworthy for having mostly dodged the obvious pitfalls of a subject that was somewhat pedantic in character. It is noteworthy that Aldridge is now himself getting more attention in the US after having been an ideologically based sensation in the USSR – which would often attack the failures of America's relationship to its black citizens as part of its propaganda. "Dark Night Bright Stars" was performed twice in the United States, once at the Ukrainian Gogolfest festival, and was brought to Ukraine by the U.S. Embassy as part of the American Festival in Odessa. It had also been presented by experimental theaters in Lviv and Kyiv (notably enough, right after the events of the Maidan), making it a rare instance of truly international cultural exchange.
The African American actor was beloved in Europe and continued to garner a cult following in the former Soviet Union. The two great artists, who rose up from serfdom and slavery, could not speak to each other directly because of the language barrier, so they had to find a common language in art and song. Their meetings were documented in the memoirs of Count Tolstoy's 15 year old daughter, Katya (Ekaterina Tolstoy Yunge), who sometimes acted as their translator. In fact the communication between the two was relatively brief – it lasted only two months, and took on very unusual forms. The African American actor did not speak a word of Russian – much less Ukrainian. He could not even pronounce his new friend's name, instead referring to him as "the artist". In turn, the Ukrainian poet and artist knew only a handful of English words – but this did not impede them from communicating and even developing a true affection for each other. Utilizing gestures, body language, and at times an interpreter, they succeeded in communicating feelings and thoughts across the language barrier. Within only a few hours, they bonded over their shared artistic nature, love for Shakespeare, and lives that turned out to hold striking parallels. Aldridge was in Europe as a sort of 'internal' exile –and Shevchenko had only recently returned from exile. Their art and artistic interests were also similar in many ways. Ira Aldridge gained renown for his tragic roles, while Shevchenko is known mostly for his lyrical tragedies.
Ira Frederick Aldridge, the first great African American theatrical actor, was born on July 24, 1807 into the family of a preacher. Already in childhood Ira dreamed of becoming an actor, but many obstacles stood in the way of his dream – not least among them the harsh racial segregation which was instituted in the USA at the time. Today, the entire world praises and enjoys the talents of actors such as Morgan Freeman, Denzel Washington, and Samuel L. Jackson; but it is only a relatively short time ago the appearance of a Black actor on the stage would shock and infuriate the public. It was mostly for this reason that Ira left the country of his birth and moved to London. Once there, he soon gained wide European fame for his brilliant performances in Shakespeare's tragedies "Hamlet", "King Lear", "Othello" and the "The Merchant of Venice". However, his ordeal was not over – even in London Ira was often subjected to persecution by racists and proponents of slavery. To escape this hostile atmosphere, the actor would often spend time in other European cities where people were less prone to judge him on the color of his skin. Aldridge was popular in Prussia and in the Russian Empire, where he received several prestigious awards. In fact, it was after one of his performances in St. Petersburg in 1858 that the fateful meeting between the actor and the poet Shevchenko took place. Taras Shevchenko was so overwhelmed by Aldridge's performance that after the play, he literally barged into the actor's dressing room and kissed him! Later, the two artists would spend a lot of time communicating during their visits with Count Fyodor Tolstoy – during this time, Shevchenko painted the well-known portrait of Ira Aldridge (which now resides in Kyiv).
What did the two geniuses talk about? History retains only excerpts of their dialogues recorded by Ekaterina Tolstoy Yunge. Of course, one of the main topics of their discussions was the oppression of Black Americans and its parallels with the treatment of serfs within the Russian Empire. Much has been written about their touchingly close friendship – Aldridge was the descendant of slaves, Shevchenko a former serf. Both men carried a deep understanding of the tragedy of the oppressed individual as well as that of the oppressed nation – and the knowledge of this pain served as a basis for their friendship. Aldridge recounted his childhood experience of covertly sneaking into a theater on the doors of which hung a sign reading "Dogs and negroes forbidden" and his memories of establishing the first Black theater in Baltimore (it would later be destroyed by a racist mob). Shevchenko spoke about his grim childhood, including the degrading experience of buying his own freedom from a landowner. The two artists served as perfect representations of their respective nations' struggle for freedom. In Shevchenko's case, his legacy was silenced in the Soviet Union long after his death – when books spoke about him, they mentioned only his disdain for and struggle against Russian feudalism. Only in European literary accounts can Shevchenko's passionate fight for Ukraine's freedom and self-determination be found. After 1991, when the Soviet Union fell together with its legacy of censorship, Shevchenko's life and work gained a new context and readership.
Ekaterina Tolstoy Yunge's memoirs contain many other interesting details of their conversations. For example, Aldridge did not approve of Shevchenko's admiration of George Washington, saying that the president "…did not rise above his time and did not end slavery". Aldridge himself was fond of the nineteenth century liberals Radischev, Chernyshevsky, Dobrolyubov and especially Herzen (they had met in London). The two often discussed art and creative matters. For example, Shevchenko was not fond of the performance given by a German actress who played the role of Desdemona in a St. Petersburg production of Othello, in which Aldridge also participated. "You should have killed her in the first act already!" – he joked sarcastically.
Aldridge was the subject of rumors – gossipers claimed that some actresses refused to work with him because he would get so possessed by the role of Othello that they feared he could really suffocate them. Aldridge had a sense of humor about this, once remarking to a Russian theater critic: "These rumors are gross exaggerations. I have played Othello over 300 times, and in all that time I murdered only four or so actresses. You must agree, the percentage is negligible – your Desdemona from Moscow had no reason to be afraid".
We also know that Aldridge often asked Shevchenko about his homeland. It is believed that it was Shevchenko who finally convinced the American actor to tour Ukraine – Aldridge visited Kyiv, Odessa, Kharkiv, Poltava, Zhitomir and Elizavetgrad during the years between 1861 and 1866. He was met by an adoring public in each city. Even though Aldridge performed exclusively in English, a language many in the Russian Empire did not speak or understand, his mastery of acting was so ineffable that words receded into the background and the audience was emotionally captivated by the great Shakespearean actor's mere stage presence. His success in Ukraine reached epic proportions. "Odessa News" reported that after one of his Odessa performances, a young woman tossed him a bouquet of flowers – as well as her golden bracelet!
Besides his "trademark" role of Othello, audiences in Odessa and Zhitomir greatly enjoyed his interpretation of the Jewish merchant Shylock in Shakespeare's "The Merchant of Venice". Perhaps the city's Jewish population appreciated Aldridge's nuanced portrayal of the character as not simply a stingy and dishonest Jewish caricature, but also an intelligent and suffering man as well as a loving father. This speaks to the actor's capacity to deeply understand the complex personas of Shakespearean characters. Interestingly, the complexity of Shylock's character was noted by writer Aleksander Pushkin in his "Table Talks": "Shakespeare's characters, unlike those of Moliere, are not representations of some specific passion or flaw; they are living creatures filled with multiple passions and multiple sins – their circumstances betray their multifaceted and many-layered natures. Moliere's stingy merchant is just that, whereas Shakespeare's Shylock is greedy, clever, humorous, a doting father – all at once". Thus, the famous negative Jewish stereotype, frequently portrayed onstage in a one-dimensional, primitive manner was portrayed in an entirely new light through Aldridge's skillful acting – which was warmly received by viewers in Odessa and Zhitomir.
However, the actor's visit to Odessa was not without unpleasant moments. Aldridge sometimes had to deal with expressions of his colleagues' petty jealousy: the actress whose family name was Mochalova, who played Desdemona alongside Aldridge, recalled that when she lay down on the prop bed during the performance she realized that the boards supporting the bed frame had been sawed down. Thankfully, she was able to warn Aldridge in time and the performance went off without a hitch. Aldridge was furious, but was able to keep his composure and finish the play.
Another interesting episode from the artists' friendship was recounted by the Jewish Soviet writer Yechiel Falikman in his short story "Black Brother". In it, while posing for a portrait, Aldridge tells Shevcheneko a story of how he – already a well-known actor – was thrown out of a train by one of the railroad owners because the latter "did not wish to travel in the same train car as a Negro". The story ends dramatically: the train that Aldridge was forced to leave crashes, the racist owner dies but the conductor – who treated the actor with compassion – survives. Shevchenko was moved by this tale, but still remarked that it is better not to rely on accidents or God's wrath. He was convinced that the time when the oppressed and enslaved would gain their freedom – both in his country and across the ocean – was at hand.
That hope would indeed soon come true. Ira Aldridge lived to see slavery abolished in his homeland in December of 1865. Aldridge was so affected by this news that despite being firmly established in London, with a wife and several children, he decided to return to America. Tragically, he would never make it home – Ira Aldridge died suddenly in 1867 in Poland, en route to perform in St. Petersburg. By that time, his Ukrainian friend was also no longer alive – unlike Aldridge, Shevchenko did not live to witness his people gain their freedom. In a cruel twist of fate, he died in 1861 mere days before feudal law was revoked in the Russian Empire and the serfs were freed. His dearly beloved homeland of Ukraine would only gain independence more than a century after the poet's death.
The memory of the two great men and their friendship lives on in their home countries of Ukraine and the USA to this day. Aldridge and Shevchenko did much to popularize each other's work with their respective audiences. According to the accounts of some Ukrainian immigrants in the USA and Canada, many Black American families had a portrait of the theater pioneer Ira Aldridge hanging in their homes, and in some households, a portrait of the actor's Ukrainian friend – the mustachioed man with a similarly broad forehead, sorrowful gaze and complex fate – hanging alongside him.